sriracha (rooster) sauce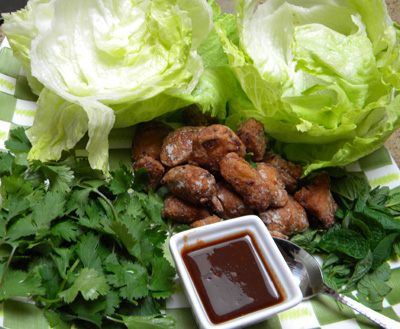 In my January 9, 2010 blog post, I spoke of the wonders of sriracha sauce and provided a link to a Bon Appétit article. If you haven't had a chance to read the article yet, please go back to that post and do so. Chef Stuart Brioza provided a recipe for chicken lettuce wraps with the article. We had them over the weekend and… WOW!  I made a couple of very minor changes; for instance – like everyone I know, I love the P.F. Chang's lettuce wraps with crispy-crunchy iceberg lettuce, so I used iceberg instead of the romaine called for by Chef Brioza. One thing I would not dream of changing is the sauce, in fact, I am going to keep this sauce on hand, and have it with everything I eat! Really, it's just that good!

Sriracha-Soy Fried Chicken in Lettuce Leaves
Recipe by Stuart Brioza – January 2010 Bon Appétit
Sauce
2 tablespoons sriracha sauce
2 tablespoons soy sauce
2 tablespoons fresh lime juice
Chicken
1/2 cup minced green onions
3 tablespoons soy sauce
2 tablespoons sriracha sauce
2 teaspoons sugar
2 teaspoons peeled and  finely grated fresh ginger
2 garlic cloves, peeled and finely minced
1 pound skinless boneless chicken breasts, cut into 1-inch cubes
Garnishes
12 large crisp iceberg lettuce leaves
1/2 cup (loosely packed) fresh mint leaves
1/2 cup (loosely packed) fresh cilantro leaves
Frying
Peanut oil
1/2 cup potato starch*
Salt and freshly ground black pepper
Sauce: Whisk sriracha, soy, and lime juice in a small bowl, and set aside.
Chicken: Whisk all ingredients, except chicken, in a small bowl. Pour into a gallon-size zip-lock bag, add the chicken; toss to coat.  Chill at least 4 hours and up to 1 day, turning occasionally.
Garnishes: Arrange lettuce leaves and herbs in separate piles on a large platter, leaving room for chicken and sauce.
Frying: Pour enough oil into a heavy and deep medium saucepan to reach a depth of 2 inches. Attach a deep-fry thermometer to the side of the pan. Heat oil to 350 degrees.
Place a strainer over a bowl. Remove chicken from the refrigerator and pour chicken into the strainer. Discard the liquid that accumulates in the bowl.
Place potato starch on a plate. Working in batches, add drained chicken pieces to potato starch and toss to coat. Shake off excess potato starch. Fry chicken in small batches until cooked through, stirring often to separate chicken pieces, about 4 minutes per batch. Transfer chicken to paper towels and quickly season with salt and pepper.
Place chicken and sauce on a platter with garnishes. Serve, allowing guests to fill lettuce leaves with chicken, herbs, and sauce.
*Available in the kosher or baking aisles of most grocery stores.
Serves 6