2 for the price of 1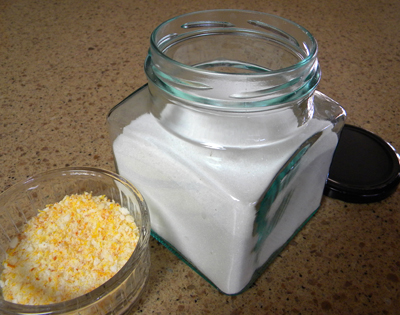 Did you make the margaritas yet from yesterday's post? If so, then you still have left about 1/4 cup of the 1/4 cup citrus sugar you made to "salt" the rims of the glasses. Do Not Throw That Out!
Today, you are getting two recipes for the price of one. And since that price is Free, it's like winning the trifecta! You can use your citrus sugar to flavor tea, make a sugar syrup for more cocktails or desserts, or substitute for regular sugar while baking (which we will be doing in the coming days.)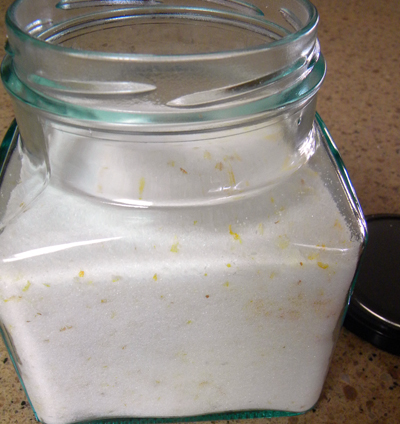 Citrus Sugar
The citrus sugar you made for the margaritas was merely the grated zest of 1 Meyer lemon and 1 blood orange mixed with 1/4 cup sugar in a food processor. But any citrus zest will do; orange, grapefruit, lemon, and/or lime.
Let that mixture sit out, spread in a single layer on a flat plate, uncovered, overnight. The moisture from the citrus oil in the zest, plus the added moisture from dipping in the wet rims of margarita glasses, will have caused the sugar to clump and harden. The next morning, break that up with your fingers or a fork.
Stir 1  3/4 cups sugar into the mixture and store in an airtight container. Although it will keep indefinitely, it will hold its potent flavor for about 2 weeks, so it is best used within that time frame.
Makes 2 cups