a Sprinkle Bakes cake!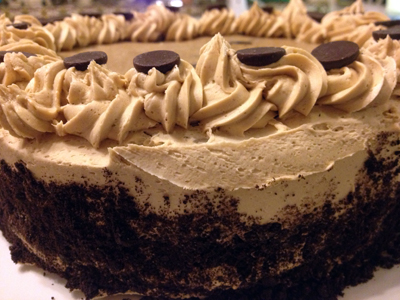 If you've read from this blog before, you most likely already know that I am NOT a baker. If I bake something, and it turns out, and I post it here, and I call it "my own" – you can rest assured that it is a fluke, a miracle, or a lie!
The exception, the fluke, if you will, is my carrot cake. I did "create" that. After making carrot cake after carrot cake over many years (and many years ago) I finally got a perfect carrot cake that I truly believe is the best you will ever have.
I do make a pretty mean cheesecake, but not because I've created anything new. But because I've discovered, while making many cheesecakes and by reading many other people's opinions about cheesecake, and then stealing the best of their various ideas and putting them together, how to make a fool-proof cheesecake. My cheesecakes always turn out perfectly! For my three "must-do" steps/tricks, go HERE.
Aside from that one cake and cheesecakes in general… I would no more be able to create a new and wonderful baked dessert than I would be able to take apart a car engine!
All that being said, I've found a woman, a blog, and a cookbook with pretty fantastic desserts! It's called Sprinkle Bakes and I made the following Very Impressive, Very Beautifully Photographed, and Very Delicious cake from her very lovely blog for my cooking series last month.
In all honesty, I should just stop now and send you directly there. I've pared down her recipe to make it a bit more manageable, but I haven't really changed it at all. Also, I should not post my photos, as they were taken with my iPhone at Les Gourmettes, in the rush of a cooking class for 16 students. Photos of food are not top priority in those moments. Cutting the cake and serving it to the lovely paying students, is!  But I made the gorgeous decadent cake, so you shall suffer through my photos, then go over and see Sprinkle Bakes' very professional photos and her very helpful step-by-step photos and be inspired and amazed!
Now, be prepared, not only is this cake a mouthful, but so is the name of the cake!
On a quick side note: Congratulations to my friend, Larry Fitzgerald, who received a Man of the Year award yesterday. It is beyond well deserved. Now I wait for him to receive the overall NFL Man of the Year award when it is announced during Super Bowl week. Fingers crossed.  Larry lives up to his press, he truly is a wonderful man!
Oh, I almost forgot – Merry Christmas Eve! xoxo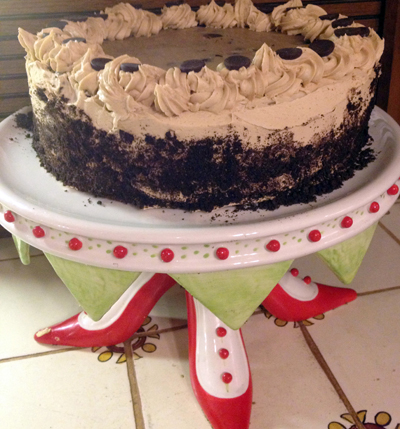 Chocolate Chip Cookie Dough Devil's Food Cake Cheesecake
Devil's Food Cake
1-ounce bittersweet chocolate, chopped
1/4 cup plus 2 tablespoons cocoa powder
1/2 cup hot coffee
1 egg
1 egg yolk
2 tablespoons sour cream
1 teaspoon vanilla extract
1 cup plus 2 tablespoons flour
3/4 cup brown sugar, packed
1/2 teaspoon baking soda
1/4 teaspoon salt
1/2 cup (1 stick) unsalted butter, room temperature
Crustless Cheesecake
1/2 cup (1 stick) unsalted butter, room temperature
1/2 cup sugar
Two 8-ounce packages cream cheese, room temperature
2 eggs
Half of a 3-ounce instant vanilla pudding mix. (or 1/4 cup plus 2 teaspoons)
2 tablespoons molasses
2 teaspoons vanilla extract
1 teaspoon baking powder
Chocolate Chip Cookie Dough
1 cup flour
1/4 teaspoon salt
1/3 cup plus 2 tablespoons brown sugar, packed
1/4 cup granulated sugar
1/4 cup (1/2 stick) unsalted butter, melted
1 teaspoon vanilla extract
1/3 cup semi-sweet chocolate chips
2 tablespoons milk
Chocolate-Molasses Buttercream
1 1/2 cups (3 sticks) unsalted butter, room temperature
4 cups powdered sugar
1 teaspoon vanilla extract
2 tablespoons molasses
1 teaspoon cocoa powder
1/4 teaspoon salt
Assembly
Chocolate chips
1/2 cup finely ground chocolate cookies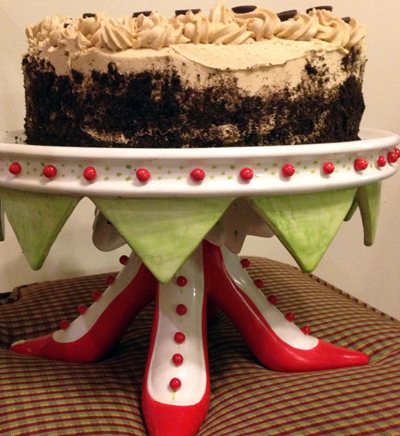 Devil's Food Cake: Preheat oven to 350 degrees. Grease a 9-inch cake pan and line with parchment paper. Grease paper and set aside. In a medium bowl, whisk the chocolate, cocoa, and hot coffee until smooth. Set aside.  In another bowl, whisk the eggs, yolks, sour cream, and half the chocolate mixture, and vanilla until just combined.
In the bowl of a standing mixer fitted with the paddle attachment, mix the flour, brown sugar, baking soda, and salt on low for 30 seconds. Add the softened butter and the remaining chocolate mixture.  Mix on low speed until the dry ingredients are moistened. Increase speed to medium and beat for 30 seconds.
Add the egg mixture in two parts, starting at medium-low speed and gradually increasing to medium. Beat on medium speed for 45 seconds after each addition. The batter will be slightly fluffy.
Scrape the cake batter into the prepared pan and smooth the surface evenly with a small offset spatula.  Bake for 30-40 minutes or until a toothpick inserted in the center comes out clean and the cake springs back when pressed in the middle.  Cool in the pan on a wire rack for 10 minutes, then turn the cake out onto a wire rack.  Cool completely.
Crustless Cheesecake:  Reduce oven to 325 degrees.  Grease a 9-inch springform pan, line the pan with parchment and then grease the parchment.  Lightly flour the pan and tap out excess.  Set aside.
In the bowl of a standing mixer fitted with the paddle attachment, cream the butter.  Add the cream cheese in four portions and mix until smooth.  Scrape bowl down and beat again on medium speed, adding eggs one at a time. Add the vanilla pudding mix, molasses, vanilla extract, and baking powder; mix again until well combined.  Pour batter into the prepared pan. Smooth batter with an offset spatula and bake for 55 minutes to 1 hour.  Allow cheesecake to cool in the pan. Place in freezer until needed for assembly.
Chocolate Chip Cookie Dough:  Line a 9-inch spring-form pan with parchment paper.  In the bowl of a stand mixer fitted with the paddle attachment, stir together flour, salt, brown sugar, and granulated sugar. Pour in melted butter and vanilla extract.  Mix until a dry dough forms. Add chocolate chips and mix at the lowest speed.  Once the chocolate chips are evenly dispersed, add the milk 1 tablespoon at a time with the machine on low speed.  Remove dough from the mixer bowl and press it into the prepared springform pan.  Place in freezer until ready for cake assembly.
Chocolate-Molasses Buttercream:  Combine the butter and powdered sugar in the bowl of a standing mixer. Beat on low until just combined, then beat on high until mixture is thoroughly incorporated.  Add vanilla, molasses, cocoa powder, and salt. Beat on high speed until light and fluffy. Scrape down the bowl and beat again until no streaks of molasses remain.
Assembly: Line the edges of a serving plate with strips of wax paper to keep the plate edge clean while frosting.  Level the devil's food cake layer with a serrated knife.  Place it in the center of the wax paper-lined plate.  Spread a thin layer of frosting over the top of the cake – just enough to hold the next layer in place.
Remove the cheesecake from the freezer and level with a serrated knife, if needed. Carefully place the cheesecake on top of the frosted devil's food cake, do not frost this layer.
Remove cookie dough layer from the freezer and remove from springform pan. Turn layer over and remove parchment. Place the cookie dough layer on top of the cheesecake. No icing is used between these layers.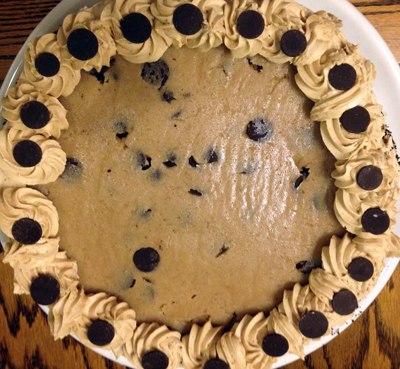 Frost the sides of the cake with an offset spatula; do not frost the top. Transfer the remaining frosting to a piping bag fitted with a large star tip (Wilton #133).  Pipe 2-inch swirls around the edge of the top of the cake.  Press an upside-down chocolate chip into the middle of each swirl.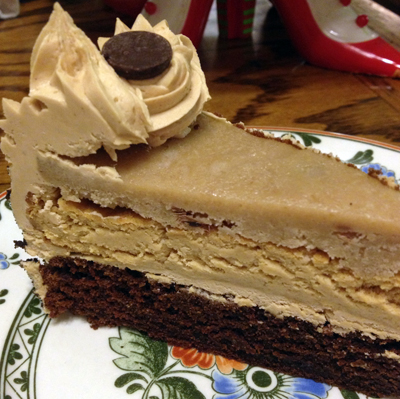 Gently press handfuls of ground cookies into the icing on the bottom half of the cake.  Refrigerate cake until ready to serve.
18 servings