limoncello treats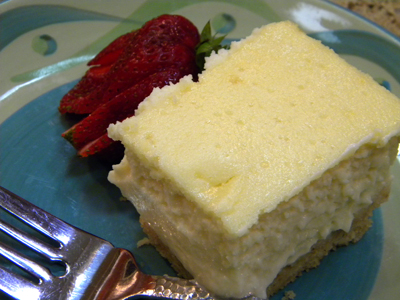 It's been nearly two months since I promised this recipe would be posted here. I can not believe how quickly the summer goes by!  In the last week of May, we finished the third and final step for homemade limoncello liqueur. Then I gave you a wonderful recipe for lemon-limoncello meringue pie and said another limoncello dessert recipe was forthcoming. It has arrived in the form of these amazingly creamy, yet not too sweet, cheesecake squares. This recipe comes courtesy of the talented and lovely Giada De Laurentiis. Not only am I surprised how long it has taken me to finally make these but I am shocked to realize that this is the first cheesecake recipe posted here. And since it's not made in a springform pan, it's not even an actual cheesecake.  Shocking, because I love cheesecake, which is by far one of my favorite desserts. Not only that but I can honestly say that I am a master at making them; The Cheesecake Factory has nothing on me!  I'm not bragging, just stating the facts and I'm going to share with you three of the most important tricks of the trade to making creamy and crack-free cheesecakes of your own.
#1.  Always place your cheesecake in a water bath. The water bath slows down the baking so that the filling cooks evenly, creating the creamiest cheesecake imaginable. This is easy to do with a recipe such as this, where the bars are made in a baking pan. Not so easy with a traditional cheesecake made in a springform pan. Since springform pans are comprised of two pieces that come apart, it is imperative to wrap the springform pan well with two or three layers of heavy-duty aluminum foil before placing it in the water bath. If you fail to do this most vital step, you will have waterlogged and completely ruined cheesecake.  By the way, any cheesecake recipe can be modified to be made in a baking pan (such as these squares) instead of in a springform.  So if you don't own a springform or just don't want to hassle with one – use a glass or metal baking pan in its place. Also, when you remove the cake from the oven, let it cool in the water bath, then when the water is at room temperature, remove the pan to a rack to cool completely.

#2.  Mix all your ingredients well before adding the eggs. Then always (even if the recipe does not say so) add your eggs, one at a time. And never over-mix or beat on high speed once the eggs are added – doing so will incorporate too much air into the batter and will cause your cheesecake to crack in the center.
#3. The importance of "room temperature" ingredients can not be overstated enough! Cold eggs do not blend properly but room temperature eggs are malleable and will mix in better and act as a binder for other ingredients. Cold dairy products will coagulate and clump in the batter and cause the need to over-mix. All in all, room temperature ingredients create a lump-free and velvety smooth batter. So unless you are making pastry or if the recipe states otherwise; this rule is true for all baking, not just cheesecake.
There you go, now you too can be a cheesecake master. One last little tip; since you're using limoncello as the liquid, you don't use the juice from the lemons you zest. Be sure and juice those lemons ASAP, otherwise, they will dry out since they are missing their "skin".  And if you don't think you'll use the juice in the next day or so, place it in muffin tins and freeze – then pop out and place in marked zip-lock bags.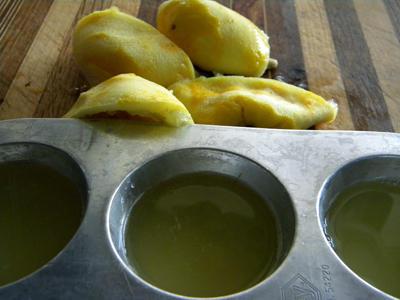 FYI – I found the large container of individually wrapped almond biscotti cookies at Smart and Final. There is enough in that container to make 3 times the recipe, a nice thing to keep in mind when the holidays roll around again… and we all know how soon that will be!
Limoncello Cheesecake Squares
Pam nonstick cooking spray
8 ounces purchased biscotti
6 tablespoons (3/4 stick) unsalted butter, melted
3 tablespoons grated lemon zest, divided
12 ounces whole milk ricotta, drained, at room temperature
2 (8-ounce) packages cream cheese, at room temperature
1  1/4 cups sugar
1/2 cup limoncello liqueur, at room temperature
2 teaspoons vanilla extract
4 large eggs, at room temperature
Preheat the oven to 350 degrees. Spray the bottom of a 9 by 9 by a 2-inch baking pan with Pam.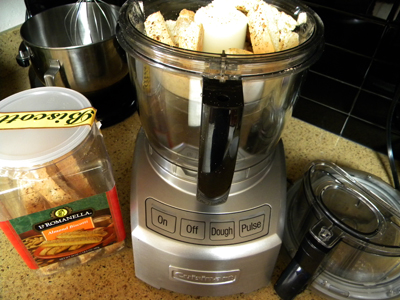 Finely grind the biscotti in a food processor. Add the melted butter and 1 tablespoon of lemon zest, and process until the crumbs are moistened. Press the crumb mixture over the bottom of the prepared pan. Bake until the crust is golden, about 15 minutes. Cool completely on a cooling rack.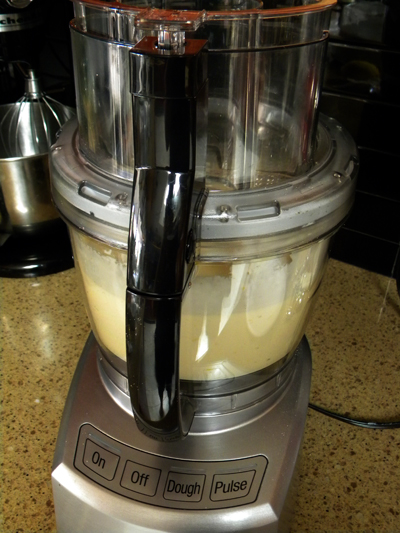 In a clean food processor bowl; blend the ricotta, cream cheese, and sugar until smooth, stopping the machine occasionally and scraping down the sides of the work bowl. Blend in the limoncello, vanilla, and remaining 2 tablespoons of lemon zest.
Add the eggs one at a time, and pulse just until blended, do not over-mix. Scrape down the sides of the bowl between the second and third egg.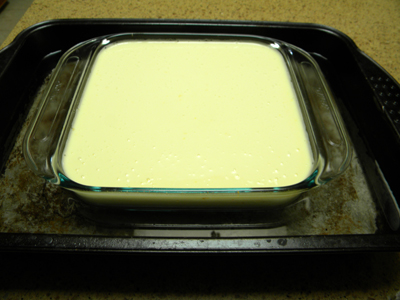 Pour the batter over the cooled crust. Place the baking pan in a large roasting pan. Pour enough hot water into the roasting pan to come halfway up the sides of the baking pan. Bake until the cheesecake is golden and the center of the filling moves slightly when the pan is gently shaken about 1 hour. The cake will become firm when it is cold.
Remove from the oven and leave the pan in the water bath until the water is at room temperature, then transfer the pan to a rack; cool for 1 hour. Cover and refrigerate until the cheesecake is cold, at least 8 hours and up to 2 days ahead. Cut into squares and serve.
Makes 12 to 16 squares