happy birthday dave and carrot cake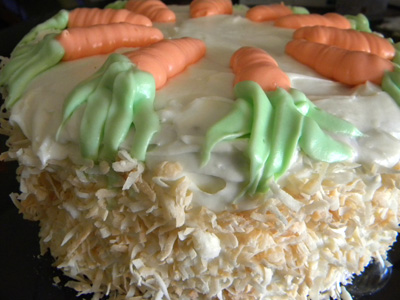 Today is my husband's birthday. Carrot Cake is a family favorite and it is oh so pretty. It doesn't make much sense to make a big old layer cake with only two of us here, so I'm taking it to his office this afternoon to celebrate there.
Whenever you're working with a recipe that calls for dry ingredients to be added to wet ingredients, it makes for easier clean-up to measure the dry ingredients onto waxed paper or foil instead of in a bowl.  It's easier to fold the paper or foil in half and pour it in this way than it is to pour from a bowl. Plus you can reuse the paper or foil for this purpose over and over again.
Be very careful when toasting the coconut used to decorate the cake. It takes a while to go from white to a nice toasted brown but then goes from that nice brown to burnt, smelly, black, and ruined very quickly!
Carrot Cake with Cream Cheese Frosting
Cake
2 cups flour
2 teaspoons ground cinnamon
1  1/2 teaspoons baking soda
1 teaspoon salt
1 cup vegetable oil
2 cups sugar
3 eggs
1 teaspoon vanilla extract
1 small (8-ounce) can crushed pineapple with juice
2 cups peeled and grated carrots (about 5 medium carrots)
1  1/3 cups coconut
1/2 cup chopped walnuts
Frosting
16-ounces cream cheese, room temperature
1/2 cup (1 stick) unsalted butter, room temperature
5 cups sifted powdered sugar
1/2 teaspoon vanilla
1 tablespoon light rum or milk
1 cup coconut, toasted
Cake:  Preheat oven to 350 degrees; generously butter two 9-inch cake pans, line bottom of pans with parchment paper, press paper onto the bottom of the pan, then turn over and press down again, this butters both sides of the parchment.
Sift together flour, cinnamon, baking soda, and salt on a sheet of waxed paper or foil or whisk in a bowl.

Beat the oil, sugar, eggs, and vanilla thoroughly in the bowl of a standing mixer.  Pick up and fold the wax paper or foil to use as a sort of funnel and add to the sugar mixture. Beat until smooth.
Use a rubber spatula to stir in pineapple, carrots, coconut, and walnuts.  Pour into prepared pans and bake for 40 to 45 minutes in preheated oven.  Cool 20 minutes.  Remove cakes from pans and pull away the parchment from cake bottoms, cool on a rack.

Frosting:  Mix together the cream cheese and butter in a standing mixer until smooth and thoroughly blended.  Add the sugar and vanilla; use the rum as necessary to make the frosting spreadable.  Measure out 1 cup of the frosting and set it aside, it will be used to make "frosting carrots" to decorate the cake.
Place one cake layer, rounded top side down, on a cake plate and spread with one-fourth of the frosting. Top with the second layer, rounded side up, and spread top and sides with frosting.
Mix orange food coloring with 3/4 cup of the reserved frosting.  Mix the other 1/4 cup of frosting with green food coloring.  Using a pastry bag, make little mini carrots along the top edge of the cake with a Wilton #10 round tip for the orange carrots and a Wilton #108 leaf tip for the green leaves.  Press the toasted coconut onto the sides of the cake.  Refrigerate the cake for at least 1 hour to allow the frosting to firm up before serving.
Serves 10 – 12
*for cupcakes; fill liners 2/3 full and bake for about 20 minutes or until a toothpick inserted in the center of one cupcake comes out clean.