it's a wrap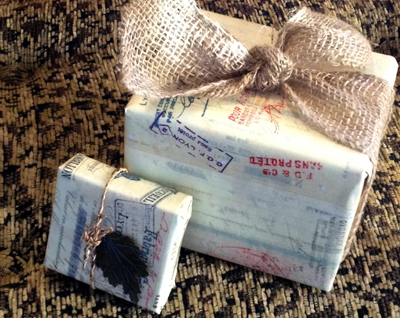 I've been so into wrapping gifts creatively this past few weeks. I think it all began with the vintage French ephemera I purchased at Sweet Salvage and turned into wrapping paper.
I was so happy with the end result, that I've gone crazy for wrapping everything with just about anything except store-bought wrapping paper.
From there, I began searching out pretty wraps on Pinterest and ended up creating a new board dedicated to it, called That's a Wrap.
Marissa's birthday was a week ago, today. Here are a few of the gifts I wrapped for her.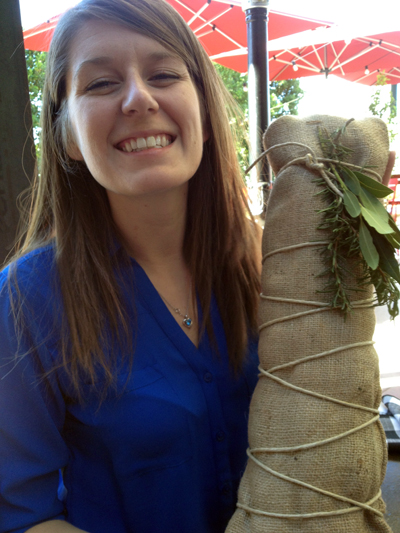 A hard-to-wrap canvas shoulder bag was enclosed in a burlap sack wound with twine and accented with fragrant fresh herbs of rosemary and bay leaves.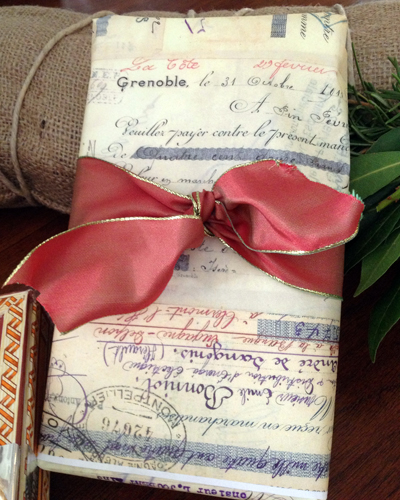 More of the vintage French ephemera paper, this time simply tied with French wired ribbon.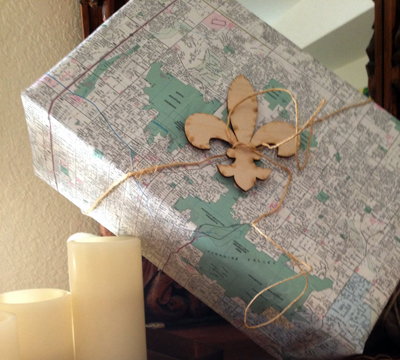 I have a thing for maps and globes, so I wrapped this package with a map of Phoenix for my San Francisco-dwelling girl, to remind her of home. Then I used garden twine to attach a little wooden fleur-de-lis to remind her of our mutual love for France and all things French.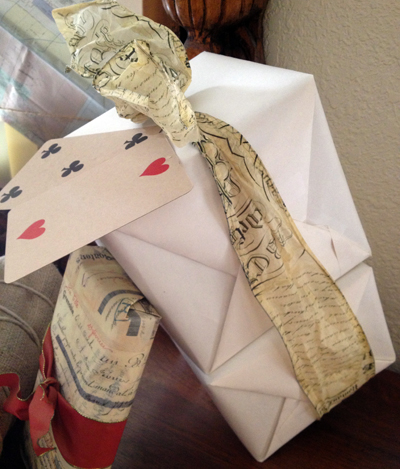 I wrapped twin square boxes in plain white craft paper and tied them together with some very cool but way too delicate paper script ribbon. Which I no doubt paid way too much for. This stuff was a pain in the "you know what" – it ribbed and tore like crazy! The vintage player cards, on the other hand, were a steal from a consignment store. I used the 2 of hearts and the 5 of clubs to represent her 25th year.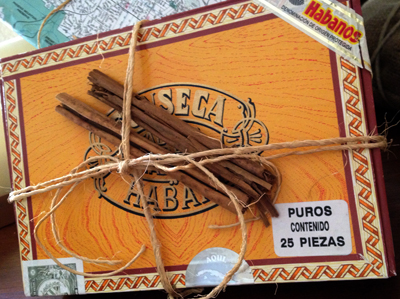 Lastly, a Cuban cigar box is secured with more garden twine and cinnamon sticks tucked in the center.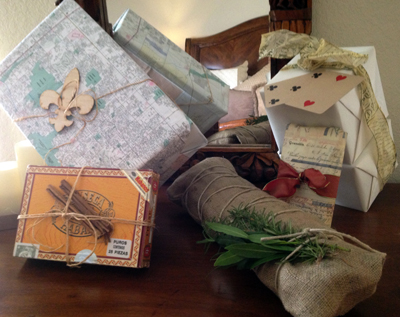 This afternoon, I am going to a Christmas ornament exchange. I need to bring one wrapped ornament to exchange.
I used the Trader Joe's Fearless Flyer circular, that came in the mail earlier this week, to wrap the ornament I'm bringing. I tied it up with baker's twine, tucked in a little fresh holly, and attached a red glitter bell and a stamped "Dream' key.
I'd be happy to have the recipe a gift-wrapped like this, how about you?