vintage French ephemera and more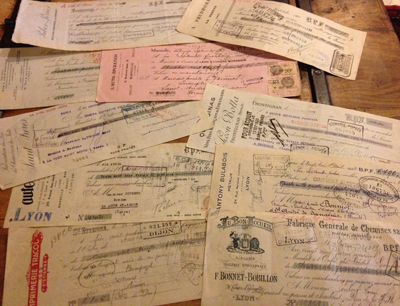 Today the plan was to post all about the fun things I found at the Rose Bowl Flea Market on Sunday. Instead, I'm going to show you the super awesome things I bought at Sweet Salvage yesterday.  Yes, that's right, I found more wonderful treasures right here in Phoenix than I found when we traveled 380 miles to California to treasure hunt. It just goes to show that you never know when and where the best stuff will be.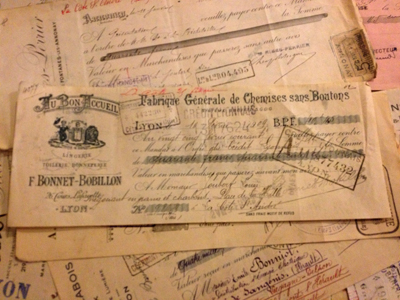 My #1 favorite find in all the time I've been shopping vintage?
The best thing ever?
By far, are these 10 sheets of vintage French ephemera!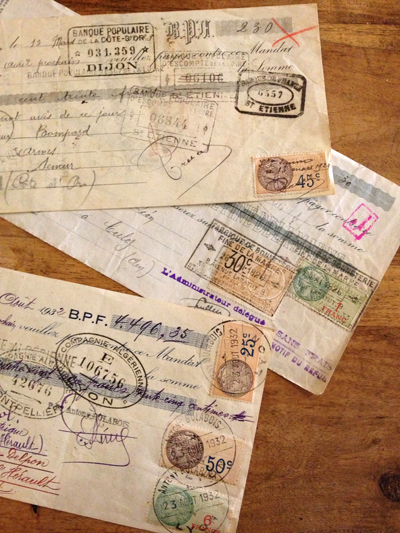 I have been searching for such a thing for nearly two years, ever since I saw the same thing on Heather Bullard's outstanding blog.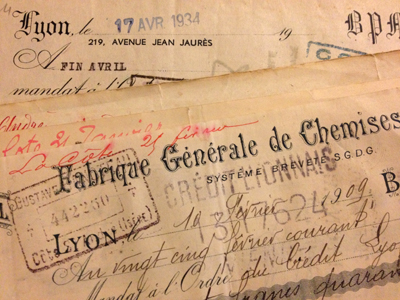 They are French receipts dating from 1909 to 1934.  I plan on framing several like THIS and creating an arrangement with framed vintage maps of France that I've been collecting.
So what are ephemera, you ask?
"Ephemera is any transitory written and printed matter not intended to be retained or preserved. The word derives from the Greek, meaning things lasting no more than a day. Some collectible ephemera are advertising trade cards,  bookmarks, catalogs, greeting cards, letters, pamphlets, postcards, posters, prospectuses, stock certificates, tickets and receipts."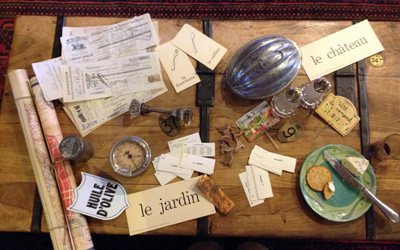 These are all of the small items I purchased at Sweet Salvage this month. Well, not the plate of cheese and crackers or the glass of red wine.
Following are close-ups of a few of my finds…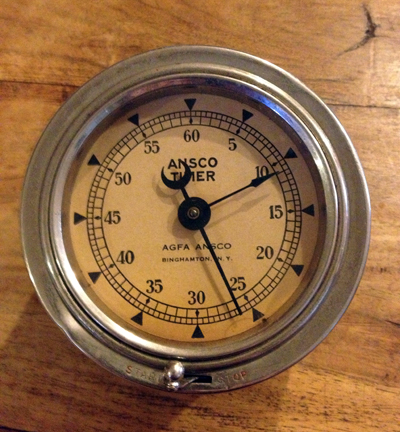 A darkroom timer. It works!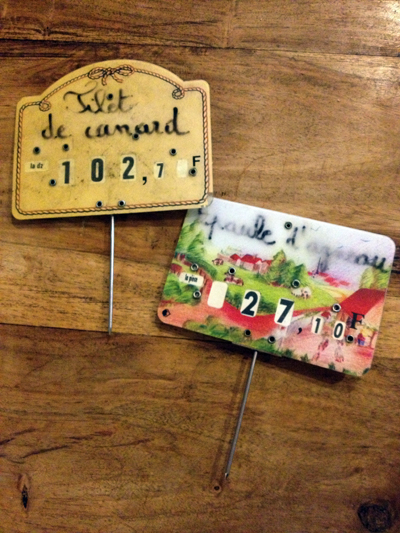 Two French market markers with wheels on the back to change the price … from the bygone era of French francs and centimes.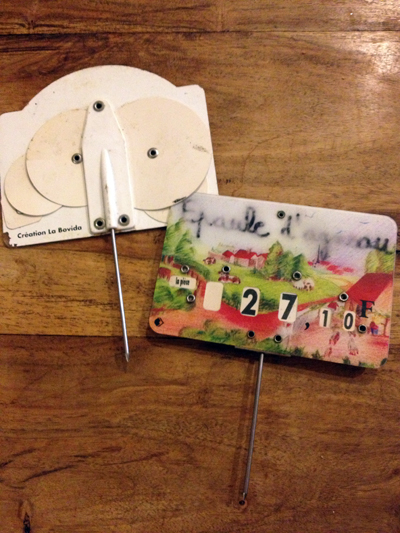 I especially adore the colored marker with the French farm scene.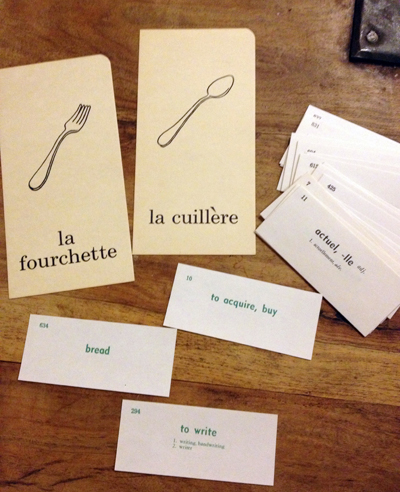 Another vintage French ephemera I am always on the lookout for are flashcards. I found a boatload this time!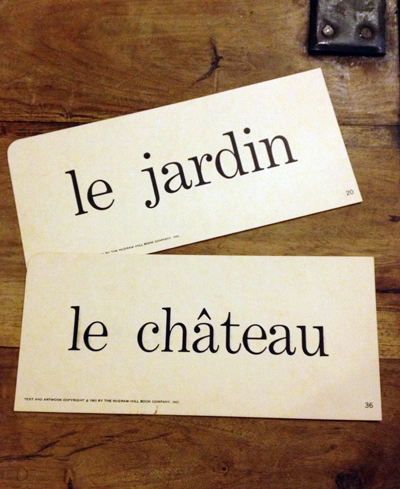 Love the illustrations on the back of these two.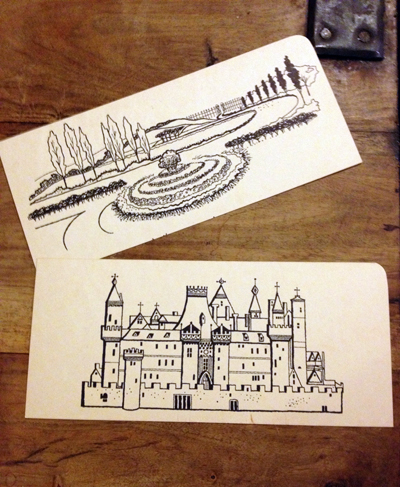 Not everything was French.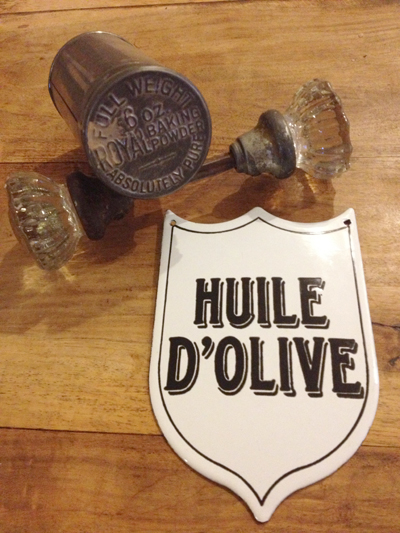 Although the olive oil metal shield is, the vintage glass doorknobs and the Royal baking soda tin are all-American.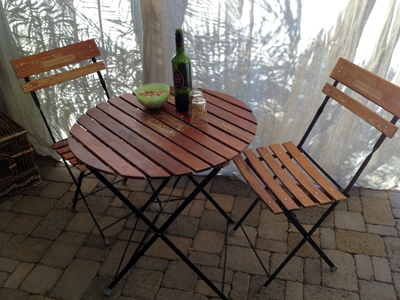 Plus, not everything was small enough to be laid out on a table either. In fact, the final item I have to show you is a table. A vintage Stella Artois bistro table with two matching chairs.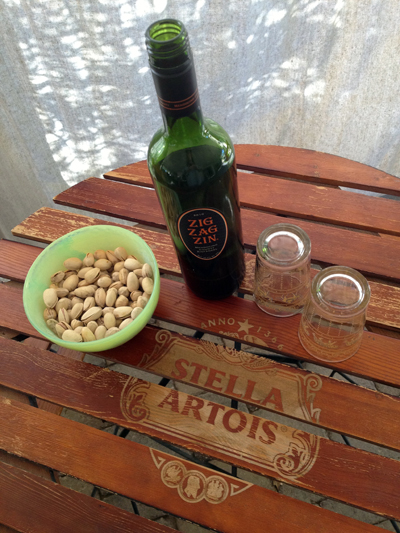 Yeah, it was a pretty great day of shopping for vintage! Next up, are the finds from Pasadena Rose Bowl Flea Market.