gimme s'more!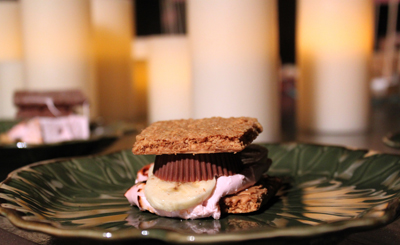 The Ice Cream Sundae Bar – a superstar at summertime picnics, BBQs, cookouts, kid's parties, and even fancy adult parties and weddings. But in the dark and cold of a fall or winter night, not so appealing anymore. Yet having a banquet of options and choices for a "make-your-own" dessert is so much fun, that there should be such a thing for those chilly evenings too. There is! It's called a S'Mores Bar and it is just as fabulous and festive as those ice cream sundaes, about as messy too.
Here are photos and a menu with various concoctions to get you started. And if you really want to go "all-out" be sure and mix up a batch or two of the homemade chocolate and/or raspberry marshmallows in yesterday's post to make it extra special.  Have Fun!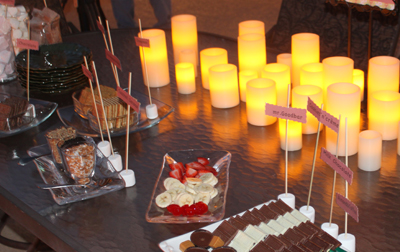 Grand S'Mores Party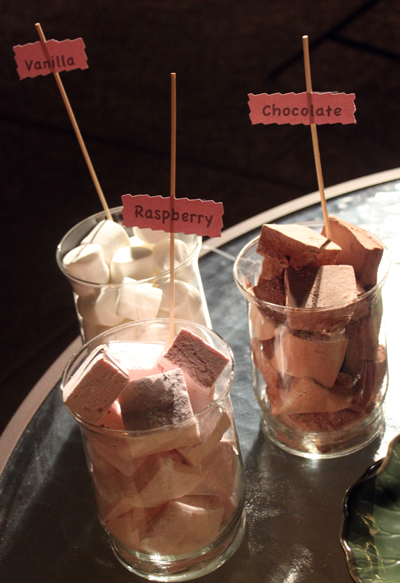 For the marshmallows: Purchase at least 2 bags of large white (vanilla) marshmallows. One bag will be used as bases for your name tags for the various choices of S'Mores ingredients. Make the homemade chocolate marshmallows and raspberry marshmallows posted HERE one day before the party, if desired. If not, buy more than 2 bags of regular marshmallows at the store!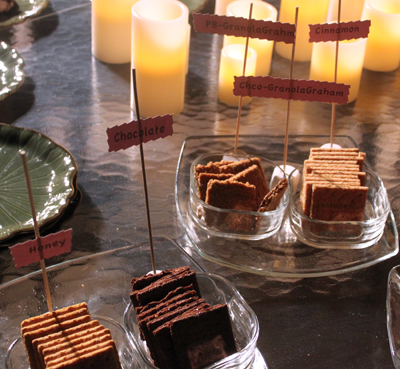 For the graham crackers: Stand in the cookie/cracker aisle of your favorite grocery store and let your imagination run free. I stuck to the more traditional graham crackers, just in various flavors, but if you want to use gingersnaps (great for a Christmas Party!) big chocolate chip cookies, or even saltines, go for it! Pictured here, you'll find; Honey, Chocolate, and Cinnamon Graham Crackers, plus a new item I discovered on the shelves – Nature Valley Granola Thins in both Dark Chocolate and Peanut Butter flavors – Delish!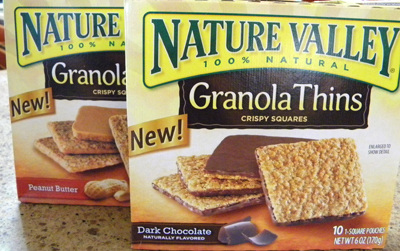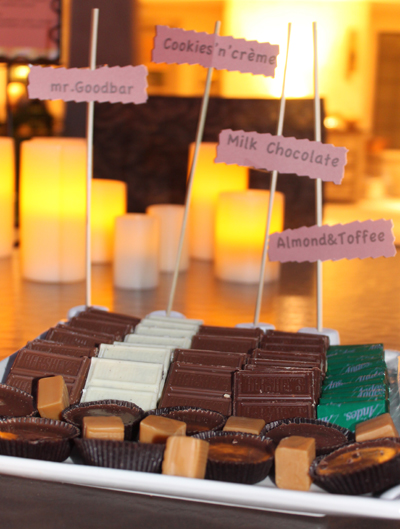 For the chocolate: Here's where you can really have fun, especially if you're a chocoholic! Of course, still offer the milk chocolate square everyone has grown up with and loves, but take it several steps further. I offered Hershey's Cookies n' Creme, Symphony Almond & Toffee, Mr. Goodbar, Andes Chocolate Mints, Caramel squares, Reese's Peanut Butter Cups, and dark chocolate squares.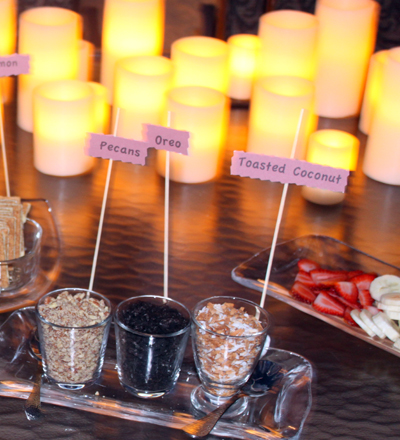 For the extras: Again, get as creative as you can; banana slices, strawberry slices, Maraschino cherry halves, Oreo crumbs, chopped pecans, minced peanuts, toasted coconut, Nutella, peanut butter, honey, fruit jams, and jellies…
For the set-up: Arrange all the components in an eye-appealing manner, all depending on the casual or fancy feeling you're going for. For casual, maybe drape the table with flannel blankets or sleeping bags and scatter it with pine cones and pine needles. Place all your ingredients in rustic pails, baskets, and buckets. Going for a more elegant look? Use a clear glass or even fine-china bowls and vases. Don't forget the "sticks" for roasting the marshmallows – use actual sticks for the rustic theme and nice kabob skewers for the fancy, or straighten out a bunch of metal shirt hangers for either fancy or casual. Be certain to label everything. Use craft or scrapbook paper and either handwrite or print out the names for all the choices. Cut them out and tape them onto wooden skewers, then poke the other end of each skewer into a marshmallow and stand it up behind each item. Print or write out some menu ideas too, as seen above and written out below.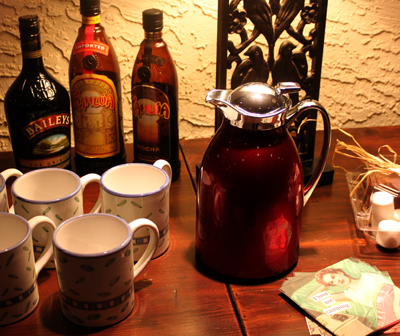 For the drinks: Be sure to offer libations to your family and friends as they are roasted by the fire. A pitcher or bottles of water, coffee, and my favorite hot chocolate – along with Bailey's Irish Cream, peppermint schnapps, spiced rum,  and various Kahlua flavors for the adults. (BTW-there is a new Peppermint Mocha flavor out for the holidays that is so    a-m-a-z-i-n-g and is on sale, $9 off at Fry's this week through Tuesday night if you are local to the Phoenix area!)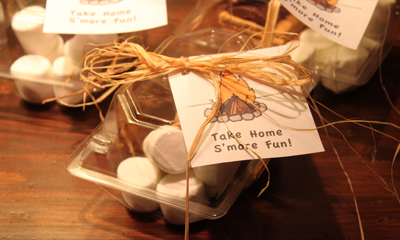 Finally, give your guests a little of the party to take home. Use clear party favor bags or boxes and fill each with at least 4 graham crackers, 2 chocolate squares, and 4 or 6 marshmallows. Seal and add a tag that says, "Take Home S'more Fun".  And if it's really cold outside, have throws, blankets, and/or gas heaters around so everyone is warm, comfy, and toasty – just like the marshmallows!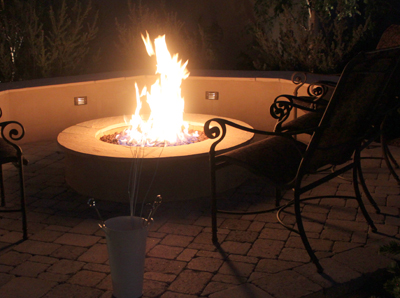 S'more Menu
The Oreo
Chocolate graham, milk chocolate, cookies & cream chocolate, chocolate marshmallow sprinkled w/oreo crumbs
The Grasshopper
Chocolate graham, Andes mints, chocolate marshmallow
The Caramel Delight
Cinnamon graham, almond-toffee chocolate, caramel square, chocolate marshmallow
The Choco-Cherry
Chocolate graham, maraschino cherry halves, milk chocolate, raspberry marshmallow
The Banana PB&J
Cinnamon graham, Reese's peanut butter cup, banana slices, raspberry marshmallow sprinkled with peanuts
The Berry-Choco
Cinnamon graham, strawberry slices, milk chocolate, raspberry marshmallow
The Caribbean
Graham cracker, cookies & cream chocolate, caramel, marshmallow sprinkled w/ toasted coconut
The Banana Split
Graham cracker, milk chocolate, strawberry slices, banana slices, maraschino cherry halves, raspberry marshmallow sprinkled w/ peanuts

All photos were taken by Marissa Lynn Hopkins, my wonderful, talented, and beautiful daughter! xoxo