La Ville-Lumière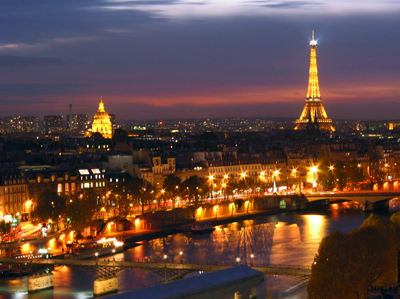 Paris – "The City of Lights" 
The nickname was first attached to Paris because it was a center of education and ideas during the Age of Enlightenment and then later due to its early adoption of street lighting in the late 1800's. The city is laid out in twenty clockwise-spiraling arrondissements (municipal boroughs) so it's actually quite simple to navigate. A trick to remember; the last two digits of the postal/zip code are the arrondissement your address is in.
My friend, Kim Howard, will be going to Paris soon and asked for the names of places where we like to stay and dine. I had put this list together for a student after we last visited in 2008. Of course, there are wonderful links to all sorts of Paris/France websites and blogs over there on the right-hand side of the page under "French Stuff I Love." After this recipe  –  my rendition of hot chocolat from Angelina's, you will find some of our family's must-see and must-do Parisian treasures. And if you love Paris as we do, please leave a comment (with links, if possible) with your favorites!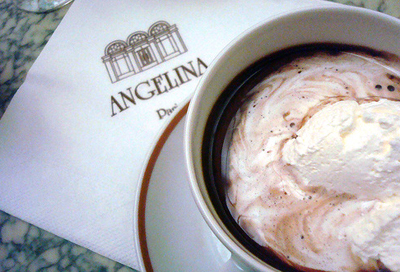 Le Chocolat à L'Ancienne dit "L'Africain"
(literally, "hot chocolate once called African")
3/4 cup whole milk
1/4 cup heavy whipping cream
2 teaspoons powdered sugar
4 ounces finely chopped 72% bittersweet chocolate (such as E. Guittard 72% Bittersweet)
Cold fresh whipped cream
Combine milk, heavy cream, and powdered sugar in a heavy saucepan and place over medium-high heat until bubbles appear around the edges of the pan.
Remove from heat and add chocolate. Stir until chocolate is melted. Return to low heat, if needed, to melt the chocolate completely.
Serve topped with whipped cream.
Serves 1
There are more than a dozen links for websites to learn more about all these wonderful places, be sure to use them! (On some of the website links below, you will find a little British flag, click on it to view in English.)
Hotel: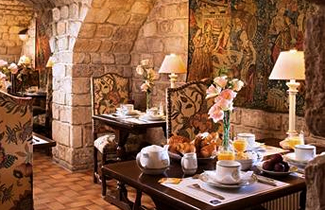 Hôtel le Jardin de Cluny
9, rue du sommerard
75005, Paris
01 43 54 22 66
Our family just loves this hotel which is centrally located in the Latin Quarter, close to the Louvre and Notre Dame (where, by the way, there is an organ concert every Sunday afternoon at 4:30 PM). The staff is friendly and helpful and you can opt to have the breakfast buffet downstairs, which is really quite lovely.  The rooms are well-sized (for Paris) and reasonably priced.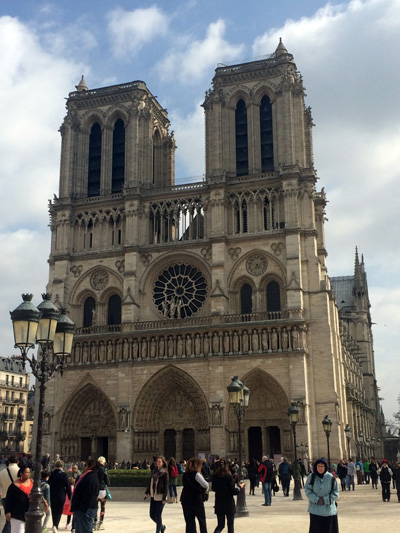 My #1 Landmark/Must See:
Simple, the first place I must go to when I arrive in Paris is Cathedral Notre Dame de Paris. It fills me with so much love and joy and sets the tone for the entire trip. I love the Eiffel Tower, the Louvre, and the Arc de Triomphe, but nothing compares to Notre Dame. Go as high up as you are able to go, to the bell, to the spire, as high as you can. You'll fall in love too. 
Restaurants:
Royal Madeleine
11, Rue De Chevalier St-George
75008, Paris
01 42 60 14 36
The best French Onion Soup in the world!  Near Place de la Concorde –  it is open for lunch.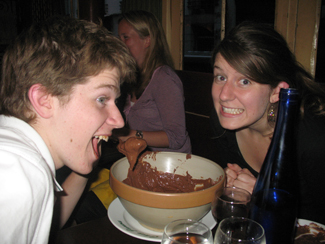 Chez Janou Bistrot
2, rue Roger Verlomme
75003, Paris
01 42 72 28 41
The Chocolate Mousse (1 order to share is 7 euros for as much as you can eat) is a must here, the ambiance, decor, and food are all fabulous.  If it's on the menu the evening you go, at least one of the people at your party just has to order the Duck Confit – it is out of this world!  Really fun and "hip" place.  Plus they have over 80 Pastis (French liqueur and aperitif)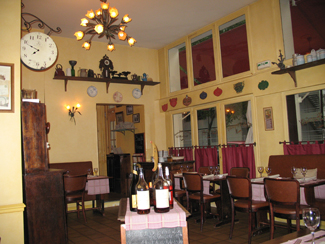 L'AOC
4 Rue des Fossés St Bernard
75005, Paris
01 43 54 22 52
Marissa and I loved this little place. AOC is the acronym for Appellation d'origine contrôlée, which translates as "controlled designation of origin," which is a French certification granted to certain French geographical indications for wines, cheeses, butter, and such. This lovely restaurant uses almost exclusively AOC products on its menu. My back story here is that I fell in love with the tables and their built-in slots for placemats (towels really) and their bread sacks. I asked to purchase one of the sacks but wasn't able to. Days later, as Marissa and I were shopping, I found one in a store for an outrageous price, and of course, promptly purchased it. I need to find that thing and use it!
Le Comptoir Paris-Marrakech
37, rue Berger
75001, Paris
01 40 26 26 66

Marissa introduced us to this fun Moroccan drinking and people-watching spot on a corner across from the park above Les Halles. There are nice stuffed couches all over the room, and meze snacks are served.  Lots of shopping around this area too.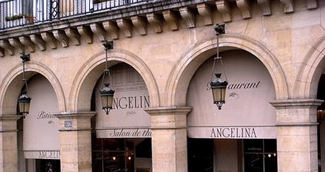 Angelina
226 Rue de Rivoli
75001, Paris
01 42 60 82 00
Since 1903, this gorgeous salons de thé (tea room) has been home to Parisian gourmet delicacies. As soon as it opened, Angelina became the meeting place for the Parisian aristocracy. Even if you only go to enjoy the world-famous hot chocolat or Mont Blanc Gateau, it's a Paris must-do!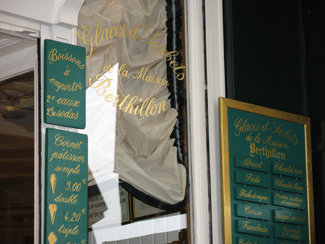 Maison Berthillon
31 R St-Louis en l'Île
75004, Paris
01 43 54 31 61
Arguably Paris' most delicious ice cream. Along with its famous fruit flavours, the chocolate, coffee, marrons glacés (candied chestnuts), Agenaise (Armagnac and prunes), and nougat au miel (honey nougat) are beyond wonderful. Located just across the bridge from Notre Dame.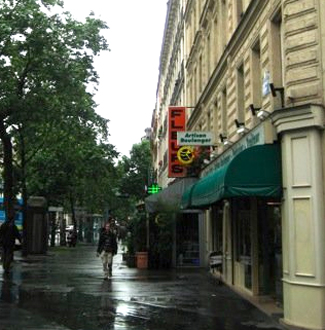 Artisan Boulanger
Corner of Boulevard Diderot and either Rue Jean Bouton or Place Henri Grauwin
75012, Paris, France
The most delicious almond, chocolate, and almond-chocolate croissants in the world are found here! (at least according to the entire Hopkins family) This little bakery was right around the corner from Marissa's apartment where she spent her semester abroad during her sophomore year of college. No exact address, phone, or website for this one; sorry this is all I have…
Shopping for the Kitchen:

La Vaissellerie
(several locations throughout Paris)
Really fully stocked, inexpensive, and fun kitchen store (small stuff, no copper pots or anything fancy like that) As you peruse the website, click on "les boutiques" for the locations and be sure to click on "les interieurs" from there, to view pictures of the stores… so much good stuff packed inside.  And… if you happen to go and are feeling generous, feel free to bring me a little gift for the recommendation! 🙂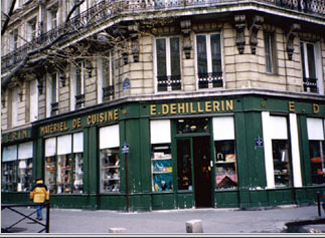 E. Dehillerin
18 et 20, rue Coquillière – 51, rue Jean- Jacques Rousseau
75001, Paris
33 1 42 36 53 13
The oldest kitchen store in Paris (Since 1820) with amazing copper, pastry and professional stuff you can't find in the USA, like unlined copper sugar pots for making caramel.
Museums
You may purchase the pass at your first museum stop – it is good for not only my favorite museums below; but also the Louvre, Arc de Triomphe, Notre Dame, and other great churches, and much more – if you go to at least three or four places, it pays for itself quickly and no lines.  It's 32 euros (without the pass – Notre Dame tower climb is 8.0, d'Orsay is 8.0, the Arc is 9.0, Orangerie is 7.5, Louvre is 9.0 – you get the idea).
Musee d'Orsay
1, rue de la Légion d'Honneur
75007, Paris
9.30 am to 6 pm 9.30am to 9.45 pm on Thursdays; Closed Mondays
Hands down, our family's favorite museum of all time, we go every time we're in Paris, it never gets old! The building alone (an old train station) is worth the visit.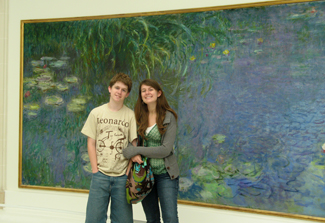 Musée de l'Orangerie des Tuileries
Jardin Tuileries 75001
75001, Paris
33 1 44 77 80 07
A small museum in the Jardin des Tuileries between the Champs-Elysees and The Carrousel du Louvre.  Go to their website to learn about it, really cool.  A must-see, lots of Renoir, amazing Monet water-lily murals, Picasso, and much more in a small, easy and quick museum, very close to the D'Orsay Museum as well, can do both on the same day.