New Year's Eve 2013 tablescape
I want to give you a heads-up  – my blogging abilities are going to be compromised for the next week.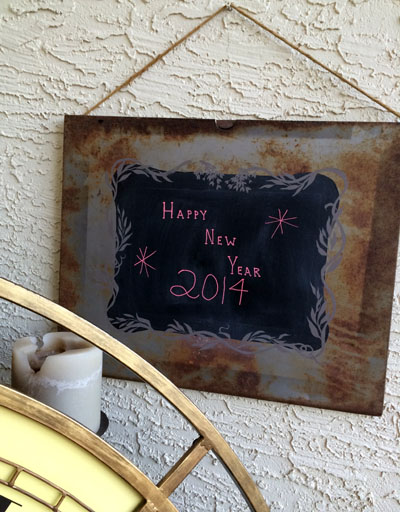 Yesterday, I began putting away Christmas. The tree is down and the New Year's Eve tablescape and decor, that I'm about to show you, are put away. I hope to get the rest of the house "untrimmed" and "defrocked" today.
Then, Saturday the real work begins.
Fun work!
The work I love to do!
The sort of thing I live for…
Decorating. Shopping. Cooking. Making lists. Organizing. Setting up and Planning… for Tram's baby shower.
Hence – very little time to blog. You may hear from me, or I may go "underground" and you might not. Either way, please know that I am in my element, experiencing joy and happiness and that I'll share all the glorious details with you… after the fact. I don't want to ruin any of it for my sweet friend, loyal blog follower, and mama-to-be, Tram!
For now, back to New Year's Eve, from here out, referred to as NYE.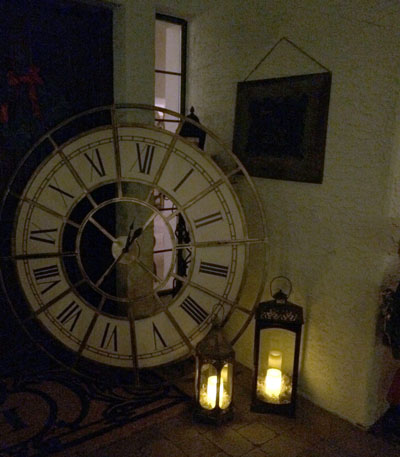 See that huge clock?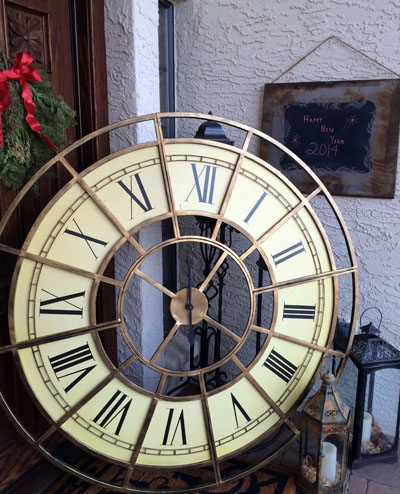 Isn't it grand!?!  I bought it years ago at a cool store in the Scottsdale Airpark that, sadly, no longer exists. It is five feet in diameter and it is heavy! I put it out on the front patio for NYE and it was still there yesterday, when Chip, my landscape architect extraordinaire, came by with his crew to install more lighting in the front yard.
Chip asked me about the clock and I told him that when I bought it, my intention was to hang it in the front room. But I feared it was too heavy, so I've just had it leaning against walls in various rooms over the years. Most recently in the guestroom, better known as Marissa's bedroom.
He said, "It's so cool! Where do you want it to go? I'll hang it for you."
Hey, you don't have to make a generous offer, like that, twice!
Quickly, before he could change his mind, I said, "OK!"
So I got the stud finder, nails, some wire, a hammer, and a ladder. He got his right-hand man, Roy, and another ladder. They wired it up and went to hang it… and the wire snapped. (I told you it was HEAVY!) Thankfully they were still holding on to it when that happened!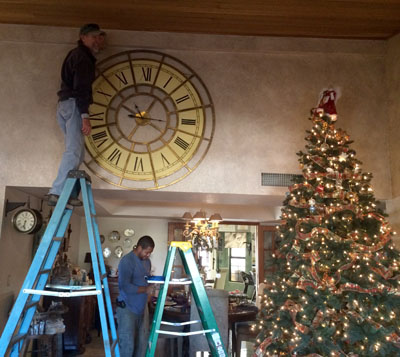 They got some "better" wire from their truck and tried again, and voilà, the clock is finally hanging where I wanted it to be hanging all along!
I really am going to get to the tablescape… but first a couple more photos of the front patio/entrance leading to the NYE dinner party.
Happy New Year. Do you see it?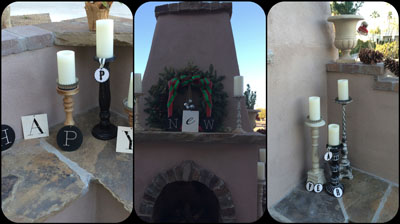 Now you do!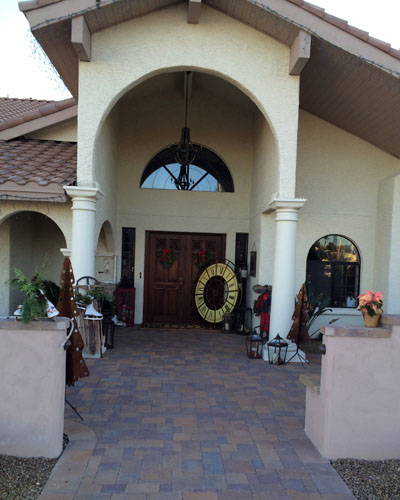 Come on in.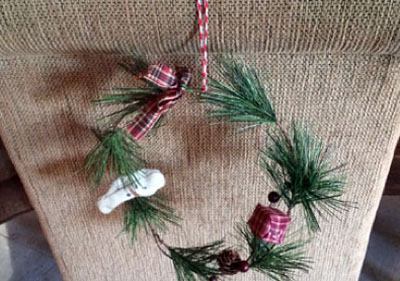 The first thing I needed to do was take down a couple of the Christmas items around the dining room table and switch them to NYE decor. First up were the backs of the chairs.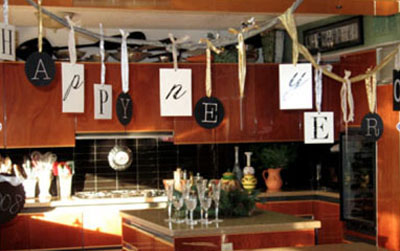 The little wreaths came off and "Happy New Year" went up.  I bought 3 cool sets of metal letters way back in 2000 from Pottery Barn and I usually hang them in the kitchen. But this year, I split them up and placed two on the back of each chair.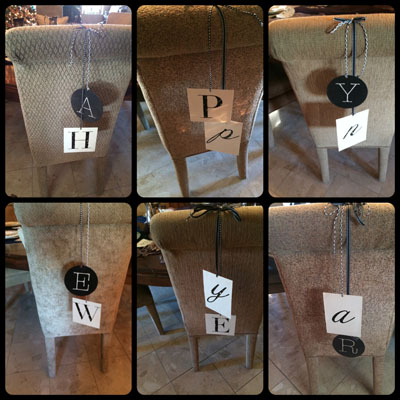 Yes, someone had to be PP, and even worse, someone else had to be EW.  Not that it was planned from the start – but I did end up with HA. 🙂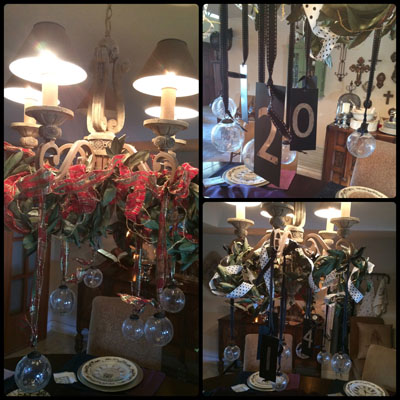 The other change-out was the chandelier. To tell the truth, it was a pain in the rear and too much time and effort went into it. But it did need to be done since the red and green Christmas ribbon would have seriously clashed with the purples, blues, and pinks of the NYE table linens…. and I was really happy with the result of the metal 2014 numbers hanging in there with the clear round balls.
On to the table itself!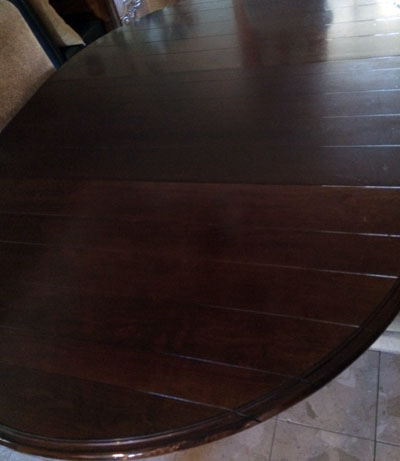 I began with a blank slate. Then I started my "layering" of fabrics, colors, and textures.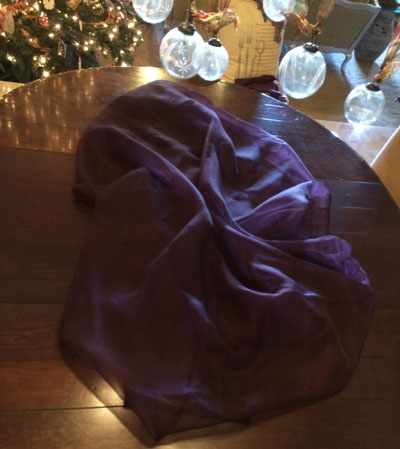 First, I puddled a sheer-fabric rich eggplant-colored tablecloth in the center.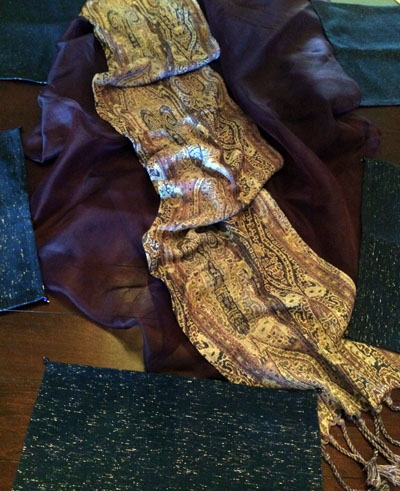 Next, a tasseled and colorful runner is puddled diagonally down the length of the table. Six deep-blue placemats with silver threads and beaded corners are placed atop.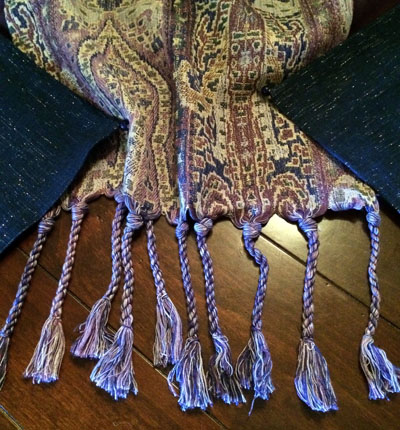 The photos really don't do these linens justice. They are all from Pottery Barn, purchased at least 10 years ago. They are some of my favorites – luxurious and truly gorgeous.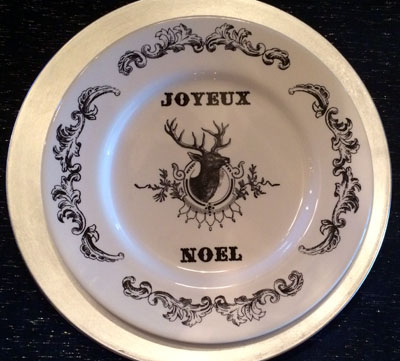 Each place setting receives a sliver charger and then a large JOYEUX NOEL dinner plate. I found the plates at Home Goods this year. I'm using them because of the fancy scroll work around the rim.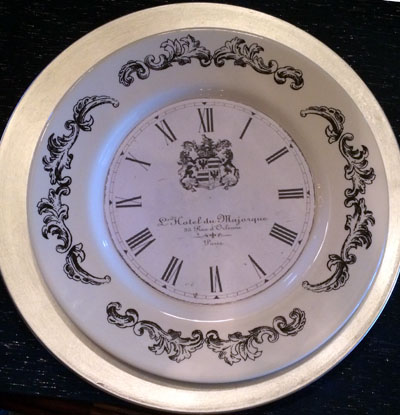 A paper clock-face image goes over the center area, covering up the Christmas images.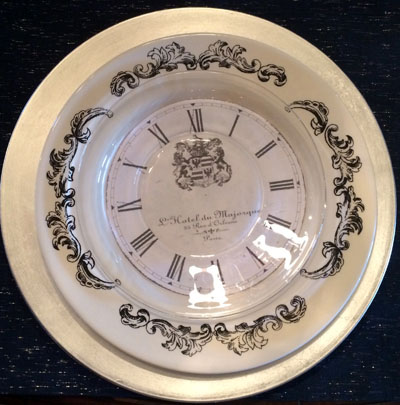 Then a clear plate is set atop so the clock face shows through.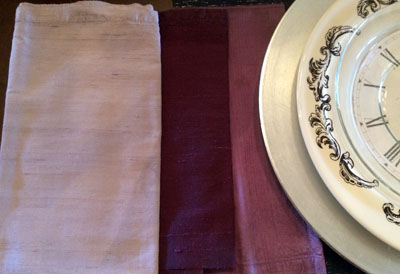 Three coordinating silk napkins are used. Two of each color for a total of six napkins, one for each place setting, alternating the colors.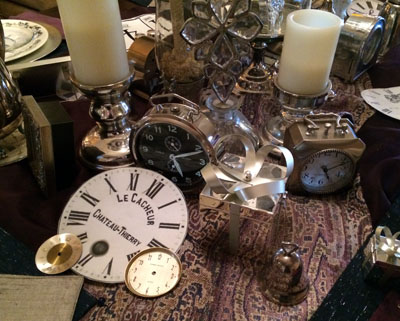 Now the real fun begins. The hard-scape layering! It's one of my favorite things. Creating a theme/idea and then scouring my house to find all the possible items I can use to make it come to life.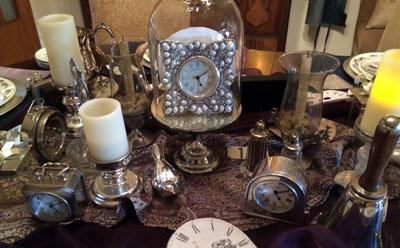 The theme here is obviously~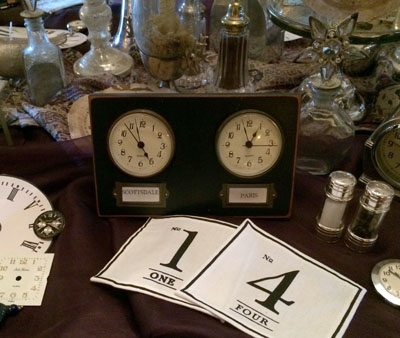 Time or Clocks.
Silver, Black, Glitter, and Bling.
"Ring" (as in bells) and the numbers 2014.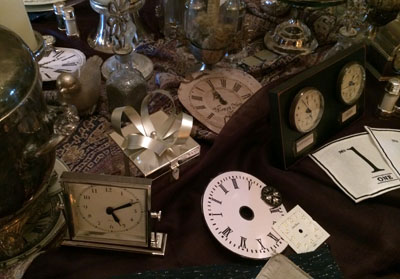 I go around the house and collect every silver clock I can put my hands on. I used to collect clocks, so that's easy! I dig through drawers to find things with numbers on them and pull out all the 0, 1, 2, and 4's I can find.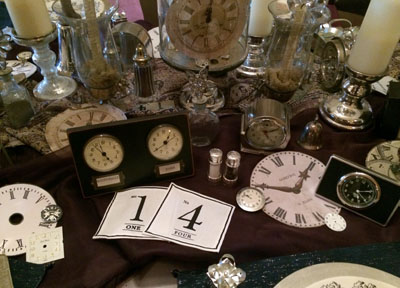 After all it's NYE, you can't have too much!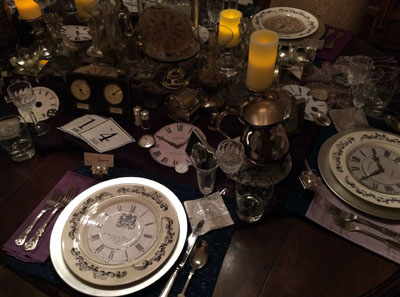 You gotta go ALL IN!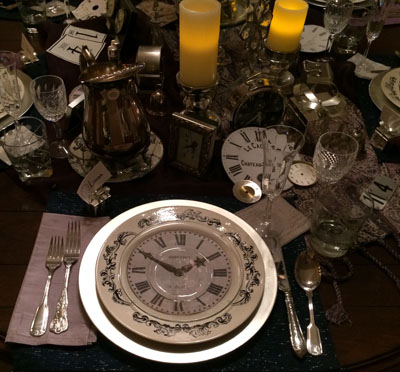 Each place setting is finished off with silverware, champagne, water, wine glasses, and…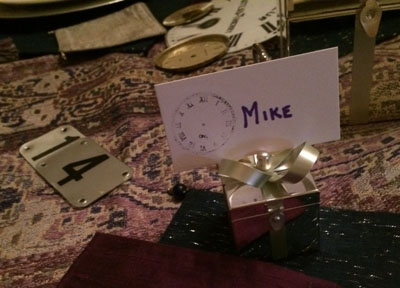 … a little silver giftbox to hold the place card, which has been stamped with a clock image. The boxes came from Crate and Barrel. I have a huge collection of various sizes. I don't know if they still carry them, but if they do, you have to pick up some next year. Not only are they useful all year long (think birthdays and Valentine's), but they came with the best chocolate-covered almonds inside. I remember, they called them Chocolate-Cocoa Enrobed Almonds. So good!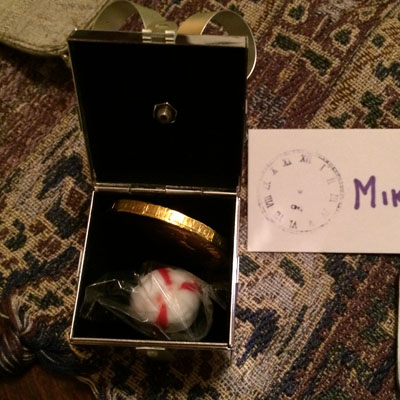 Anyhow… inside each box, I placed a gold (chocolate) coin for good luck and prosperity plus a mint for… good breath – for those midnight kisses. You have to think of these things!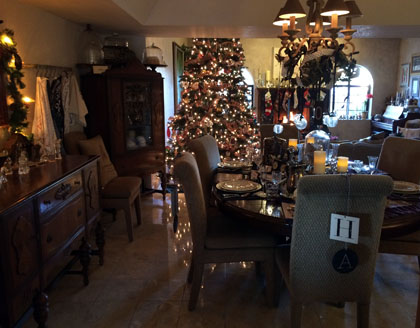 I hope our guests had as much fun that night as I had fun putting it all together.
Our meal was very casual. We had the Black-Eyed Pea Dip by the fire on the front patio, when they arrived.  Then we made our own individual Grilled Pizzas in the backyard.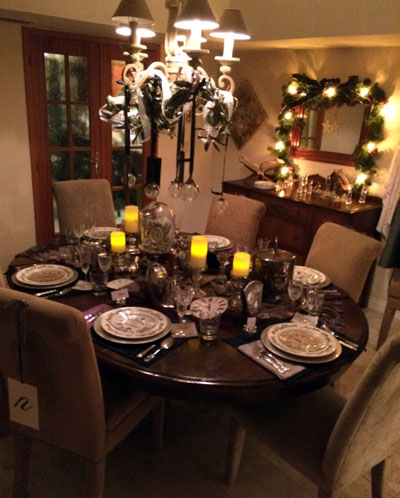 The next course was Ceasar Salad. Then my Individual Mac & Cheese with Short Rib Ragù and some delicious Shrimp Scampi Toasts that Amy brought.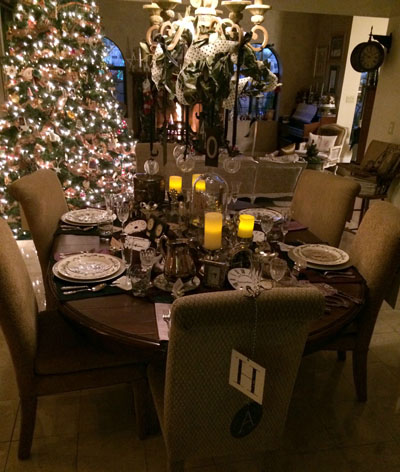 Finally, we retired to the back patio, by the fire, and enjoyed French Macarons and Adult S'mores Liqueur that Ronnie brought. It was a perfectly relaxed, casual yet elegant NYE! Happy 2014 to all!