Halloween tradition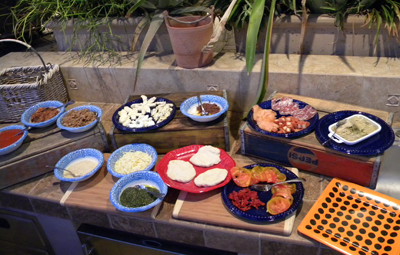 As far back as I can remember, our pre-trick-or-treating tradition has been to have everyone gather around the grill and make their own pizza. Our neighborhood is famous for a great Halloween. All the streets are cul-de-sacs and on many of those streets, the families all gather at the entrance and put out tables where the kids can just come up to table and pick candy from five bowls placed out (1 from each house). Meanwhile the adults socialize, eat, drink and just have a great time together.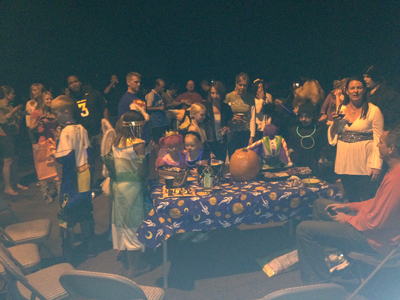 There are already loads of kids in neighborhood, but it seems everyone invites all their friends to come here to trick-or-treat too.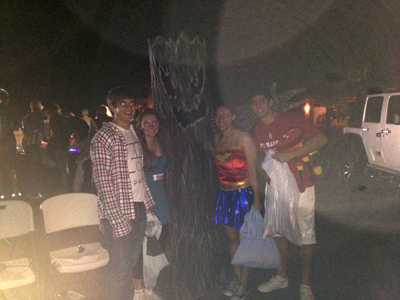 Other houses set up elaborate haunted houses that attract not only the kids, but the adults, as well. Joannie, my neighbor from 2 doors down, dresses up as a witch each and every year and makes the kids do a trick before they get their treat, her house is a destination for the kids!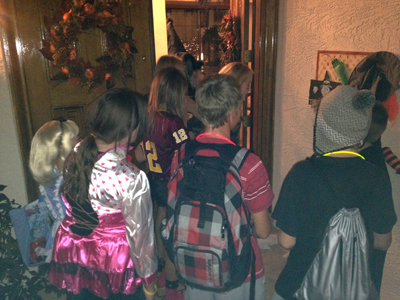 We go through 4 or 5 huge bags of Costco-sized candy each year. When my two kids were young, we'd have at least another dozen kids at our house (from outside the neighborhood) over to have pizza and then head out for their candy.

Grilled Pizza
Pizza Dough
2 teaspoons active dry yeast
2 cups flour, divided
2 tablespoons olive oil
1 tablespoon milk
1/2 teaspoon salt
Topping Suggestions
Pizza sauce
BBQ sauce
Parmesan cheese
Blue cheese
Fontina cheese
Goat cheese
Fresh sliced tomatoes
Roasted peppers
Cooked sweet Italian sausage
Sliced pepperoni
Sun-dried tomatoes
Pesto
Tapenade
Anchovies
Smoked Salmon
BBQ Chicken
Pam
Olive oil
Dough: In the bowl of a standing mixer, combine 1/4 cup of lukewarm water, the yeast, and 1/4 cup of flour.  Let stand for 20 minutes, this is called the sponge.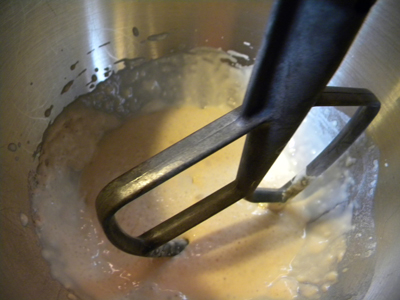 Add the remaining 1  3/4 cups flour, 1/2 cup lukewarm water, olive oil, milk, and salt and mix thoroughly.  Turn the dough out onto a floured surface and knead until smooth, elastic, and a little bit tacky to the touch, about 8 minutes.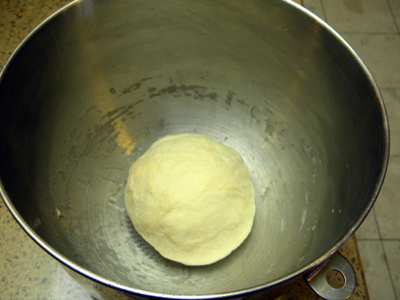 Place the dough in a lightly oiled bowl and turn the dough over to cover with oil.  Cover the bowl with plastic wrap and let rise in a warm place until doubled in volume, about 1 hour.  Divide the dough into six equal portions.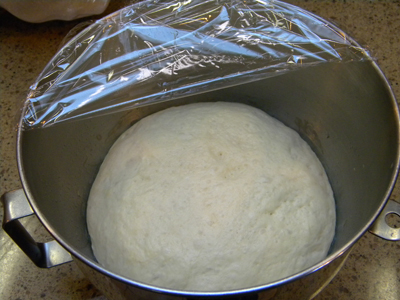 Topping and Grilling:  Set out your favorite toppings in bowls and on plates near the grill. Place a couple cutting boards near the grill also, one for setting pizzas on to add topping and another for slicing when pizzas are cooked.
Stretch a piece of dough into a round, working the dough until it is the desired shape and thickness.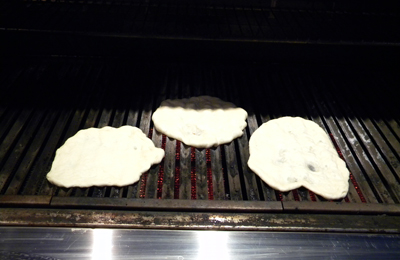 Spray one side of the dough with Pam and place the dough on the grill, greased side down, over a medium-hot fire, and cook for a minute or two or until the bottom is browned.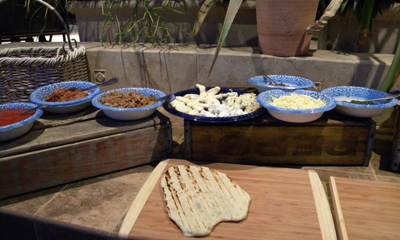 Remove the dough from the grill, and place the grilled side up on a lightly floured cutting board.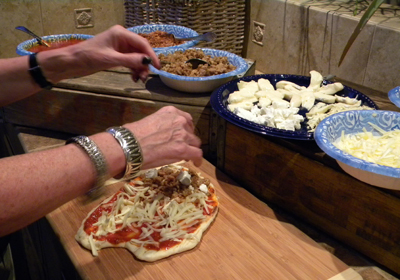 Brush the crust lightly with olive oil and add your toppings.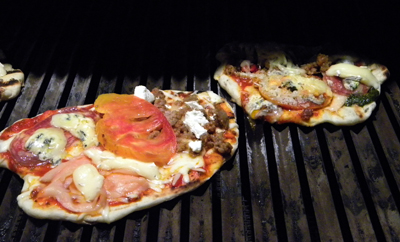 Return to the grill, cover the grill, and cook until the cheese is melted and bubbly and the crust is crisp but not charred about 3 to 5 more minutes. Remove to a cutting board, slice, and serve.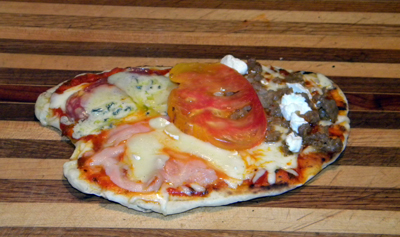 Makes 6 small individual pizzas