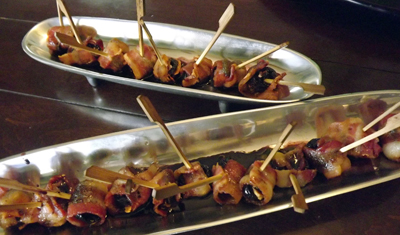 Bacon Bonbons – prunes stuffed with goat cheese, wrapped in smoked bacon, in a spiced port glaze
That is the full description on the menu at Gitane Restaurant & Bar in San Francisco – which I used to make these delicious and addicting little morsels at home. I served them on Tuesday night at the Blog Anniversary Party and they disappeared quicker than anything else on the table.
The one change I would make, is to cook them a little longer than I did for the party. Although wonderful as they were, I'd like for the bacon to be a bit crisper. I've increased the baking time in the recipe below as compared to what I did the other night.  Please keep that in mind when you make them. The bacon will look and be more "cooked" than reflected in my photo.
The name, Bacon Bonbons, is so cute. I can't just steal it, so I'd like to come up with a new clever name for my version. I haven't found it quite yet… as you will see. So, any help – from any one of you – would be graciously appreciated!  (Thank you JoAnne Halberg for coming up with a better name!)

August 18, 2011 1 Comment