melt in your mouth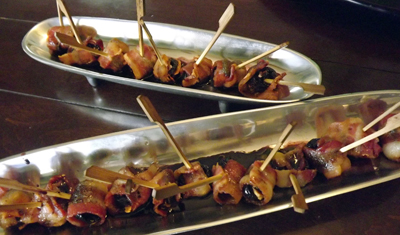 Bacon Bonbons – prunes stuffed with goat cheese, wrapped in smoked bacon, in a spiced port glaze
That is the full description on the menu at Gitane Restaurant & Bar in San Francisco – which I used to make these delicious and addicting little morsels at home. I served them on Tuesday night at the Blog Anniversary Party and they disappeared quicker than anything else on the table.
The one change I would make, is to cook them a little longer than I did for the party. Although wonderful as they were, I'd like for the bacon to be a bit crisper. I've increased the baking time in the recipe below as compared to what I did the other night.  Please keep that in mind when you make them. The bacon will look and be more "cooked" than reflected in my photo.
The name, Bacon Bonbons, is so cute. I can't just steal it, so I'd like to come up with a new clever name for my version. I haven't found it quite yet… as you will see. So, any help – from any one of you – would be graciously appreciated!  (Thank you JoAnne Halberg for coming up with a better name!)

Dried Plum Gumdrops
  Bacon Lollipops
Spiced Port Glaze
1  1/2 cups Port
1 stick cinnamon
2 whole cloves
2 teaspoons honey
2 teaspoons brown sugar
1/2 teaspoon orange zest
Lollipops
1 pound bacon
8-ounces pitted prunes (dried plums)
6-ounces goat cheese (chèvre)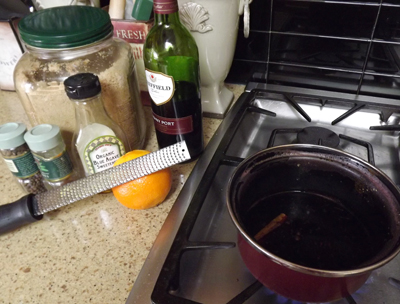 Glaze: Place port into small saucepan and heat over medium heat until reduced by half, to 3/4 cup. Add remaining ingredients and cook at a low simmer for 10 minutes. Immediately transfer glaze to a 1-cup glass measuring cup and set aside.
Lollipops: Preheat the oven to 400 degrees. Line a baking sheet with foil.
Lay out the bacon on a microwave-safe plate lined with parchment paper or paper towels (I prefer parchment because unless you remove the bacon quickly after cooking, it sometimes sticks to the paper towels). Cover with other pieces of parchment/paper towel and microwave on high for 3 or 4 minutes. The amount of time depends on the strength of your microwave; you want the bacon to partially cook, but do not want it to begin to brown or crisp at all. This par-cooking gets the bacon going so it doesn't have to bake in the oven as long and also preshrinks it a bit, which helps with the wrapping of the prunes.
Use a small sharp paring knife to butterfly each prune (cut in half horizontally, not quite through – opening like a book). Place a small hazelnut-size of goat cheese in the center of each prune and fold closed to seal.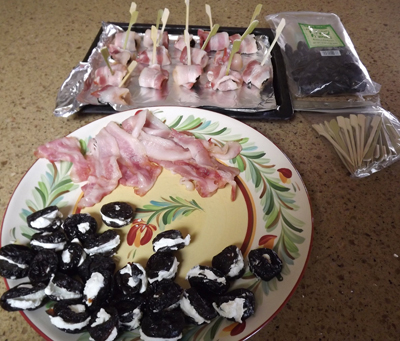 Wrap each filled prune with bacon and secure it with a pick. One slice of bacon will wrap 3 prunes. Place lollipops on a prepared baking sheet and bake in preheated oven for 12 minutes. Turn pan and bake another 12 to 15 minutes, or until bacon is crisp.  Transfer to paper towels to drain. Meanwhile, reheat the glaze in the microwave for 30 seconds.
Place on a platter and drizzle with warm glaze. Serve immediately and watch them disappear before your very eyes.
Makes about 36