world's best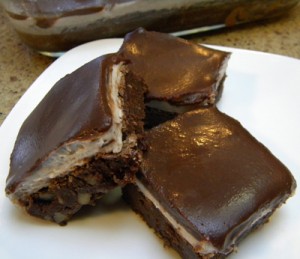 There aren't too many things I make that I would actually label "world's best", but these brownies – they are The World's Best Brownies!  I've been making them for nearly 20 years – ever since I first spotted the recipe in Gourmet Magazine (RIP) in November 1991. I've tweaked the recipe over those years, not the ingredients – because I could not improve on that, but more on the technique.
By the way, you can now find the wonderful Medaglia D'Oro espresso instant coffee locally, at Safeway, and I've even seen it recently at Target! Otherwise, look for it at an Italian deli or order it online.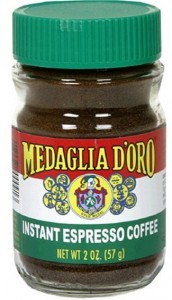 The brownies are very sophisticated in both appearance and taste but trust me, kids will devour them too. So I suggest you make these for yourself and your adult family, friends, and guests and hide them away from little hands and mouths. Then whip up a batch of Duncan Hines or Betty Crocker brownies for the kids… just a thought!
Cappuccino Brownies
Brownie Layer
4 ounces semisweet chocolate chips
6 tablespoons (3/4 stick) unsalted butter, cut into pieces
1 tablespoon instant espresso powder, dissolved in 1/2 tablespoon very hot tap water
3/4 cup sugar
1 teaspoon vanilla extract
2 eggs
1/2 cup flour
1/4 teaspoon salt
1/2 cup walnuts, chopped
Cream Cheese Frosting
4 ounces cream cheese, room temperature
3 tablespoons unsalted butter, room temperature
3/4 cup powdered sugar, sifted
1/2 teaspoon vanilla extract
1/2 teaspoon ground cinnamon
Glaze
1 tablespoon unsalted butter
1/4 cup heavy cream
3 ounces semi-sweet chocolate chips
2  1/4 teaspoons instant espresso powder, dissolved in 1/2 tablespoon very hot tap water

Preheat the oven to 350 degrees and butter and flour an 8-inch square baking dish.
Brownie Layer: Place butter in a medium-size microwave-safe bowl, and heat until melted and bubbling. Remove from microwave and stir in chocolate, stirring until melted, stir in espresso mixture.  Cool chocolate mixture to lukewarm and whisk in sugar and vanilla. Add eggs, one at a time, whisking until the mixture is glossy and smooth.  Stir in flour and salt until just combined and then fold in the walnuts.
Spread batter evenly in the pan and bake in the middle of the oven for 22 to 25 minutes, or until a tester comes out with crumbs adhering to it. Cool brownie layer completely in pan on a rack.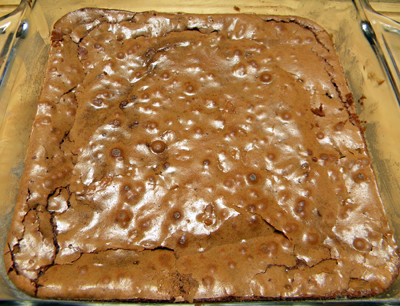 Cream Cheese Frosting: In a bowl of an electric mixer, beat cream cheese with butter until light and fluffy. Add powdered sugar, vanilla, and cinnamon and beat until combined well. Spread frosting evenly over the brownie layer. Chill brownies for 1 hour, or until frosting is firm.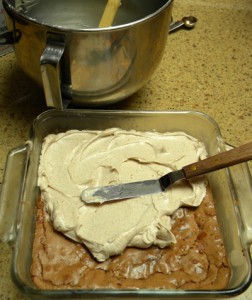 Glaze: Place butter and cream in a microwave-safe bowl, microwave on high until almost boiling. Remove from microwave and add chocolate, stirring until melted, stir in espresso mixture. Cool glaze to room temperature.   Spread glaze carefully over frosting. Chill brownies, covered, until cold, at least 2 hours. Cut chilled brownies into 16 squares and remove them from the pan while still cold. Serve brownies cold.
Brownies keep, layered between sheets of wax paper in an airtight container, chilled for 5 days.
Makes 16 perfect squares of pure bliss