Gourmet Magazine and cookies
viagra generico 200 mg in farmacia senza ricetta pagamento online a Torino by Linda Hopkins
http://maientertainmentlaw.com/?search=is-there-generic-levitra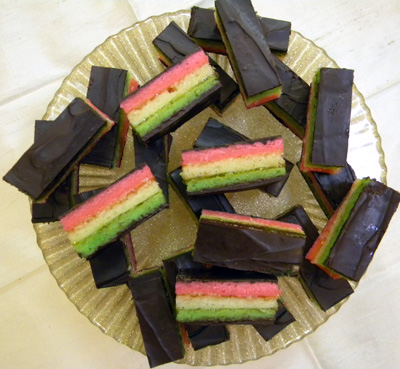 click here These unique and pretty Christmas cookies are from the December 2005 edition of Gourmet Magazine. Speaking of Gourmet, its final issue is this month, November, 2009. After 68 years, like so many other publications, it is now a thing of the past. What led to Gourmet's demise? Even with nearly 1 million subscribers, who looked forward to the fantastic articles,recipes, and pictures each month, the magazine fell victim to a decline in ad sales due to popular television food shows and online recipe sites, like its own Epicurious.com, taking up its former advertising revenue.  Upon the announcement, on October 5, 2009, The Wall Street Journal said it was "like a giant soufflé falling."  I have to agree, Gourmet was the first food magazine I subscribed to, some 27 years ago.  I kept every one of those issues until just a couple summers ago, when I donated some 300 issues of Gourmet and nearly 1000 issues of Bon Appetit, Food & Wine, Saveur, Cook's Illustrated, Cooking Light, and Martha Stewart Living to the Culinary Program at Scottsdale Community College.  It took two trips in my SUV because of the extreme weight and mass! Gourmet was the granddaddy of them all and it will be sadly missed by foodies worldwide.
http://cinziamazzamakeup.com/?x=dove-comprare-viagra-generico-pagamento-online-a-Parma
click here buy canadian viagra Seven Layer Christmas Cookie Bars
4 large eggs, separated
1 cup sugar
1 (8-oz) can almond paste
2 1/2 sticks (1 1/4 cups) unsalted butter, softened
1 teaspoon almond extract
2 cups all-purpose flour
1/2 teaspoon salt
25 drops red food coloring
25 drops green food coloring
1 (12-oz) jar apricot preserves, heated and strained
7 ounces bittersweet chocolate (not unsweetened), chopped
Put oven rack in middle position and preheat oven to 350 degrees. Butter a 13- by 9-inch baking pan and line bottom with parchment paper, leaving a 2-inch overhang on 2 ends, then butter paper.
Beat whites in a very clean bowl of a standing mixer fitted with whisk attachment at medium-high speed until they just hold stiff peaks. Add 1/4 cup sugar a little at a time, beating at high speed until whites hold stiff, slightly glossy peaks. Transfer to another bowl.
Switch to paddle attachment, (no need to wash the bowl) then beat together almond paste and remaining 3/4 cup sugar until well blended, about 3 minutes. Add butter and beat until pale and fluffy, about 3 minutes. Add yolks and almond extract and beat until combined well, about 2 minutes. Reduce speed to low, then add flour and salt and mix until just combined.
Stir half of egg white mixture into almond mixture to lighten, then fold in remaining whites gently but thoroughly.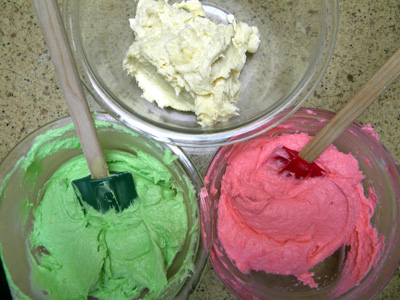 Divide batter evenly among 3 bowls. Stir red food coloring into one and green food coloring into another, leaving the third batch plain. Pour green batter into prepared pan and spread evenly with offset spatula (layer will be about 1/4 inch thick).
Bake green layer 8 to 10 minutes, until just set. (It is important to undercook.)
Using paper overhang to pull layer out of pan, transfer layer to a rack to cool, about 10 minutes.  Clean pan, then line with wax paper and butter paper in same manner as above. Bake white layer in prepared pan until just set.  Transfer white layer to a rack. Prepare pan as above, then bake red layer in same manner as before. Transfer to a rack to cool.
When all layers are cool, invert green onto a parchment-paper-lined large baking sheet. Discard paper from layer and spread with half of  the warm apricot preserves. Invert white on top of green layer, discarding paper. Spread with remaining preserves. Invert red layer on top of white layer and discard wax paper.
Cover with plastic wrap and weight with a large baking pan and a large (coffee table-size) book placed on top of the pan.  Chill at least 8 hours.
Remove weight and plastic wrap. Melt chocolate in a double boiler, or a metal bowl set over a saucepan of barely simmering water, or in a microwave, stirring until smooth. Remove from heat.
Trim edges of assembled layers with a long serrated knife. Quickly spread half of chocolate in a thin layer on the red-colored top of cake. Chill, uncovered, until chocolate is firm, about 15 minutes. Cover with another sheet of parchment paper and place another baking sheet on top, then invert cake onto sheet and remove the top layer of paper. If chocolate has cooled and firmed up, reheat until warm. Quickly spread green layer with remaining chocolate. Chill uncovered 5 minutes to just allow chocolate to set. Remove from refrigerator and use parchment paper to move to a cutting board. Cut lengthwise into 4 strips. Score the strips crosswise into sixteen bars from each strip, for a total of 64 bars. (see picture below) Fill a tall pitcher or vase with hot water. Cut strips crosswise on the scored markers, dipping knife into hot water and wiping clean and dry with a paper towel between each cut.
(Cookies keep, layered between sheets of wax or parchment paper, in an airtight container in the refrigerator for 2 weeks)
Makes 64 bars