working up the motivation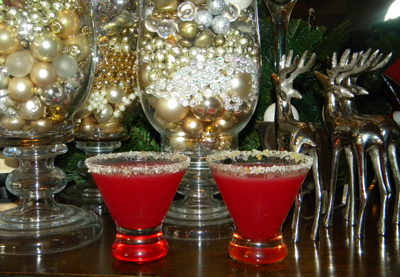 Guess what that big pile of citrus that I showed you last week, looks like now? Exactly the same as it did then, except it has a blanket covering it. It's all still overflowing in the crates, still sitting on the back patio, right outside the French doors, staring through the windows at me. Mocking me and saying, "Hey, you there – stop what you're doing and get to the work at hand; zesting and squeezing us!"
But I continue to turn a deaf ear and a blind eye to that pile and TRY and keep motivated enough to get all the Christmas stuff taken down and put away.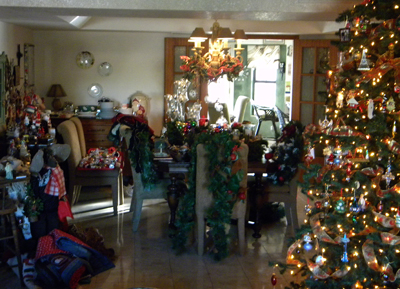 This is what our dining room looks like. And that bright light in the background, those are the French doors and they are my only defense between the citrus and my sanity! It's coming at me from both directions! And yes, the tree is still up, but everything else from all over the house, including the kitchen Christmas tree, is stacked on every possible surface of the said dining room, just waiting for me to get the storage boxes down and pack it all up. I don't want to! It feels overwhelming this year. I don't know why, it just does.
So tomorrow morning, when a TV film crew comes to the house to shoot a "homemade mozzarella" piece for Valley Dish, I'm just going to casually lie and say, "Oh, we always leave our tree up until after the Epiphany. The tree comes down tomorrow and everything will get packed up and put away." (Epiphany – a Christian festival, observed on January 6, commemorating the manifestation of Christ to the gentiles in the persons of the Magi). That sounds like one convincing lie to me, I think it will work. In the meantime, I will just continue to close those dining room doors and pretend the mess doesn't exist!
The citrus is another matter, I can no longer ignore it. To get motivated on that, I have created this cocktail which has now dispensed exactly four pieces of the fruit. Four down, only about 600 to go!

Meyer Lemon and Blood Orange Margarita
2 Meyer lemons, washed
2 blood oranges, washed
1/4 sugar
3 ounces tequila
1 1/2 ounces Grand Marnier or triple sec
1 tablespoon honey
Ice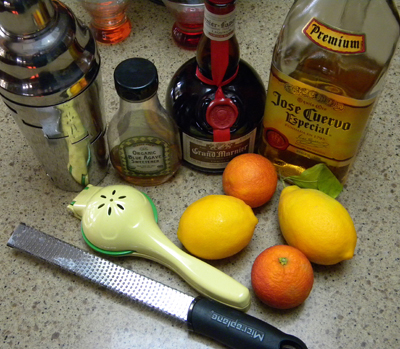 Place the zest of 1 lemon and 1 orange into the bowl of a food processor. Add sugar and process until well combined. Pour citrus sugar onto a small flat plate and set aside.
Juice all the citrus and place in a cocktail shaker, and reserve the juiced citrus halves. Add the tequila, Grand Marnier, and honey to the shaker. Fill the shaker 3/4 full with ice.
Cover the cocktail shaker and shake. Shake some more. Keep on shaking, until you can't shake anymore. Give it to someone else to shake until they walk out on you. Now you are done!
Wet the rims of 2 margarita glasses with the cut and juiced halves of the lemons or oranges. Dip rims into citrus sugar to coat.

Pour margarita into prepared glasses. Yell for that person who left you, and tell them to come back and have a fantastic Margarita with you. They will forgive you at first sip, I promise!

Makes 2