brrrrr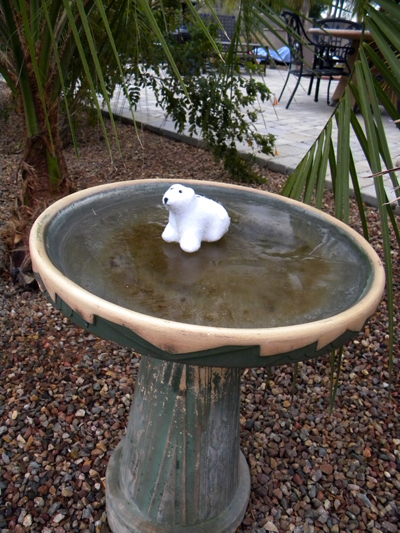 I know, you are used to me complaining about it being so HOT in Arizona. But today, I am not so much complaining as just telling you, that it is COLD in Arizona! So cold that we had actual snow flurries yesterday here in our desert. And so cold that this morning, a little polar bear ornament is awaiting birds with ice skates to join him on the frozen-solid bird bath.
It has happened before, but not for a long time. I have two cute desert snow pictures of Marissa when she was a toddler. Those are a little extra treat at the bottom of this post, but first a couple of photos showing our current winter cold spell…
Here is all the citrus that I could get off my trees yesterday morning before the freezing temps came to our dessert last night. At the top; are navel oranges and pink grapefruit. Below; are more pink grapefruit, Lisbon lemons, and the last few blood oranges; and finally, the precious Meyer lemons.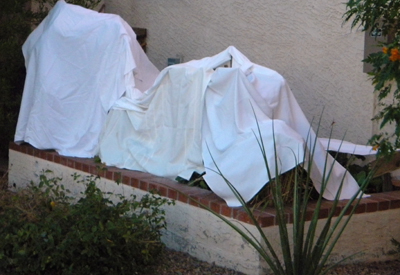 I spent about an hour and a half outside late yesterday covering as much of my backyard plants as I had enough sheets and pool towels to use. The herb/vegetable garden was priority #1.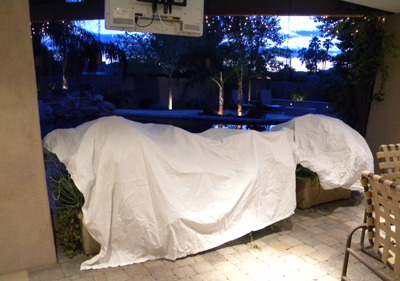 Next up were the succulents, those babies are just filled with water, so their demise would have been eminent without protection. "And the plants have been tucked all snug in their beds, with visions of frost-free nights, dancing in their heads."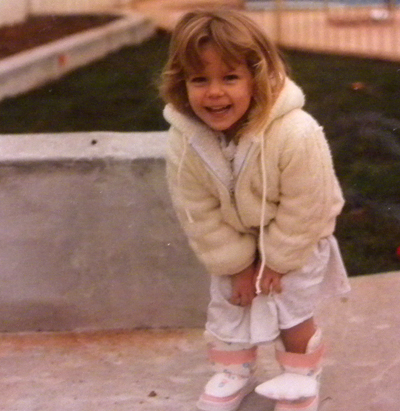 You may not be able to see it, but believe me, snow was falling in our backyard in this December 1990 photo of an excited 3-year-old Marissa in her jammies, winter white coat, and pink snow boots (purchased especially for a trip to Illinois the year before).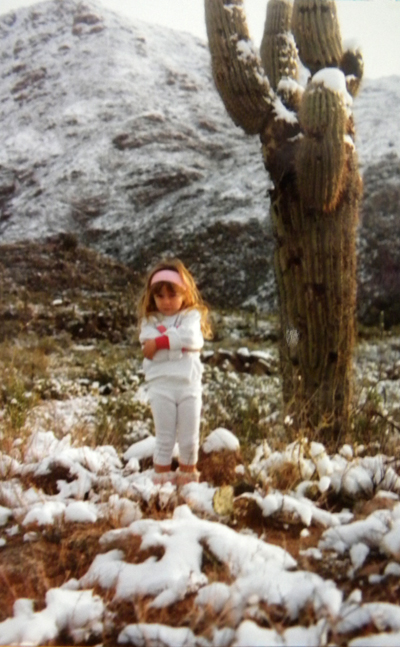 Marissa's expression shows how both she and the saguaro cactus feel about snow on her 4th birthday, December 1, 1991. They are grumpy and they are cold! I guess she had outgrown the coat from above. Oops! Hey, do not judge – we don't usually need new coats every year here in the desert.
Happy New Year's Eve… Celebrate and stay safe tonight!