the true ultimate
On Monday afternoon, I was looking through the stack of magazines that had been piling up these past few weeks. In the middle of the stack was the January issue of Bon Appétit. The first thing I spotted, down in the right corner of the cover was this-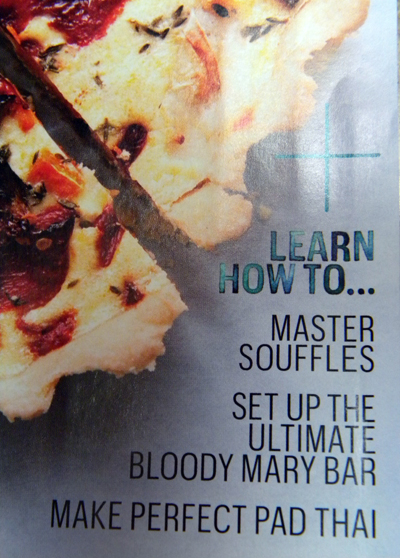 "Set Up The Ultimate Bloody Mary Bar"  What the heck? Who knew I was so on-trend?  I had just done that very thing two days before!  So I immediately opened the magazine to page 60 and saw this –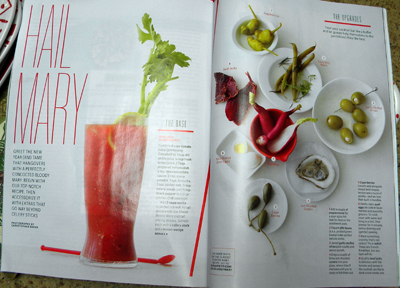 This is the "ultimate" Bloody Mary bar? I don't think so! They have a few good ideas, some of which I had already used on my Bloody Mary bar – like beef jerky, pepperoncini, garlic stuffed olives, and pickled veggies. But come on, 8 snazzy items do not make an ultimate anything! Heads up Bon Appétit… the next time you want something done ultimately, give me a call.
This is how you set up an ULTIMATE Bloody Mary Bar –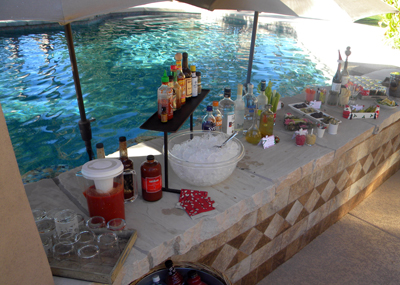 First, you make a Bloody Mary base. My recipe is below. I also offered 4 purchased Bloody Mary mixes, for more choice and variety.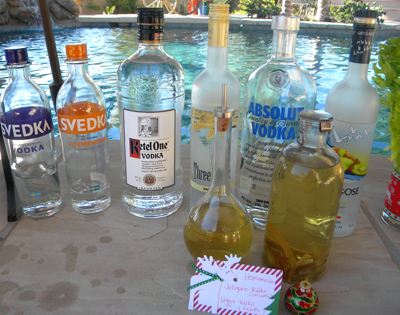 Next, you put out as many vodkas as you have in your liquor cabinet… umm, yeah, I had six bottles plus my homemade infused Jalapeño Vodka and my homemade infused Veggie Vodka…. so quite a bit of vodka there! :-0
Now you may be thinking that the vodka is the fun part – but NO – "the upgrades" as Bon Appétit called them, this is the fun part!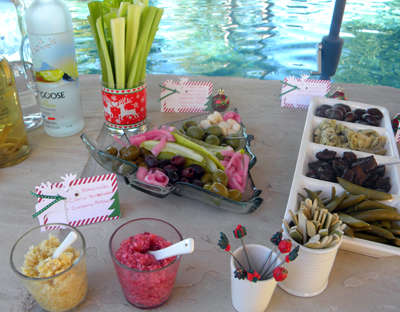 Let's see – we have citrus horseradish and cranberry horseradish (both purchased at the Downtown Phoenix Market from Grate Roots) in the front little glasses. Pickled garlic, garlic stuffed olives, kosher spears, Queen Creek Parmesan stuffed olives, Kalamata olives, Feta stuffed olives, and Homemade Red Onions – all arranged in the Christmas tree-shaped platter.  On the right- in the 4-section server – balsamic onions, artichoke hearts, marinated mushrooms, and crispy pickled sugar snap peas. Oh, and of course, the required celery stalks!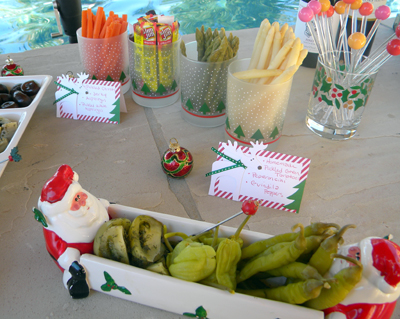 The back row of glasses holds pickled carrot sticks, Slim Jims and beef jerky, pickled asparagus spears, and pickled white asparagus.  In the double Santa tray – homemade pickled green tomatoes, pepperoncini, and Guindila peppers.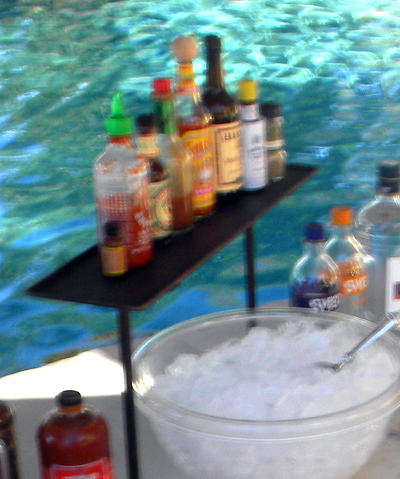 I didn't get a very good picture, but I also had out the required "spice".  A little bottle of habanero hot sauce, Sriracha sauce, pickapeppa sauce, Tabasco, Cholula sauce, Worcestershire sauce, bitters, and celery salt.
Plenty of glasses and ice. And don't forget stir sticks, little forks or tongs for picking up all those upgrades, and picks or wooden spears for piling it all on and then plopping in the glasses!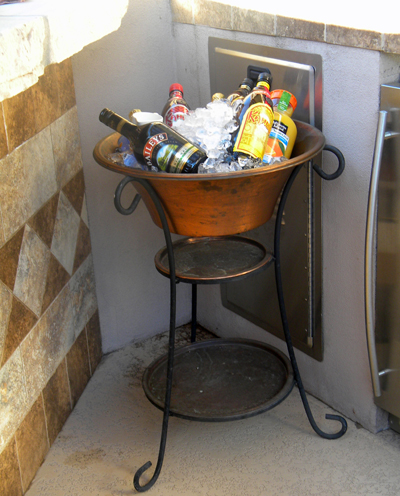 Not everyone wants Bloody Mary's, so I also served your basic OJ Mimosas and Mango Mimosas – both with Prosecco. Plus a coffee, hot cocoa, and hot cider bar.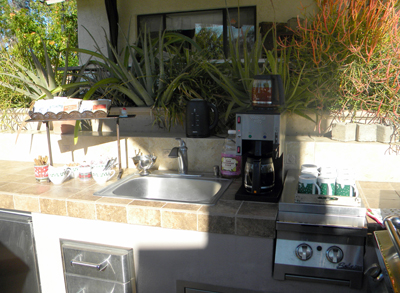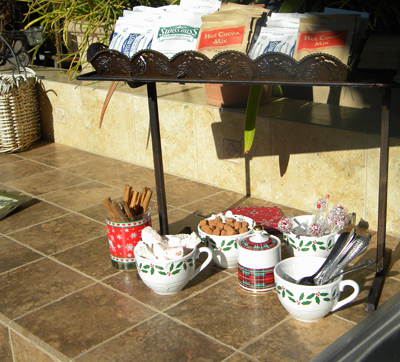 Plus of little wine.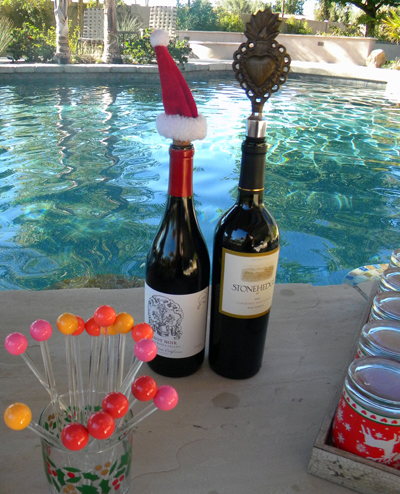 Plenty of bottled water…  All this equals happy guests!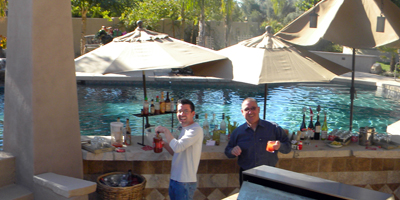 Linda's Bloody Mary Base
3 cups tomato juice
3 cups V-8 vegetable juice
1  1/3 cups freshly squeezed lime juice
1/2 cup pickled jalapeno juice
1 tablespoon plus 1 teaspoon Worcestershire sauce
1 tablespoon Sriracha sauce
2 teaspoons prepared horseradish
1 teaspoon celery salt
1 teaspoon Tabasco sauce
1 teaspoon salt
1/2 teaspoon freshly ground black pepper
Combine all ingredients in a large pitcher and chill for at least 6 hours before serving.
Makes about 8 cups