slow cooker beef
As I type this, it is 7:00 PM on Thursday, April 25, 2019, and it is 94 degrees outside. I am sitting outside because I have my AC on today and I can't turn it back down until 8:00 PM. I'm back to living in a cave and it is dark as night inside. How is it possible that my last post was titled "The Definition of Spring" and now it's nearly 100 degrees. Oh yeah, I live in Arizona, that's how!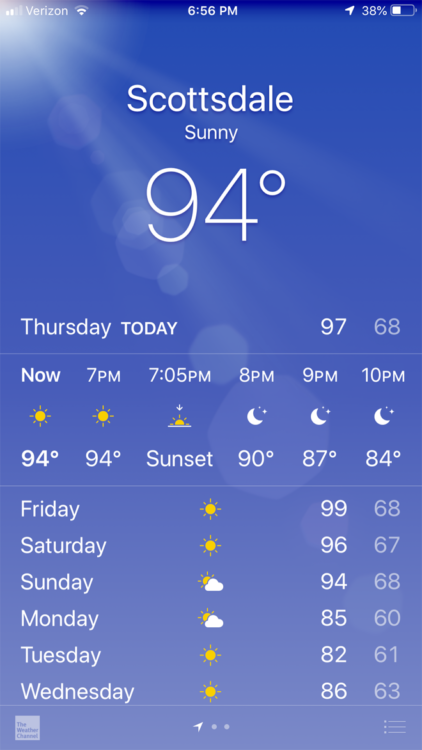 There is a slight breeze out here, so I decided to come out of the dark and deal with the heat. It's not all that bad, honestly. I'd have to say that 100+ degrees is where my tolerance is kaput, the denial sets in and my non-acceptance is in full force. That's when the real crabbiness and bitching seriously kick in. That could be as early as Friday, which, as you read this … is TODAY!
So, the way to live through the summer is to use a slow cooker. I have gotten mine out of the garage and it is ready for action.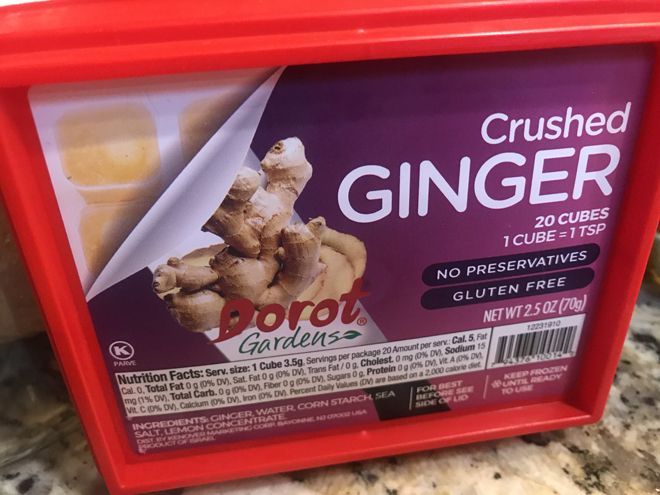 For this recipe, which I made last week, I decided to use the frozen ginger cubes from Trader Joe's. Super convenient and they worked great!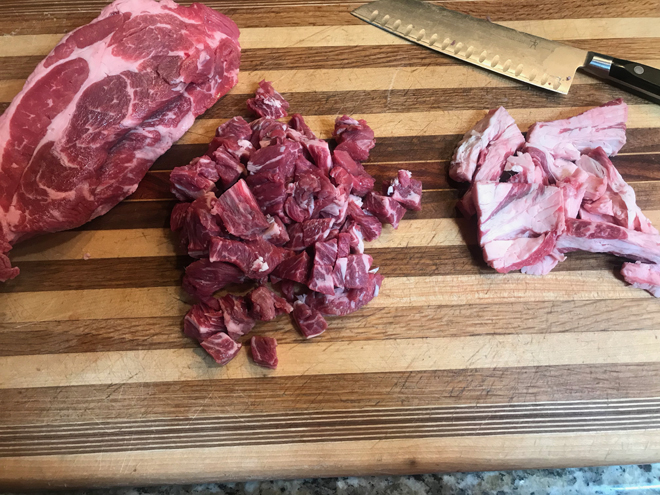 I bought 4 pounds of beef chuck roast at Costco with the knowledge that after I cut out a bunch of the fat, there would be about 3 pounds of meat remaining. I was right, of course.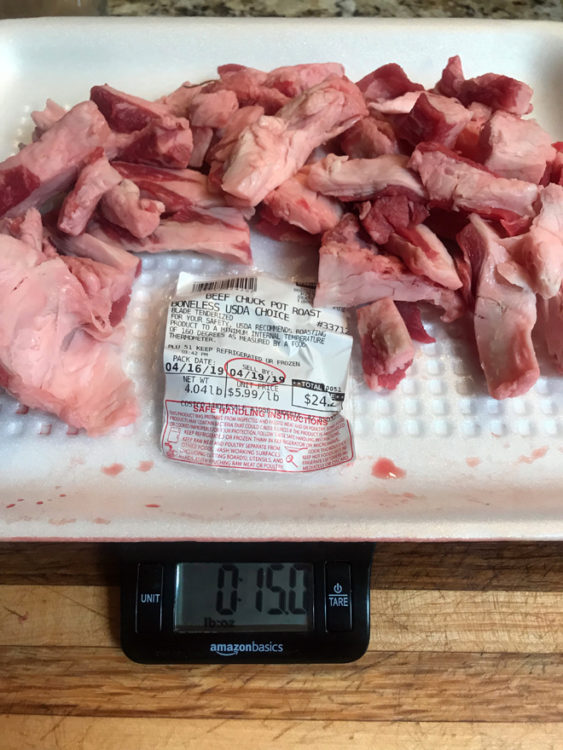 I don't say that to brag. As all of my friends and family know, my Superpower is Spatial Recognition. Give me a pan or a pot or a bowl full of stuff that needs to fit in a container to go in the refrigerator, I will give you THE PERFECT container. It's a gift. Not a superpower useful in The Avengers sort of way, but a superpower nonetheless. Anyhow, keep that in mind when purchasing the beef, there will be waste, and there ain't nobody who wants all that fat!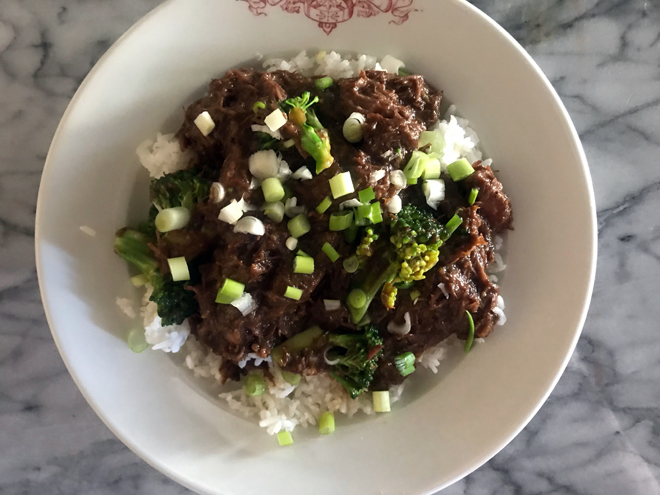 Slow Cooker Asian Beef
1 cup beef broth
1/2 cup soy sauce
1/2 cup brown sugar, packed
5 garlic cloves, peeled and minced
1 tablespoon sesame oil
1 tablespoon rice wine vinegar
1 tablespoon freshly grated ginger (or three frozen cubes)
2 teaspoons Sriracha
1/2 teaspoon freshly ground black pepper
3 pounds boneless beef chuck roast, cut into 1-inch cubes
1 medium red onion, peeled and diced
2 tablespoons cornstarch
1 cup broccoli florets
2 cups cooked white or brown rice
4 green onions, thinly sliced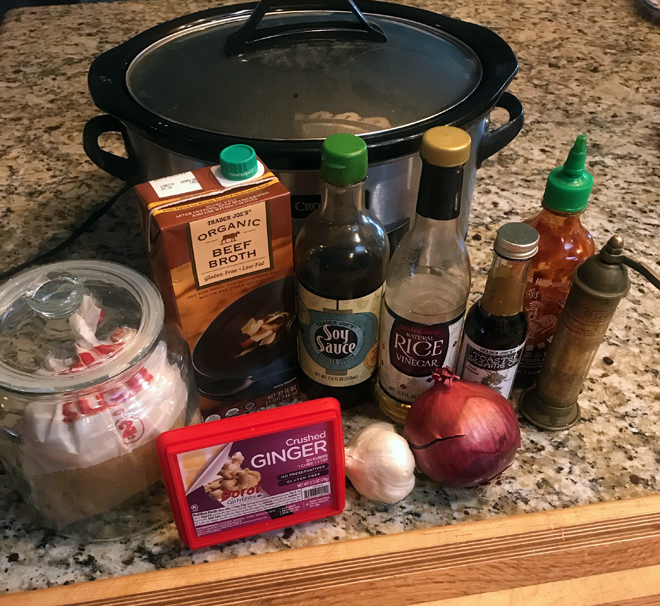 In the bowl of a 6-quart (or larger) slow cooker, whisk together the broth, soy sauce, sugar, garlic, sesame oil, vinegar, ginger, Sriracha, and black pepper.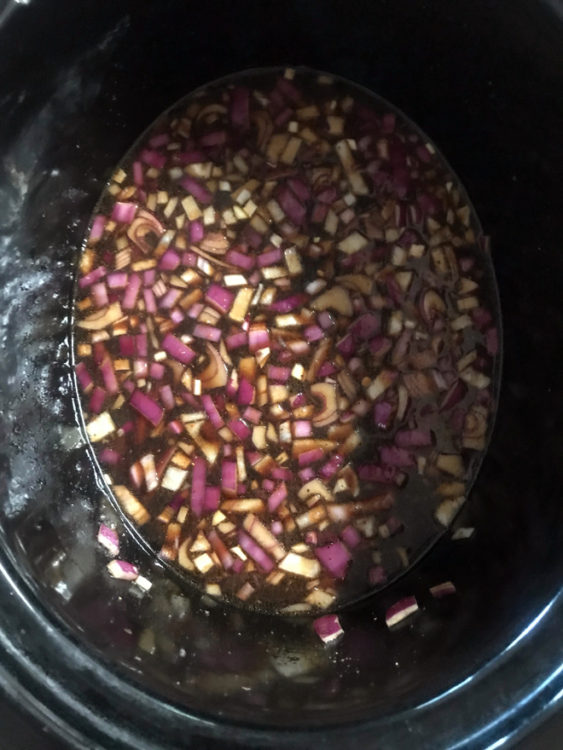 Place diced onion in the slow cooker with sauce and stir.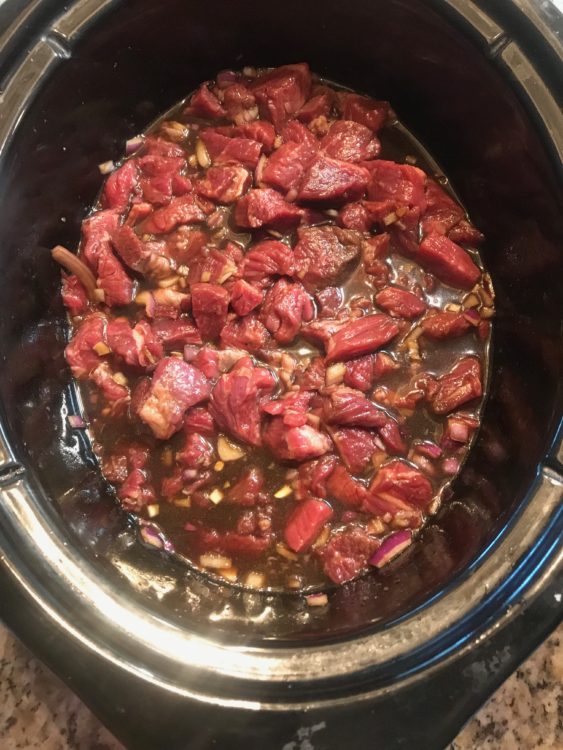 Add the cubed beef into the slow cooker and stir to coat.
Cover and cook on low heat for 6-7 hours or high heat for 3-3 ½ hours. If you intend to serve and eat the entire meal today, add the broccoli now. (If you think there will be leftovers – *see the next paragraph)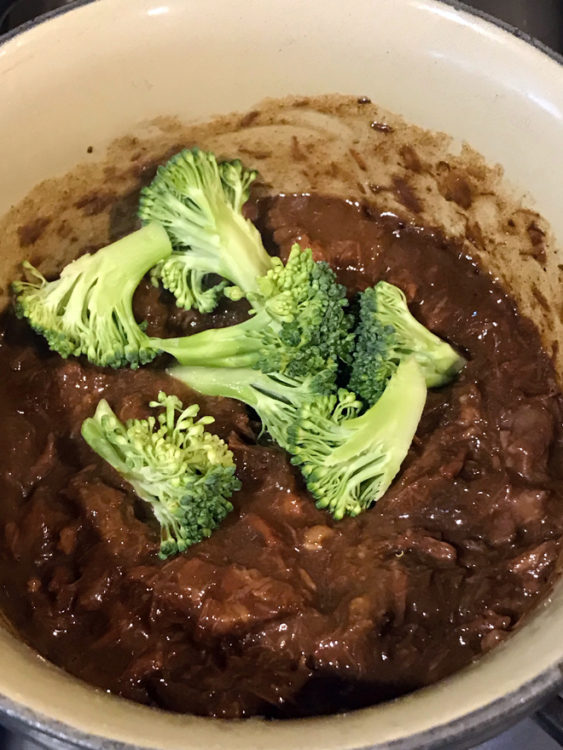 * Since I am generally cooking for one or two, with the intention of leftovers, I do not add the broccoli in the slow cooker. Instead, I pull out what I intend to eat in one sitting, and add some broccoli when I am reheating the meal. This keeps the broccoli green and fresh instead of soggy and gray.  To do this, simply put the amount you'd like in a saucepan, stir in some broccoli, and heat over medium heat until the broccoli is cooked through and the meat is hot.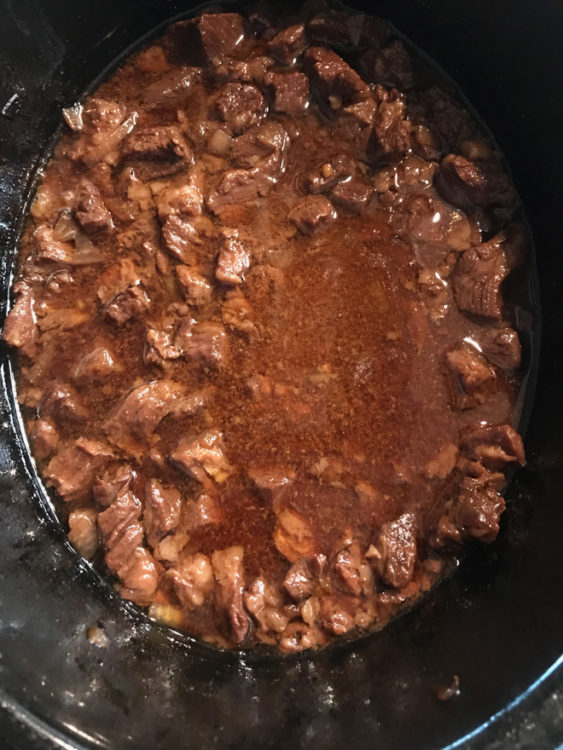 In a small bowl, whisk together cornstarch and 1/4 cup of water. Stir this mixture into the slow cooker. Cover and cook on low heat for an additional 20 to 30 minutes, or until the sauce has thickened and the broccoli is cooked through.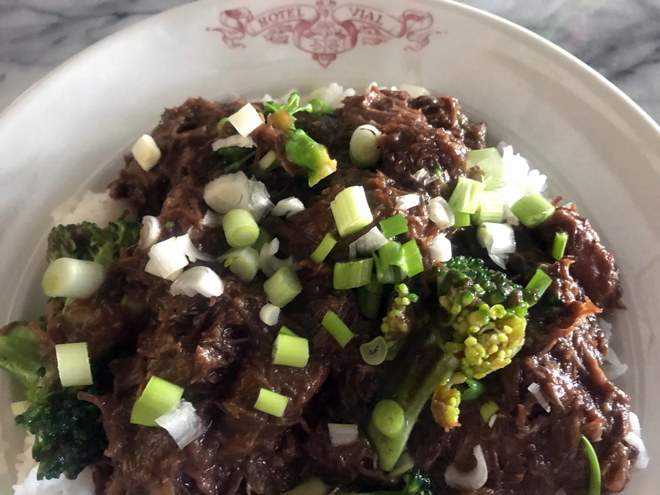 When ready to serve, spoon rice onto a platter or individual plates. Spoon Asian beef on top of rice and sprinkle with green onions.
Serves 8 to 10