sizzlin' fajitas
click by Linda Hopkins
cialis hay generico Connor is between semesters at school so he is home for a couple of weeks. On Sunday, I asked him to decide what we'd have for dinner and he didn't hesitate – he requested fajitas.
http://maientertainmentlaw.com/?search=lowest-price-for-levitra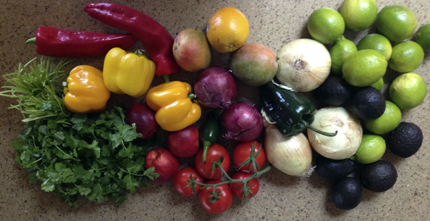 levitra for wome It's been ages since I've made 'em, so I went all out and cooked up not only traditional beef, but also shrimp and chicken. The best part about that… we had plenty of leftover beef and had tacos on Monday night. Yay for leftovers!
comprare vardenafil contrassegno senza ricetta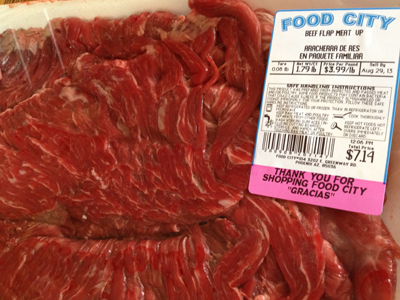 go site Connor and I shopped at Food City for our meal. In our search for skirt steak, we happily stumbled upon flap meat. Flap meat can be difficult or next to impossible to find at standard grocery stores like Safeway, so when I come across it, I can't help but get a little excited.
see Flap meat comes from the bottom sirloin, and although it's from a similar region as flank steak or skirt steak, it's a different cut. The flap is not very tender, but it is well-marbled and very flavorful. It's sometimes called flap steak or bavette and is an excellent meat for carne asada and fajitas.
http://buy-generic-clomid.com/generic_clomid_and_twins.html If you can't find flap, use either skirt or flank steak for this recipe.
http://acrossaday.com/?search=purchase-viagra-jelly-without-prescription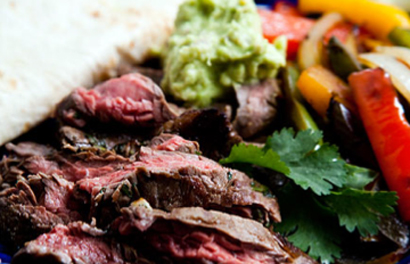 Connor's Beef, Chicken & Shrimp Fajitas
1 cup freshly squeezed lime juice
Juice of 1 large orange
5 garlic cloves, peeled and minced
3 tablespoons olive oil
4 garlic cloves, roughly chopped
2 chipotle chiles in adobo sauce, finely minced
1/4 cup chopped fresh cilantro leaves
1 tablespoon ground cumin
1 tablespoon sugar
1 teaspoon salt
1/2 teaspoon red pepper flakes
3 1/2 to 4 pounds flap meat, skirt or flank steak, trimmed of fat
1 red bell pepper; cored, seeded, and thinly sliced
1 yellow bell pepper; cored, seeded, and thinly sliced
1 poblano pepper; cored, seeded, and thinly sliced
1 large red onion, peeled and thinly sliced
1 pound large (13-15 ct) shrimp; peeled and deveined
2 boneless, skinless chicken breasts, cut into thin strips
Salt and freshly ground black pepper
20 flour tortillas
Fresh cilantro leaves
Homemade guacamole
Homemade salsa
Sour cream
Crumbled queso fresco
Lime wedges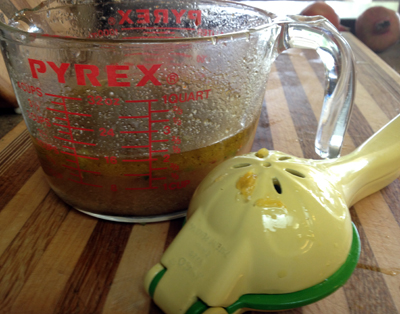 In a large measuring cup or bowl, mix together the orange and lime juices, olive oil, garlic, chipotle, cilantro, cumin, sugar, salt and red pepper flakes. You should have about 2 cups of marinade.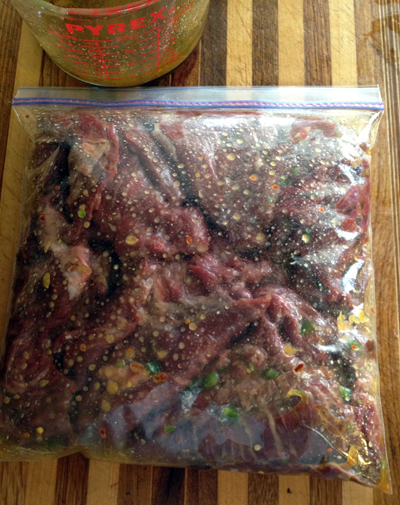 Place the beef in a 1-gallon ziplock bag and add 3/4 cup of the marinade to the bag; seal and refrigerate for 3 to 4 hours.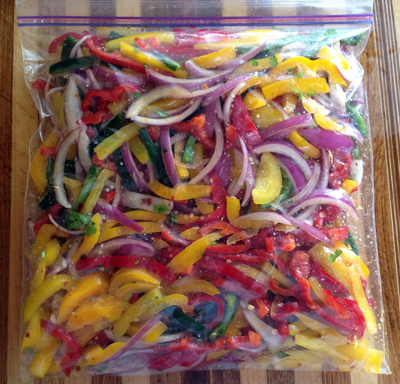 Place the sliced red, yellow, and poblano peppers, plus the onion in another 1-gallon ziplock and add 3/4 cup of the marinade to the bag; seal and refrigerate for 3 to 4 hours.
About 1 hour before cooking, place the chicken in another ziplock bag and add 1/4 cup of the marinade to the bag; seal and refrigerate for 1 hour.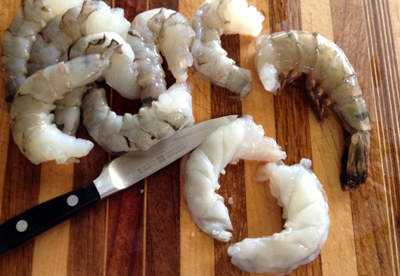 Slice the shrimp in half horizontally and place it in one last zipock bag and add the remaining 1/4 cup of the marinade to the bag; seal and refrigerate for 1 hour.
Preheat 2 ridged grill pans on high heat, if you have two. If not heat one and cook in batches.
Preheat oven to 350 degrees.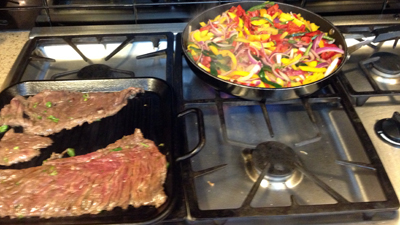 Drain the marinade from the beef. Lightly oil the grill pan. Season the beef liberally with salt and pepper. Grill the steak over medium-high heat and cook for 4 minutes on each side and then transfer to a cutting board and let rest. Cook in batches until all beef is cooked.
If you have two grill pans, begin grilling the chicken and then the shrimp on the other pan in the same manner.
Once the beef is off the grill pan and resting, add the bell peppers and onions, along with their marinade. Grill the mixture for 7 to 8 minutes until the vegetables are barely limp.
While the peppers and onions are cooking, wrap the tortillas completely in foil and heat in the preheated oven.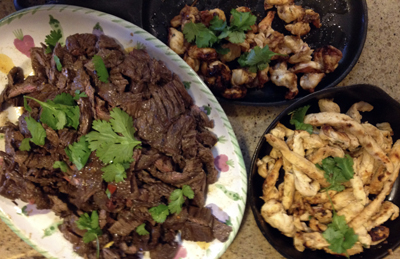 Thinly slice the beef against the grain on a diagonal and pile on a platter. Place the cooked shrimp and chicken on their own plates or on heated cast iron pans and sprinkle all with cilantro.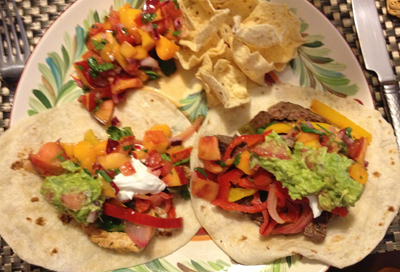 To serve: Top a tortilla with a few slices of beef, chicken or shrimp. Top with peppers and onions, then dollop with salsa, guacamole, sour cream and cheese. Squeeze a lime wedge over all and roll up the tortilla to enclose the filling.
Salud!
Makes 20