Rich Man, Poor Man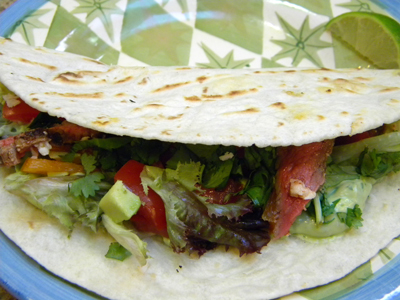 Tacos at home are one of the most economical, quick, easy, and kid-friendly meals you can make. If you add rice and/or beans to the meat; not only can you stretch the dollar, but also increase the nutritional value. But that's not what this recipe is about!
Those are poor man tacos ("not that there's anything wrong with that", as the crew on Seinfeld say). These are rich man tacos. Not only due to the cost of filet mignon, but also the avocado and bell pepper, if they happen to be out of season. Splurge and serve with a nice bottle of Cabernet and… paper napkins; things are bound to get messy. And that's a good thing indeed!
On a side note: Marissa had a root canal yesterday morning. On the way home, we picked up yogurt, bananas, and cottage cheese. In the meantime, Connor requested steak for dinner. Perfect, I thought, she'll have her smoothies and we'll have steak. She rallied once she heard what we were having and enjoyed these fabulous tacos with us… although I did cut up the meat and peppers for her like I used to do when she was a toddler. Honestly, who wants to have "poor man" soft food when you can have "rich man" tacos!?!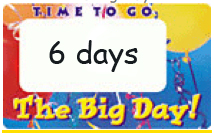 (don't know what this picture means? Go back to yesterday's post)
Rich Man Filet Mignon Tacos with Avocado Crema
Avocado Crema
1 avocado, peeled and pitted
3/4 cup Greek yogurt or sour cream
1 jalapeno pepper, cored and seeded
1/4 cup fresh cilantro leaves
Juice from 1/2 lime

1 teaspoon chipotle chili powder
1/2 teaspoon ground cumin
2 garlic cloves, peeled and minced
Salt and freshly ground black pepper
Olive oil
1 to 1 1/2 pounds filet mignon
Eight 6 to 8-inch flour or corn tortillas
1 1/2 cups shredded Mexican cheese of your choice, or Jack cheese
2 tomatoes, cored, seeded, and diced
1 orange or red bell pepper, cored, seeded, and thinly sliced
1 avocado, peeled, pitted, and diced
1 cup torn iceberg or romaine lettuce leaves
1/4 cup minced cilantro leaves
1 lime, cut into wedges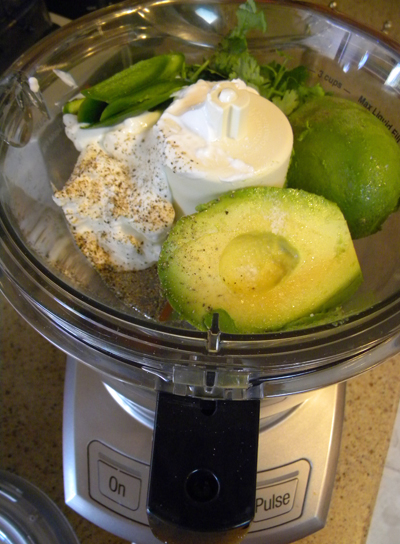 Avocado Crema: Place avocado, yogurt, jalapeno, cilantro, and lime juice into the bowl of a food processor. Pulse until well blended. Scrape into a bowl, cover, and refrigerate.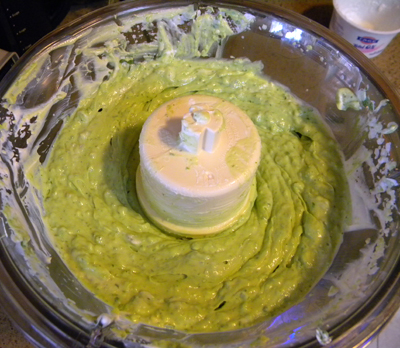 In a small bowl, combine chili powder, cumin, garlic, 1/4 teaspoon salt, and 1/8 teaspoon pepper. Stir in 1 teaspoon olive oil to make a paste. Rub spice paste all over the filet and set aside at room temperature for 20 to 30 minutes.
Preheat a grill or heat grill pan over high heat for 1 minute. Reduce heat to medium-high, and brush the grill rack or grill pan with olive oil. Sear steak, turning occasionally, for about 7 minutes for medium. Remove from heat and allow the meat to rest for 5 minutes before slicing thinly against the grain.
While the meat rests, warm the tortillas by placing them on the grill rack or grill pan, for about 30 seconds, turning once.
Lay tortillas out onto a work surface. Layer cheese, steak, tomatoes, bell pepper, diced avocado, and lettuce; dividing evenly among tortillas. Drizzle each with avocado crema, and sprinkle with minced cilantro. Fold in half and serve with lime wedges on the side.
Makes 8 soft tacos