rellenos rule!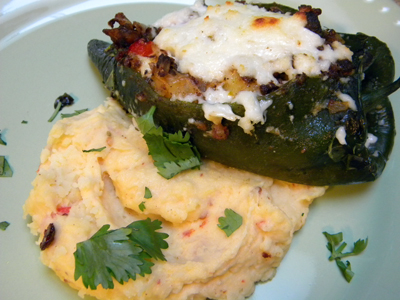 I just realized that this is the third rellenos (or stuffed poblano pepper) recipe on the site, and the 2nd in the past two weeks… but honestly, rellenos rule!  Here is what Wikipedia has to say on the subject:
"The chile relleno, literally "stuffed chile," is a dish of Mexican cuisine that originated in the city of Puebla. It consists of a roasted fresh poblano pepper (a mild chili pepper named after the city of Puebla), sometimes substituted with non-traditional Hatch green chile, Anaheim, pasilla, or even jalapeño chili pepper. It is stuffed with melted cheese, such as queso Chihuahua or queso Oaxaca (traditionally), or picadillo meat made of diced pork, raisins, and nuts, seasoned with canella; covered in an egg batter or simply corn masa flour and fried…"
Here is what I have to say: "Fill a poblano with anything you like, skip the batter and frying! There is no way you can go wrong."
Announcement: Today begins a countdown. To what, you ask? You shall find out soon enough…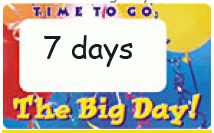 Chorizo-Yukon Chile Rellenos atop Chipotle-Mashed Potatoes
3 pounds Yukon Gold potatoes, divided
Salt and freshly ground black pepper
2 garlic cloves, peeled and minced; divided
1 teaspoon chipotle chili powder
4 tablespoons (1/2 stick) unsalted butter, divided
1 chipotle pepper in adobo sauce, finely minced, plus 1 teaspoon adobo sauce
1/3 cup sour cream
1 tablespoon olive oil
1 small onion, peeled and diced
1 red bell pepper, cored, seeded, and diced
2 long green chiles (Anaheim or Hatch) cored, seeded, and diced
1 pound ground chorizo, cooked and drained
6 poblano peppers; roasted and peeled
1 pound Ranchero cheese, shredded
Minced fresh cilantro for garnish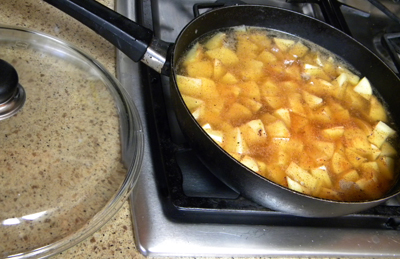 Cut half (1  1/2 pounds) of the unpeeled potatoes into 1/2-inch cubes and place them in a large skillet. Barely cover the potatoes with cold water. Add a pinch of salt and pepper, half of the minced garlic, and the chili powder, and bring to a boil. Cover and simmer over low heat for about 12 minutes, until just slightly tender. Drain over a medium saucepan to catch the boiling liquid and set aside the potatoes to dry for at least 20 minutes. (Set aside skillet too, it will be used a few more times.)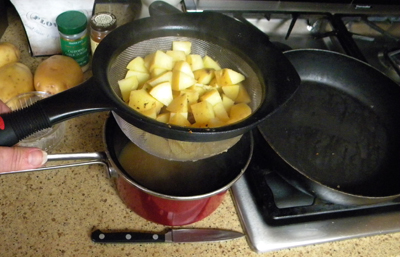 Peel the remaining 1  1/2 pounds of potatoes and cut them into 1-inch cubes. Place in the saucepan with the potato liquid. Add more water to cover and bring to a boil, reduce heat and simmer until tender enough to mash about 20 minutes. Drain and return to saucepan, mash with 2 tablespoons of the butter, minced chipotle with adobo, and sour cream. Season to taste with salt and pepper and set aside.
In the skillet, heat the olive oil and sauté the onion, bell pepper, long green chiles, and the remaining minced garlic just until the onion is translucent. Transfer mixture to a plate and set aside.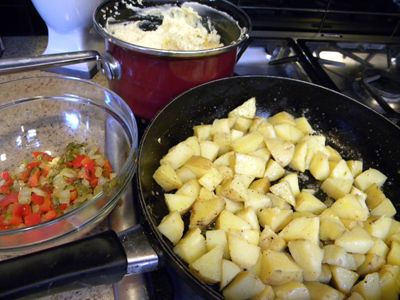 In the same skillet, melt the remaining 2 tablespoons of butter. Add the dry potato cubes to the butter and cook over medium-high heat until browned on all sides. Add the cooked chorizo and the onion-pepper mixture to the skillet and heat through.
Preheat the oven to 400 degrees.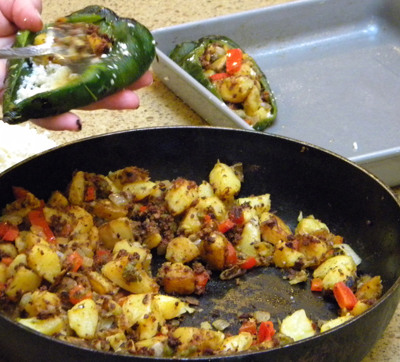 Carefully slit up one side of each poblano pepper and carefully remove the seeds. Place a thin layer of shredded cheese in each poblano. Fill the peppers with the potato-chorizo mixture and place them in a greased baking dish. Top with the remaining shredded cheese. Bake in preheated oven for 20 minutes. Meanwhile, reheat the mashed potatoes.
Place a large spoonful of mashed potatoes on each of 6 dinner plates. Top each with a chile relleno and garnish with minced cilantro.
Serves 6