pretty in purple
As I mentioned in THIS POST, I do a lot of the shopping for veggies for the Crudités Harmony Boards at Sprouts. My favorite produce available there is the orange and purple cauliflower.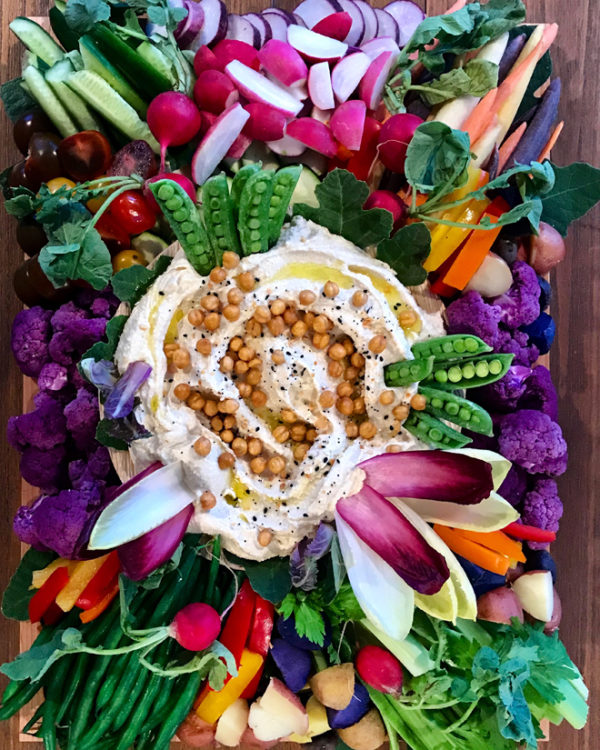 I had one last crudités and one final fruidités board to make the weekend before I left town. (Fruidités is a word I coined to mean a half crudités and fruit Harmony Board)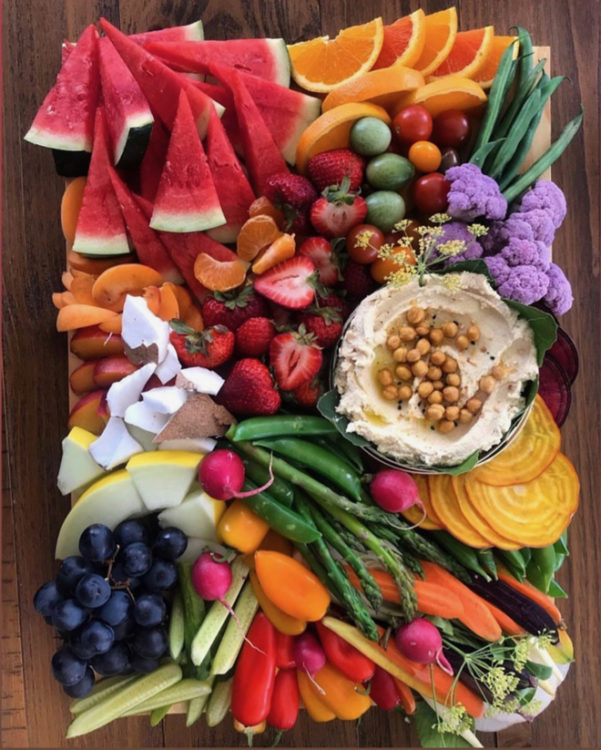 I store all the cheese, meat, and fruit for Harmony Boards in my kitchen refrigerator. I store the vegetables in the garage refrigerator. I keep a list in my brain of what vegetables I had on hand, which in hindsight is a mistake.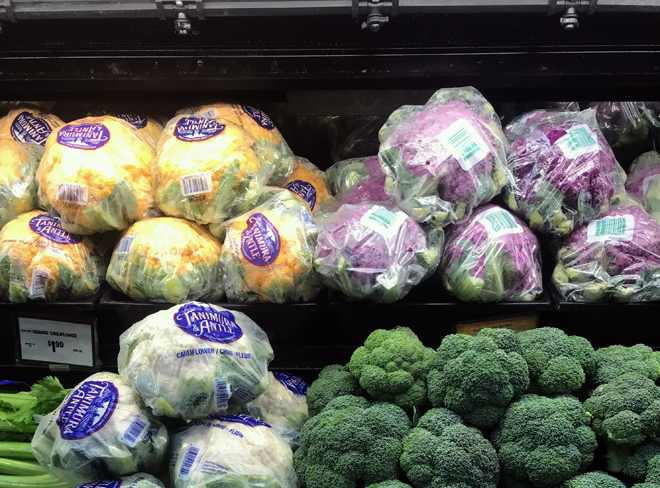 Anyhow, I went to Sprouts and bought a load of vegetables, including a head of purple cauliflower. Then I came home, pulled out the stock from the garage refrigerator and there was a nearly full head of purple cauliflower. Usually, that would not be of concern, but since I was only 48 hours from hopping on a plane… a problem it was.
In my opinion, there is a nearly perfect way to use up extra vegetables and that is in SOUP! Happily, I also had a few leftover purple potatoes. All these purple vegetables made me excited about purple soup.
Of course, I've made cauliflower soup before, but never purple soup. Some of you might be thinking, "What about borscht?" Nope, never made borscht, because I despise beets! Sorry, you'll have to find a recipe for borscht elsewhere.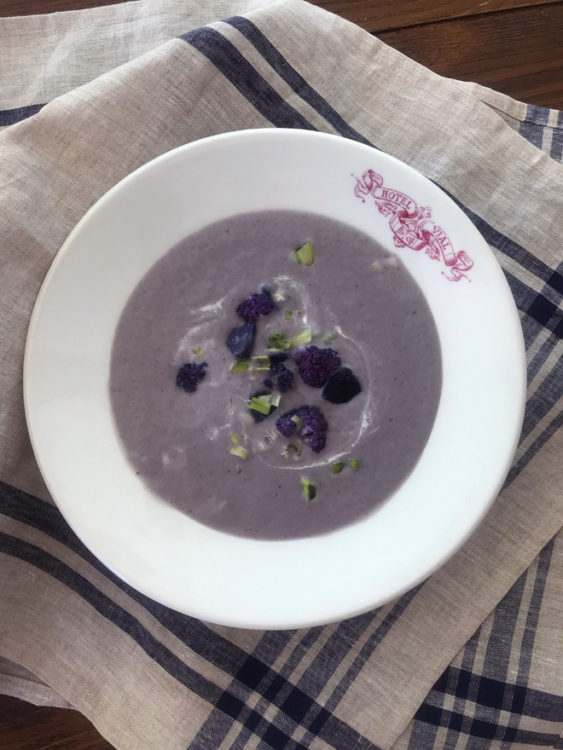 Roasted Purple Cauliflower and Purple Potato Soup
1 head of purple cauliflower, trimmed and cut into florets
1 cup boiled purple potato cubes
2 tablespoons olive oil, divided
1/4 teaspoon crushed red pepper flakes, divided
Salt and freshly ground black pepper
1 small red onion, peeled and diced
1 garlic clove, peeled and minced
Water
1/3 cup cream or milk, optional 1 green onion, minced
Preheat the oven to 375 degrees. Line a baking sheet with foil.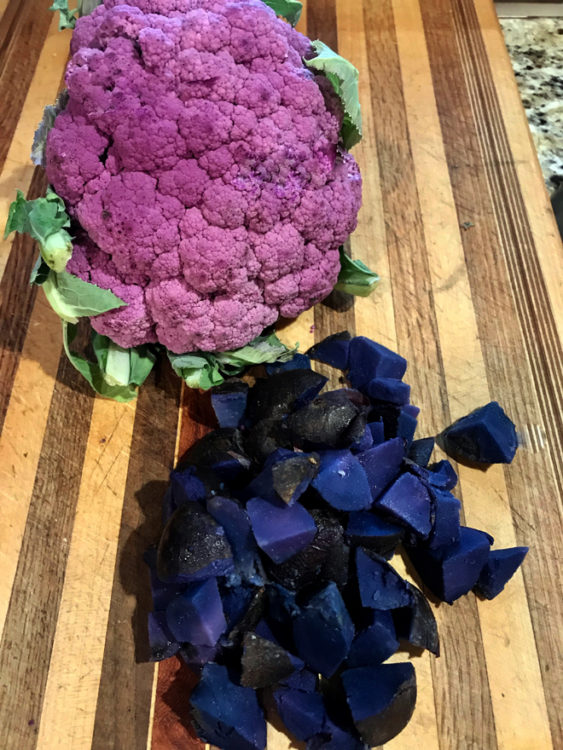 Place the cauliflower and potatoes on a baking sheet and toss with 1 tablespoon of the olive oil, 1/8 teaspoon red pepper flakes, salt, and pepper.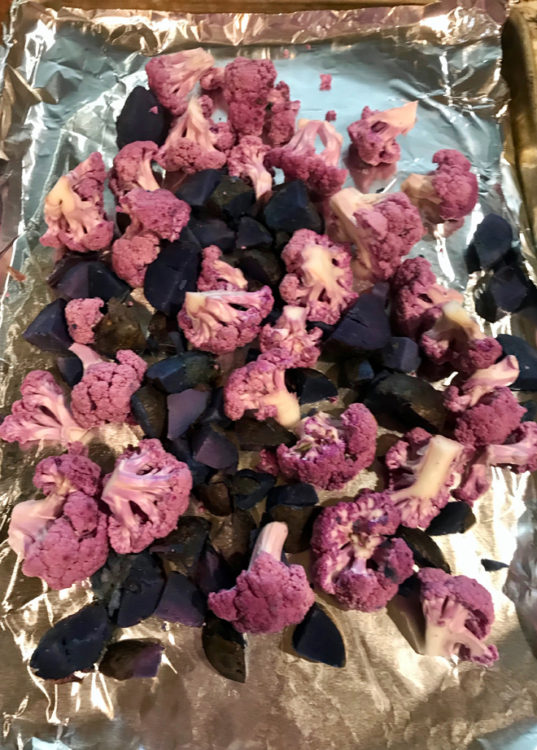 Roast until the cauliflower is tender and just beginning to brown at the edges, about 20 to 25 minutes. Remove from oven and reserve about 1/2 cup smaller pieces of the cauliflower and potatoes for a garnish.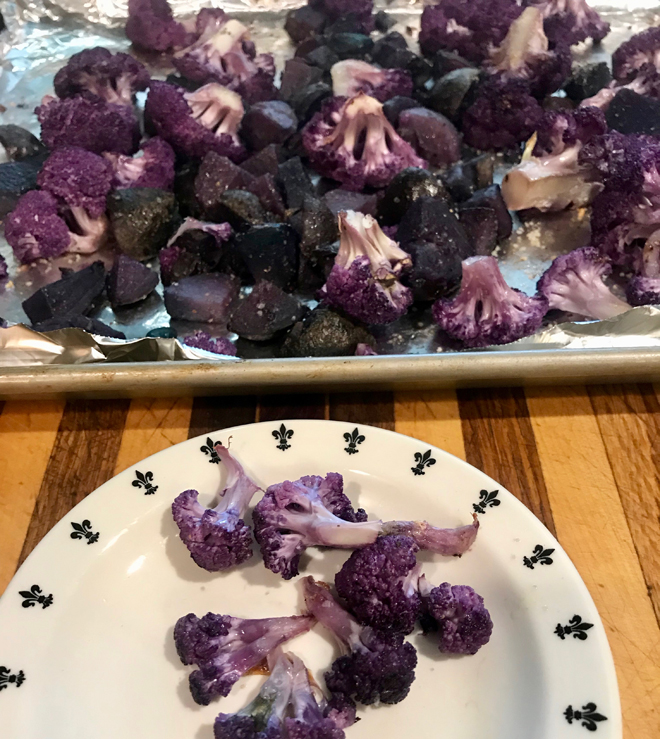 Heat the remaining tablespoon of olive oil in a large saucepan over medium heat.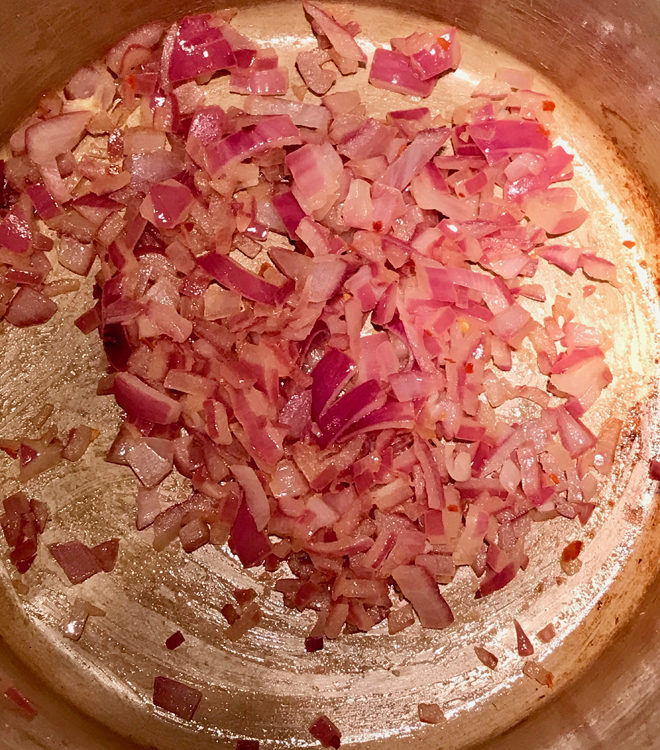 Add the onion and sauté for 5 minutes until soft and translucent. Add the garlic and the remaining 1/8 teaspoon red pepper flakes. Sprinkle with a bit more salt and pepper to taste and sauté for another 5 minutes.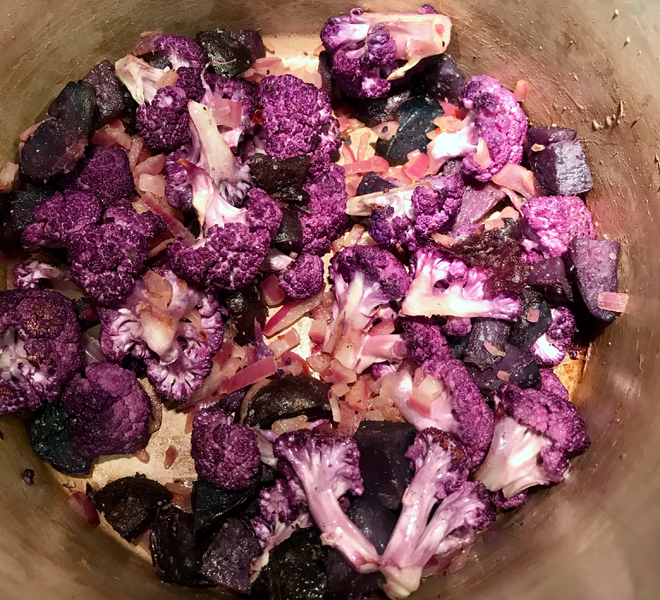 Add the roasted cauliflower and potatoes to the saucepan and then add enough water to just cover the cauliflower and potatoes. Simmer for 10 minutes.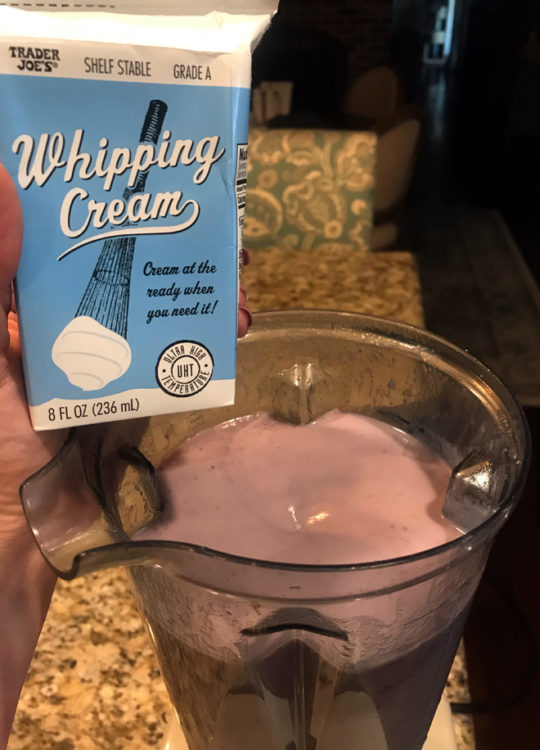 Carefully transfer the soup in batches to a blender to puree. Taste and add 1/4 cup of cream, if desired. (see note at bottom of the post about the cream pictured above) Taste and season with more salt, pepper, and red pepper flakes, if needed.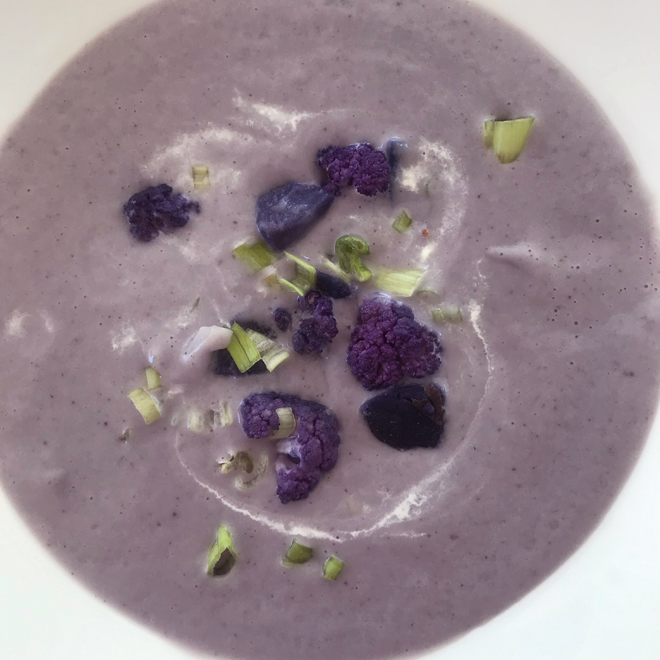 Return the soup to the saucepan to reheat before serving. Ladle into soup bowls and garnish with the reserved cauliflower and potato pieces and the diced green onion.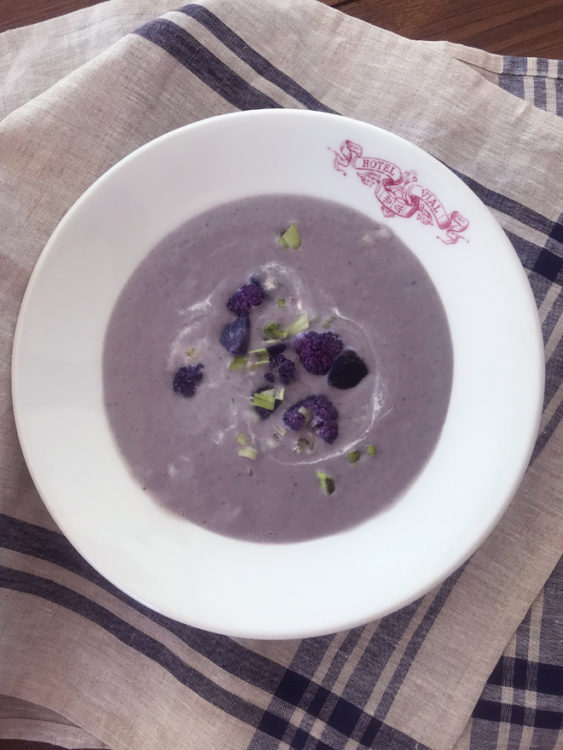 Serves 4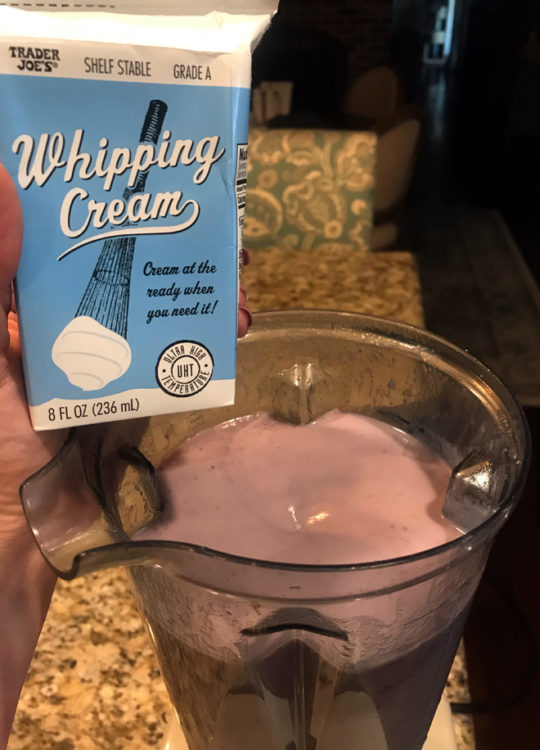 Have you seen or used this shelf-stable whipping cream at Trader Joe's before? I love it! I don't regularly have milk or cream in my refrigerator, so this product is a great thing to have on hand. Once opened, it needs to be refrigerated, but having it tucked away in the pantry at the ready is such a treat.