white and boring, but not bland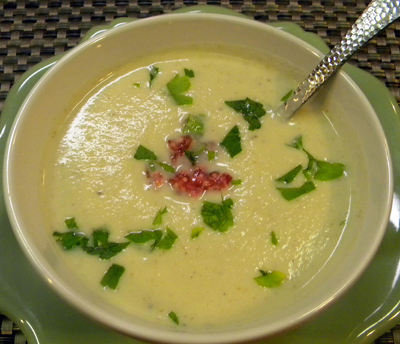 Although this cauliflower soup is not flashy… plain old white and boring looking… it is full of flavor. The flavors come from the roasted cauliflower, the caramelized onion, and toasted coriander, and then end with a dollop of horseradish or a splash of hot pepper sauce. If you've roasted garlic recently, throw some of the mellow roasted garlic in too.

Roasted Cauliflower Soup
1 tablespoon coriander seeds
2 heads cauliflower, coarsely chopped
1 large onion, peeled and diced
3 tablespoons olive oil
Salt and freshly ground black pepper
6 cups chicken broth
Horseradish or hot pepper sauce
Chopped fresh parsley
Heat a small skillet over medium-high heat.  Add the coriander seeds and toss until they smell fragrant, 30 seconds.  Place the coriander seeds in an electric coffee grinder devoted only to spices or a mini-processor and grind.
Preheat an oven to 350 degrees.  Place the cauliflower and onion on a baking pan.  Drizzle olive on top and sprinkle with the ground coriander, salt, and pepper and toss to coat lightly.  Bake in the oven until tender, about 45 minutes.
While vegetables are roasting, bring broth to a boil in a large pot.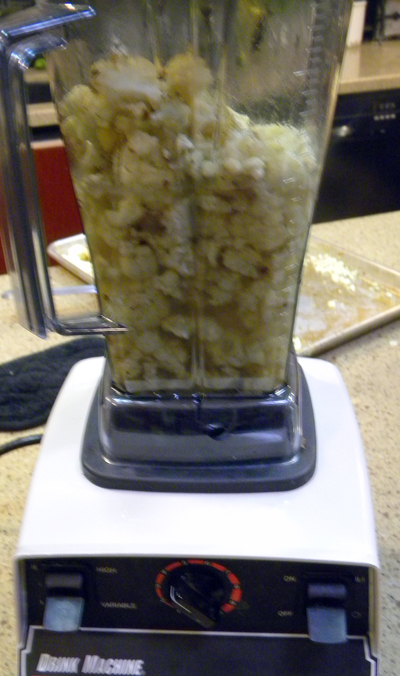 In a blender or food processor, puree the roasted vegetables with the broth in batches, until very smooth. Return to pot to heat through; taste and season with salt and pepper.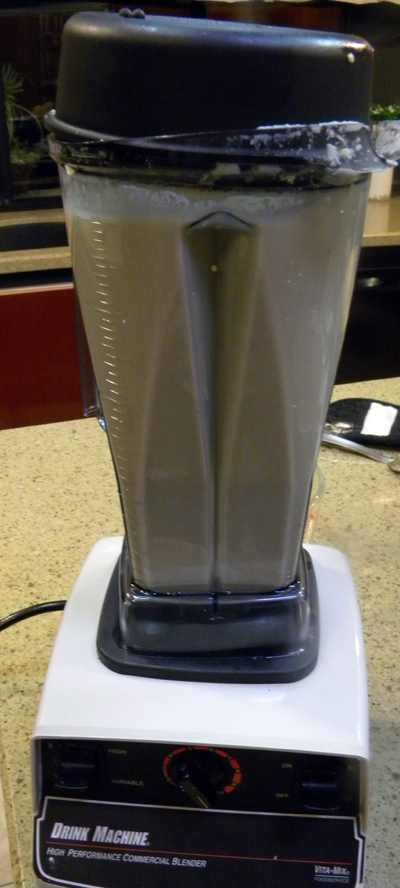 To serve, ladle into bowls.  Garnish with a dollop of horseradish or hot pepper sauce and a sprinkle of parsley and serve immediately.
Serves 8
I used the cranberry horseradish I told you about HERE.