marriage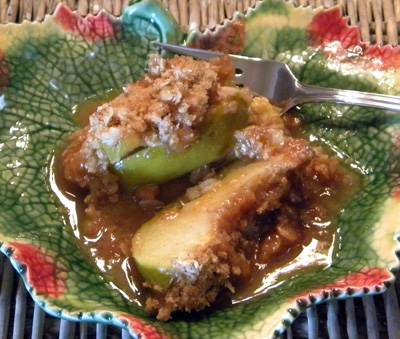 Today, I offer you a last-minute dessert idea for Thanksgiving. I originally made this apple crisp last week in my "Thanksgiving Leftovers" cooking class at Les Gourmettes. While I was making it, I was telling the students about the remarkable De Lujo Margarita and gave them the recipe for it. As I am going about these two tasks, measuring out the ingredients for the apple crisp and reciting the ingredients for the margarita, it dawns on me that it would be amazing to blend the two… and that is how this Margarita Apple and Oatmeal Crisp was born! A sweet and happy little marriage.
If you would rather make the original apple crisp, then use 1 1/2 cups of water in place of the first 6 ingredients in the recipe (the 3/4 cup water through the 1/2 teaspoon Grand Marnier).  And be careful to keep an eye out for the ingredients that are marked "divided".  Those ingredients are used in both the apple and the crisp parts of the recipe, so be extra mindful while reading and measuring.


Margarita Apple and Oatmeal Crisp
3/4 cup water
5 tablespoons fresh lemon juice
2 tablespoons fresh orange juice
1/2 teaspoon vanilla extract
1 teaspoon Añejo tequila
1/2 teaspoon Grand Marnier
1  1/2 cups brown sugar, divided in half
1/4 cup (1/2 stick) unsalted butter, melted
2 tablespoons plus 1 1/2 cups flour, divided
1/2 teaspoon salt
1  1/4 teaspoons ground cinnamon, divided
3/4 teaspoon freshly grated nutmeg, divided
2  1/2 pounds Granny Smith apples, cored and cut into wedges
1  1/2 cups old-fashioned rolled oats
1/2 cup (1 stick) unsalted butter, cut into small pieces and at room temperature
Preheat the oven to 350 degrees.
In a large bowl, combine the water, lemon and orange juices, vanilla extract, tequila, Grand Marnier,  3/4 cup of the brown sugar, the melted butter, 2 tablespoons of the flour, salt, 1 teaspoon of cinnamon, and 1/2 teaspoon of grated nutmeg, whisk until smooth. Add the apples and toss to mix well.
Lightly butter a 9x13x2-inch baking dish and pour the apple mixture into the pan.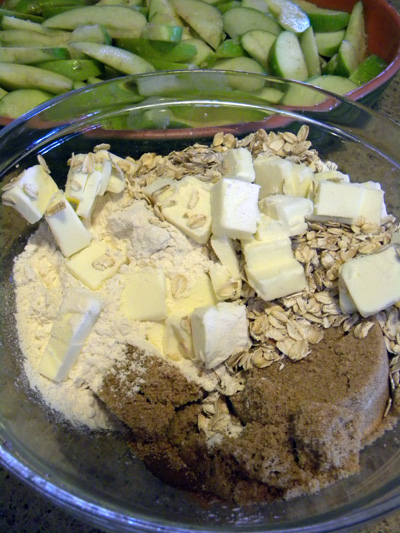 In a medium bowl, combine the remaining 3/4 cup brown sugar, remaining 1/4 teaspoon cinnamon, remaining 1/4 teaspoon nutmeg, the remaining 1 1/2 cups flour, oatmeal, and the room temperature butter. Using your fingers, work the mixture together until it resembles a coarse crumb-like mixture.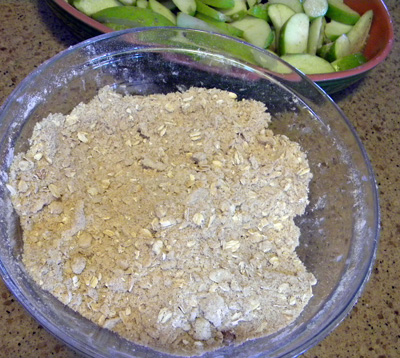 Sprinkle the oatmeal topping over the top of the apple mixture.
Bake for 1 hour, or until the apples are tender and the crust is golden. Remove from the oven and cool for at least 20 to 30 minutes.
Serves 12