margaritaville in the fall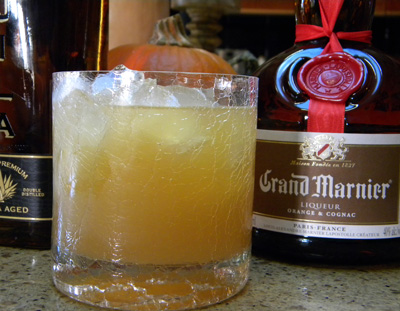 If you're anything like me, when you think of margaritas, you think of a warm summer day. Last week I was introduced to a cold-weather margarita that will knock your socks off! Chef Jeff Smedstad was the visiting chef teaching at Barbara Fenzl's Les Gourmettes Cooking School last Monday night and everyone in the class swooned when he served this luxurious (de lujo) concoction.
Chef Smedstad is the chef/owner of Elote Cafe in Sedona. Dave and I dined at Elote the first night we were up in Sedona, last month. I failed to mention it before because back then, it was all about my sprained ankle. And that's a shame because it was one of the best meals we've had in a very long time.  For a fantastic rundown (with drop-dead gorgeous pictures) on Elote go to my friend, Gwen Walter's blog and check out her professional and spot-on review.
While you're reading the review and drooling over the photos, enjoy this somehow "warming" cold margarita. Chef Smedstad calls for Añejo tequila. Añejo or "aged" tequila sits in oak barrels for at least one year and up to two years, eleven months, and thirty days. On the next day (3 years), it would be called Extra Añejo. Although the Añejo or Extra Añejo really make this drink shine (see Chef's notes at the bottom of the recipe) you may use Blanco (white) tequila or Reposado (rested) tequila, just be sure to use a high-quality tequila and not anything along the lines of the dreaded José Cuervo!

Elote's De Lujo Margarita
Base Mix
1 1/2 cups brown sugar
1 1/2 teaspoons vanilla extract
2 cups fresh lemon juice
1/4 cup fresh orange juice
5 cups water
Margarita
Ice
Añejo tequila
Grand Marnier
Base Mix: Briskly whisk until sugar is completely dissolved.
Margarita: In a 14-ounce glass with a salted rim (if desired) and filled with ice cubes pour a full shot of Añejo tequila. Then almost fill with the base mix and top off with a half-shot of Grand Marnier.
Drink and Enjoy!
Chef Smedstad's Notes:  "Why brown sugar, vanilla, and lemon… brown sugar and lemon are soft and rich. The name Lugo means luxury and the vanilla mirrors the oak notes in both the Añejo tequila as well as the Grand Marnier.