clean plate club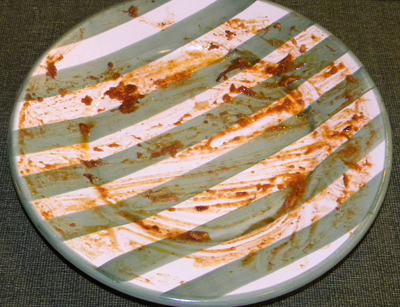 About a week ago, when I was making an appetizer for a cooking class, I told you about the convenience of purchasing fully cooked beef short ribs. Back when I was testing that recipe for the class, I'd purchased several packages of beef.  Two of them were still sitting in my freezer, and I need that space for Christmas, so this recipe was born from that. And, did we love it! Everyone joined the clean plate club and I won't tell you how many of the four of us had seconds, it's embarrassing.
Now you'll never find me calling any lasagna recipe "easy-breezy".  There is way too much layering and trying to keep all the amounts of each of the components straight – for me to consider that.  For example: "Spoon 1/3 of the sauce over the bottom of the dish. Sprinkle 1/4 of the Parmesan cheese over. Arrange 1/3 of the lasagna noodles on top. Drizzle 1/2 of the cheese mixture over noodles; sprinkle 1/4 cup  Parmesan cheese over. Repeat. Cover with remaining noodles. Spread cheese mixture over noodles. Sprinkle remaining Parmesan over…" Oh my goodness!  I am too dyslexic to follow along and ever call that easy!  But it's the nature of the beast, if you want to make lasagna, it's just the way it is!
But using the prepared short ribs does make this a shortcut version of what would be a more intense and time-consuming recipe.  Now, if you are afraid of sauces- please don't let this recipe intimidate you. It uses a Béchamel sauce, which is the base of many classic French roux sauces.  A roux is easily made by melting butter, then whisking in flour and letting it brown (sometimes a little, sometimes a lot), and then just whisking in the milk, until thickened. It is a wonderful sauce on its own and the beginning of other great sauces such as Mornay (adding in cheese) and Soubise (adding in onions). Now, there are some French sauces that can be a bit more complicated and delicate. Those are the hot emulsified sauces, such as Hollandaise sauce and its close cousin, Béarnaise sauce… but that is for another day, we are just using the easy Béchamel today.
The secret to this recipe is beef bones. The purchased fully cooked short ribs don't have bones, but you can purchase inexpensive beef bones at the grocery store, if you don't see them out, just ask.  I keep a bag of beef bones from previous meals in my freezer and when I have enough, I make beef stock, so I just pulled out a few of those to use here.  If you have homemade beef stock, by all means, use it, otherwise purchased beef stock is fine.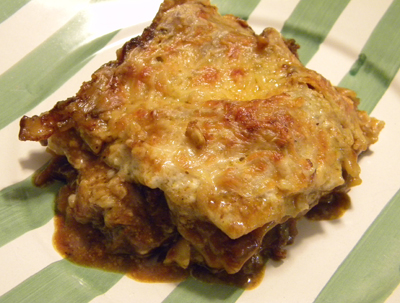 Shortcut Short Rib Lasagna
Short Rib Sauce
1/2 cup dried wild mushrooms (any variety)
2 cups boiling water
2 tablespoons olive oil
1 pound beef bones
Salt and freshly ground black pepper
1 large onion, peeled and diced
1 carrot, peeled and diced
1 celery stalk, diced
2 garlic cloves, peeled and minced
1 tablespoon tomato paste
1  1/2 teaspoons Italian seasoning
1/2 cup ruby port
2 cups dry red wine
4 cups beef broth
2-pound package prepared beef short ribs
Lasagna
5 tablespoons unsalted butter
1/4 cup all-purpose flour
3 cups whole milk
1/2 teaspoon freshly grated nutmeg
Salt and freshly ground black pepper
2 cups freshly grated Parmesan cheese
18 sheets of no-bake lasagna noodles (two 9-ounce packages)
Sauce: Place mushrooms in a heatproof bowl or measuring cup. Add boiling water; cover and let stand until mushrooms soften, about 20 minutes. Using a slotted spoon, transfer mushrooms to the work surface; chop.  Set aside both the mushrooms and the soaking liquid.
Heat olive oil in a heavy large pot over medium heat. Add beef bones, season with salt and pepper and brown on all sides. Add onion, carrots, celery, and garlic to the bones in the pot. Season with salt and pepper and sauté until softened, stirring often for about 10 minutes.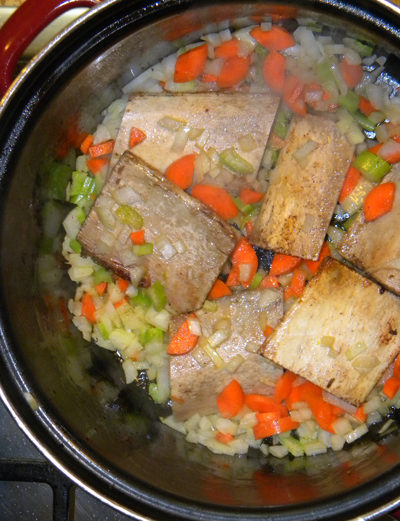 Stir in chopped mushrooms. Add tomato paste; stir until tomato paste begins to brown on the bottom of the pot, about 1 minute. Add Port and Italian seasoning, and stir until almost all liquid is absorbed, scraping up any browned bits, about 1 minute. Add red wine. Slowly pour in the reserved  2 cups of the mushroom soaking liquid, leaving any sediment at the bottom of the bowl behind. Pour in beef broth and bring to a boil.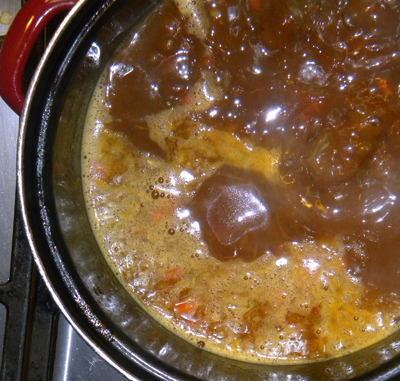 While the sauce comes to a boil, strain the short ribs and add all of that liquid to the pot. Continue to boil until the liquid is reduced to 5 cups; stirring often, about 14 to 18 minutes.  While the sauce is reducing, shred the beef rib meat.  Remove the bones from the reduced sauce and add shredded beef to the pot; remove from heat.  Taste and season as needed with salt and pepper. (May be made up to 2 days ahead. Cool, cover, and then refrigerate.)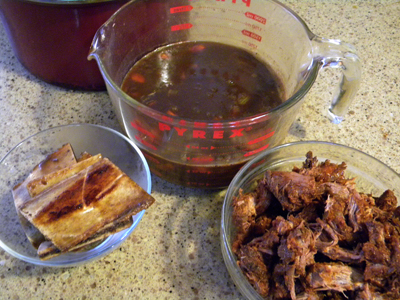 Lasagna: Melt butter in a heavy large saucepan over medium heat. Add flour; whisk until smooth. Cook until light golden brown, whisking frequently, about 6 minutes. Add milk; bring to boil, whisking constantly. Boil 1 minute. Add nutmeg. Season béchamel to taste with salt and pepper. (May be made 1 day ahead. Cool slightly; cover  and refrigerate.)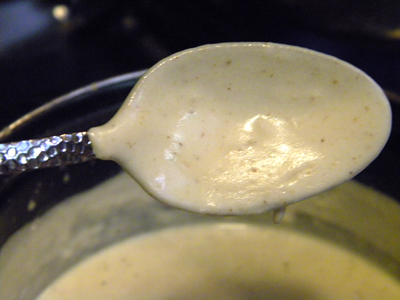 Preheat the oven to 375 degrees. Grease a 15 x 10 x 2-inch baking dish. Line a baking sheet with foil.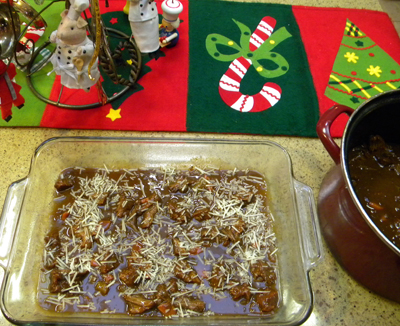 Pour 2 cups of the meat sauce over the bottom of the baking dish and spread evenly. Sprinkle with 1/4 cup Parmesan cheese. Arrange 6 lasagna noodles over to cover, overlapping slightly. Spoon 1 cup béchamel over noodles, spreading evenly; sprinkle with 1/4 cup Parmesan. Spread 2 cups of meat sauce over top.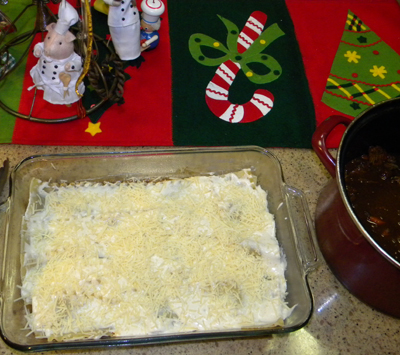 Repeat the layering with 6 noodles, 1 cup béchamel, 1/2 cup Parmesan, and the remaining meat sauce. Cover with the last 6 noodles. Spread with remaining béchamel, and finish by sprinkling with the remaining 1 cup Parmesan.
Place the lasagna on the foil-lined baking sheet and bake lasagna uncovered until the edges are bubbling and the top is golden brown in spots, about 45 minutes.  Remove from oven and let rest 10 minutes.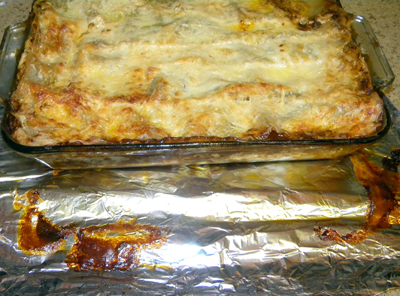 Serves 8