addiction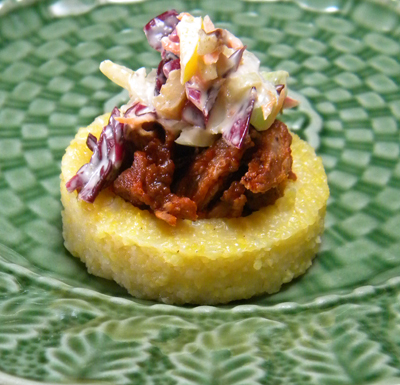 Addiction is a serious subject, and I am not here to make fun of it. That said, the reason there was no post yesterday is two-fold. The first reason has to do with Christmas. It is Christmas' fault, or the fault of my family's expectations of what Christmas looks like, that I didn't have time to post yesterday. It takes FOREVER to decorate this house! And I'm not even half done yet.
The other reason has nothing to do with the "most wonderful time of the year" and everything to do with my newest addiction… My Vineyard, on Facebook. I am here to confess… "My name is Linda, and I am a My Vineyard junkie."  Your response should be, "Hi, Linda. Do you want me to "friend you" on My Vineyard so that we can play together?"  Then I say, "Oh yes, please do and in return, I promise to send you gifts, and travel to your vineyard every single day where I shall help build your houses, fertilize your vines, and taste your wine!"
OK, now that the business portion of the post is out of the way, on to the recipe of the day. These are a lovely little appetizer to serve to your friends (Facebook, or not!) and family this holiday season. And that is exactly what I shall be doing at tonight's final cooking class of my fall series at Les Gourmettes, and then again to my lovely neighbors at our Holiday Progressive Dinner on Friday night when appetizers begin at our house. (The main reason I HAVE to finish decorating this house and stop playing that cursed game!)
For convenience, I call for purchased fully cooked short ribs, which I found at Costco and have seen at Trader Joe's. Feel free to make the short ribs from scratch if you have the time.
Shredded Short Rib and Apple Dijon Slaw in Polenta Cups
Polenta Cups
8 cups chicken broth
2 cups polenta
3 tablespoons unsalted butter
Shredded Short Ribs
2-pound package prepared beef short ribs
5 fresh thyme sprigs
Slaw
1/2 cup mayonnaise
2 tablespoons olive oil
2 teaspoons Dijon mustard
1 lime, zested and juiced
Salt and freshly ground black pepper, to taste
1/2 large head of red or green cabbage, cored and thinly sliced, and cut into 1/2-inch lengths
2 celery ribs, thinly sliced
1 red or yellow bell pepper; cored, seeded, thinly sliced, and cut into 1/2-inch lengths
1 large carrot, peeled and grated
1/2 cup dried cranberries, chopped
1 Granny Smith apple; cored and diced
1/4 cup chopped walnuts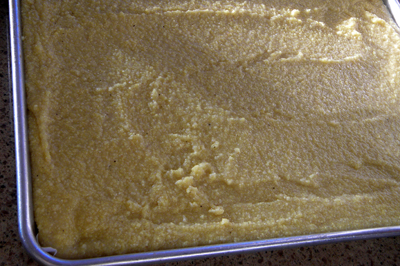 Polenta Cups:  Bring chicken broth to a simmer.  Whisk in polenta.  Cook over medium heat for 15 to 20 minutes or until tender and the liquid is completely absorbed, whisking frequently.  Stir in butter.  Line a deep-rimmed baking sheet with parchment paper.  Pour polenta onto a baking sheet and spread evenly into a 1-inch thick layer.  Allow to cool at room temperature.  Cover with plastic wrap and transfer to refrigerator; chill for at least 3 hours or overnight.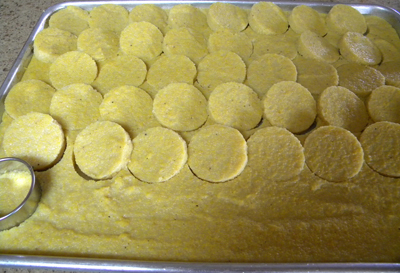 Remove polenta from the refrigerator when completely chilled and firm.  Cut the polenta into rounds using a 2-inch cookie cutter.  Scoop out the centers of each polenta circle with a  1/2 teaspoon measuring spoon, taking care not to make a hole in the bottom.  Place polenta cups on a baking sheet with a clean sheet of parchment paper. Polenta cups may be prepared up to 2 days in advance, covered, and refrigerated.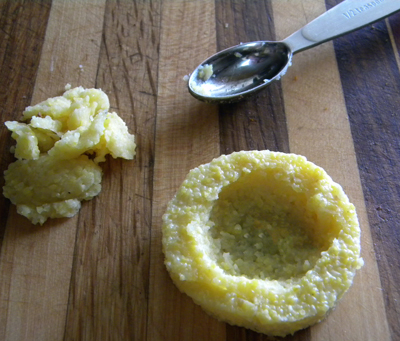 Shredded Short Ribs: Preheat the oven to 350 degrees. Place beef ribs, thyme sprigs, and all juices from the package in a baking dish cover with foil, and heat for 25 minutes.  Reduce oven temperature to 250 degrees.  Remove the beef and thyme sprigs from the sauce, set the sauce aside, and discard thyme.  Shred beef while warm, discarding any fat and bones. Toss shredded beef with the reserved sauce, recover with foil, and set aside.
Slaw: In a large bowl, whisk together the mayonnaise, olive oil, Dijon, lime zest, and juice.  Taste and season with salt and pepper.  Add cabbage, celery, bell pepper, carrot, cranberries, and apple to the bowl and toss to coat.  Cover and refrigerate. (the walnuts will be added later)
Assemble: Warm polenta cups in the 250-degree oven for 10 minutes, remove from the oven and fill with shredded beef. Return to oven for 10 minutes to warm through.  Remove slaw from the refrigerator and toss in walnuts. Top each beef-polenta cup with a dollop of slaw and transfer to a serving platter. Serve hot or at room temperature
Makes about 48