child's play
One of my favorite treats of all time, in the history of treats, in the entire world… Rice Krispies Treats! During pregnancy (always a good excuse!) I would eat and clean up the evidence of an entire 8×8-inch pan full before anyone even knew they had been made. This occurred while I was carrying Connor and while Marissa was at preschool. Pitiful, I know, but what the hormones want, the hormones deserve to get!
This upscale version hits a high note with the vanilla bean and the browning of the butter – pure genius! And no, I did not eat the whole pan this time… hey, if I did, I wouldn't be able to post the recipe here – now would I?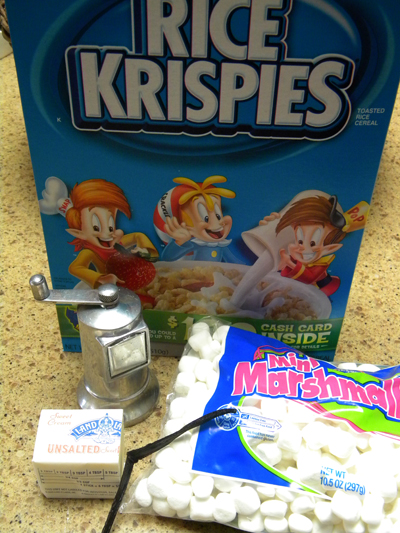 Brown Butter Vanilla Bean Rice Krispies Treats
Inspired by Flour: Spectacular Recipes from Boston's Flour Bakery + Cafe via ZoeBakes.com
5 tablespoons unsalted butter, plus extra for buttering the baking dish
1 vanilla bean
1/4 teaspoon fine sea salt
1o  to 10.5-ounce bag marshmallows
5  1/4 cups Rice Krispies cereal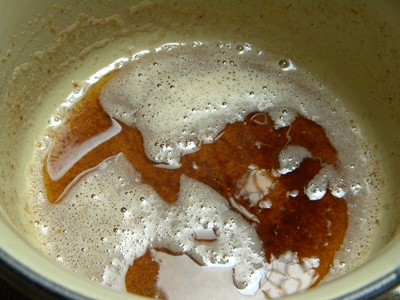 Butter an 8×8-inch baking dish, and set aside.
In a small saucepan cook the butter over low heat, until the butter is a deep caramel color and smells toasty.
Strain the butter into a larger saucepan. Split the vanilla bean in half lengthwise and with the back of the paring knife, scrape out the seeds and add to the saucepan. Add the salt and marshmallows and cook over very low heat until the marshmallows are completely melted.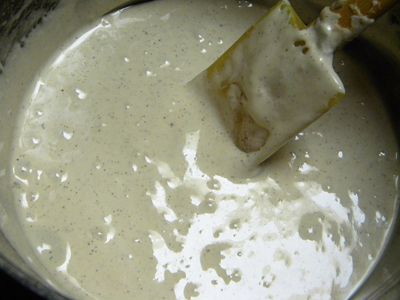 Stir in the cereal until it is completely coated with the vanilla marshmallow mixture.
Butter your hands and a rubber spatula and press the mixture firmly into the buttered dish.
Let it cool if you are able to keep away from them, and then cut and share.
Makes 9 large or 12 medium squares
Go AZ CARDS!