appetizer buffet
For some strange reason – while making 13 different recipes in two days (eight appetizers,  four recipes for the sit-down dinner, and one recipe for the dessert table) I didn't manage to take even one cooking photo. Imagine, too busy to stop and take pictures of the process!
Oh well, I did manage to get pretty decent photos of the food on the table itself, at least for the appetizers, which is what I present to you today. Some of these are new recipes which I'll provide here and others are recipes I've previously posted. For those, click on the link to take you the original post.
Here we go…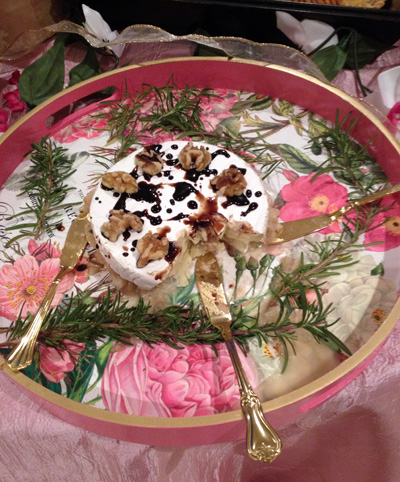 Brie with Pears and Brandy
12 to 16-ounce wheel Brie cheese, cold
1 tablespoon unsalted butter
2 large Bosc or Red Anjou pears, peeled and cut into 1/4-inch dice
2 tablespoons brandy
1 teaspoon chopped fresh rosemary, plus rosemary sprigs for garnish
2 tablespoons balsamic vinegar
1 tablespoon honey
8 walnut halves

Slice cheese wheel in half crosswise; set aside.
In a medium skillet over medium heat, melt butter. Add diced pears, and cook until tender, about 3 minutes. Stir in brandy, and cook 1 minute more. Add rosemary, and stir to combine. Remove from heat, and spread pear mixture over the bottom half of the cheese wheel, reserving 2 tablespoons of mixture for garnish. Transfer cheese to a serving plate.
Return skillet to stove, and heat balsamic vinegar and honey until simmering. Simmer mixture until slightly thickened, about 3 minutes. Set aside to cool, about 5 minutes.
Pour half the glaze over the bottom half of the cheese with the pear mixture; top with the remaining half of the cheese wheel and top with the 2 tablespoons of reserved pears. Drizzle with remaining glaze, and garnish with walnut halves and rosemary. Serve immediately.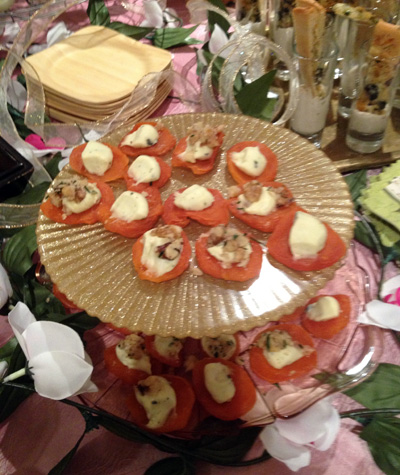 Blue Cheese-Apricot Bites
1 tablespoon plus 1 teaspoon butter
1/4 cup finely chopped walnuts
1 tablespoon plus 1 teaspoon sugar
1 teaspoon minced fresh rosemary
1 cup crumbled Roquefort, room temperature
2 ounces cream cheese, room temperature
32 dried apricots
Snipped fresh rosemary
In a small skillet, melt butter over medium heat. Add walnuts and sugar; cook and stir for 2 to 3 minutes or until walnuts are lightly toasted. Stir in rosemary; cook and stir for 30 seconds more. Transfer nuts to a foil-lined baking sheet; cool.
Meanwhile, in a small bowl, combine Roquefort cheese and cream cheese. Beat with an electric mixer on medium speed until smooth.
Spoon about 3/4 teaspoon of the cheese mixture on top of each dried apricot. Sprinkle with nuts. If desired, garnish with additional fresh rosemary.
Makes 32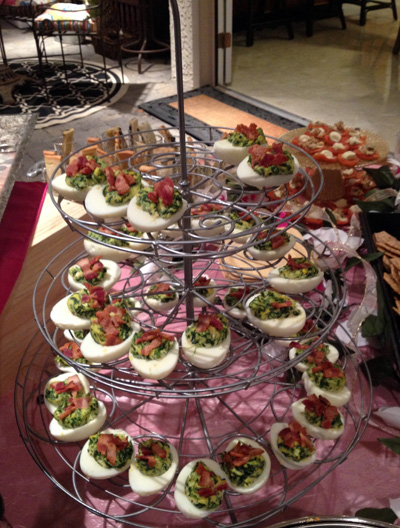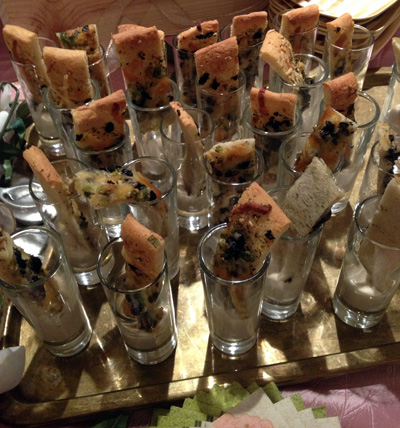 Pizza Strips with White Cheese Dipping Sauce
I am giving you the recipe for the white cheese dipping sauce that I made that night, but I wasn't at all happy with it. I loved the idea of this appetizer, so the next time I'll just heat up some store-bought Alfredo sauce to dollop into the shot glasses and forget this sauce altogether.  The only reason I'm including it here is in case one of the party attendees really loved the sauce.
Pizza Sticks
13.8 ounce Pillsbury Classic Pizza Crust
1 tablespoon olive oil
1 teaspoon dried basil leaves
1 teaspoon dried oregano leaves
1/2 teaspoon garlic powder
1/4 cup shredded Parmesan cheese, divided
1/4 cup finely minced black olives
1/4 cup finely minced green onions
White Cheese Dipping Sauce
1 cup sour cream
1.2-ounce envelope savory herb with garlic dry soup mix
1 cup ricotta cheese
1 cup shredded mozzarella
For Serving
Shot glasses
Preheat the oven to 400 degrees.
Unroll the pizza crust onto a baking sheet with a Silpat mat or parchment paper.
Spread with olive oil and sprinkle with basil, oregano, garlic powder, and half of the Parmesan cheese.
Top with black olives, green onions, and the remaining Parmesan cheese.
Bake for 12 to 14 minutes until the crust is golden brown and cooked through.
Dipping Sauce: Combine the sour cream, soup mix, and cheeses in a large glass bowl. Microwave on high until cheese is melted and dip is heated through, stirring often.
To Serve:  Cut the pizza into 30 thin strips.
Pour a little of the dip into each shot glass. Add a pizza strip and serve.
Makes 30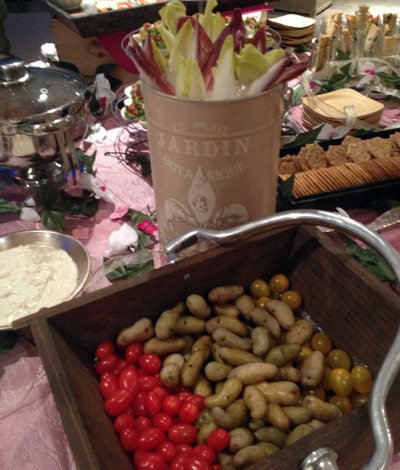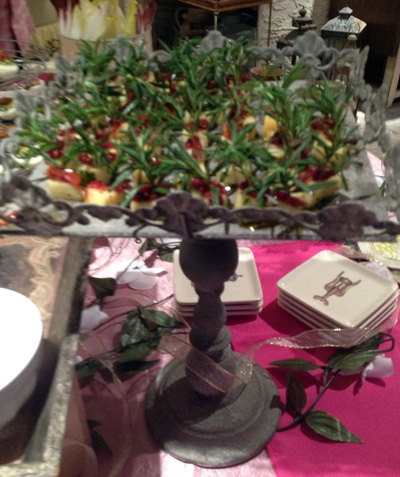 Marinated Mozzarella Bites
16-ounces mozzarella cheese (not fresh but rather a brick of mozzarella)
8.5-ounce jar of sun-dried tomatoes drained and halved
1/2 cup olive oil
3 tablespoons finely chopped Italian parsley
1 teaspoon garlic powder
1 teaspoon onion powder
1/2 teaspoon dried oregano
1/2 teaspoon Italian seasoning
1/4 teaspoon salt
1/4 teaspoon freshly ground pepper
Fresh rosemary springs to use as skewers
Cut cheese into 1-inch cubes. Arrange cheese cubes in a Pyrex baking dish.
Top each with a sun-dried tomato half and poke each with a rosemary skewer.
Whisk together olive oil, parsley, garlic powder, onion powder Italian seasoning, salt and pepper; pour evenly over cheese cubes. Cover and chill for at least 8 hours or up to 24 hours.
Transfer bites to a serving plate. Drizzle with marinade.
Feeds a crowd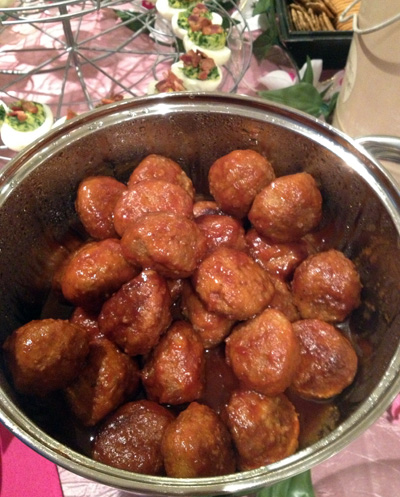 Bourbon Whiskey Meatballs
1 cup ketchup
1 cup packed brown sugar
1/2 cup bourbon whiskey
2 teaspoons fresh lemon juice
2 teaspoons Worcestershire sauce
4 pounds frozen turkey meatballs (Costco)
In a medium bowl, combine ketchup, brown sugar, whiskey, lemon juice, and Worcestershire sauce. Whisk until well blended.
Place frozen meatballs into a crock-pot, and pour the whiskey sauce on top. Toss to coat.
Turn heat to medium for 1 hour, stirring at least a couple of times. Reduce heat to low and cook for 4 hours, stirring every hour.
Transfer to a chafing dish or serve directly from the crock-pot.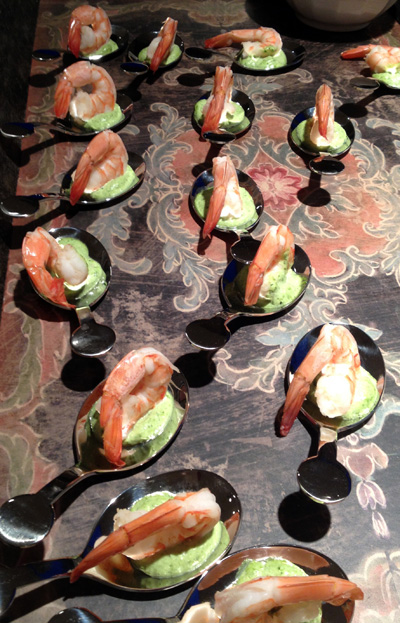 Green Goddess and Shrimp on Spoons
Green Goddess Sauce
3/4 cup sour cream
1/2 cup firmly packed fresh Italian parsley leaves
1/2 cup mayonnaise
1 green onion, chopped
1 tablespoon minced fresh dill leaves
1 tablespoon minced fresh tarragon leaves
2 teaspoons lemon zest
1 tablespoon lemon juice
1 garlic clove, peeled
1/2 teaspoon salt
1/4 teaspoon freshly ground black pepper
Shrimp
2 pounds peeled and deveined cooked shrimp, with tails still attached
For Serving
Metal or porcelain appetizer spoons
Green Goddess Sauce: Process all sauce ingredients in a food processor or blender until smooth, stopping to scrape sides as needed. Cover and chill 1 hour before serving.
Place a dollop of Green Goddess sauce on each appetizer spoon and place a shrimp on top of each spoon.