Aloha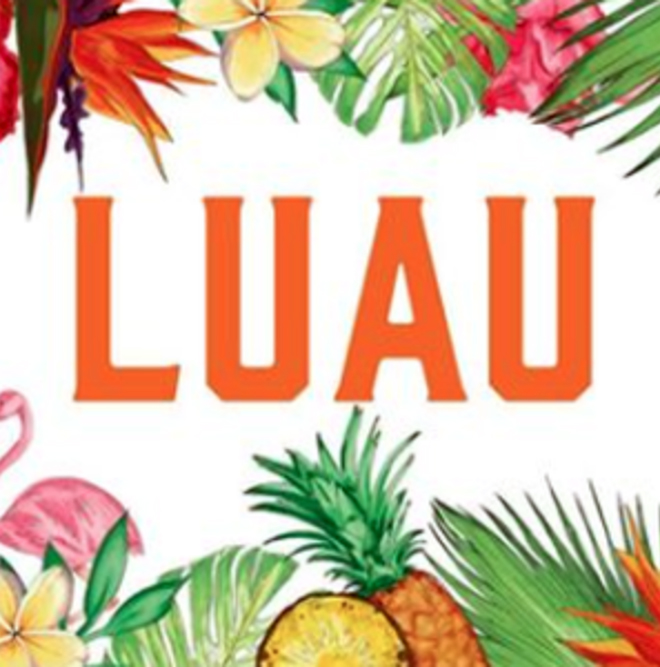 These ribs are what I grilled to go along with the salad recipe from the previous post. When I decided on ribs for the entree, I had to look back through the blog to see just how many baby back rib recipes I have on here. The answer is eight, there are eight more baby back rib recipes that I've posted. Is nine too many? I don't think so.
These remind me of Hawaii, so you know they are going to be good!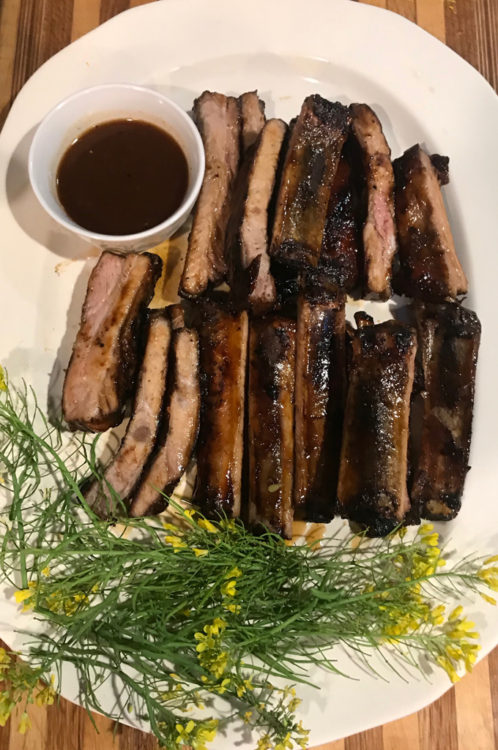 Men dealing with ED will know just how expensive Viagra is. Find your follow here and save money when ordering Viagra online. Luau Baby Back Ribs
4 cups water
1 ½ cups soy sauce
1/4 cup ponzu
2 tablespoons fish sauce
1 tablespoon olive oil
4 bay leaves
4 garlic cloves, peeled and minced
1 tablespoon fresh ginger root, peeled and grated
4 cups ice cubes
3 to 3 ½ pounds pork baby back rib racks
2 bottles of beer of your choice
2 teaspoons garlic powder
1 teaspoon kosher salt
1 ½ teaspoons smoked paprika
1 teaspoon onion powder
1 teaspoon Chinese five spice
1 teaspoon dry mustard
1/4 teaspoon red pepper flakes
1/8 teaspoon allspice
1/8 teaspoon freshly ground black pepper
1/4 cup packed brown sugar
Glaze
2 cups pineapple and/or mango juice
1/3 cup packed brown sugar
1/3 cup ketchup
1/4 cup mirin
4 garlic cloves, peeled and minced
2 tablespoons fresh ginger root, peeled and grated
1 teaspoon Sriracha
1 cup reduced soaking liquid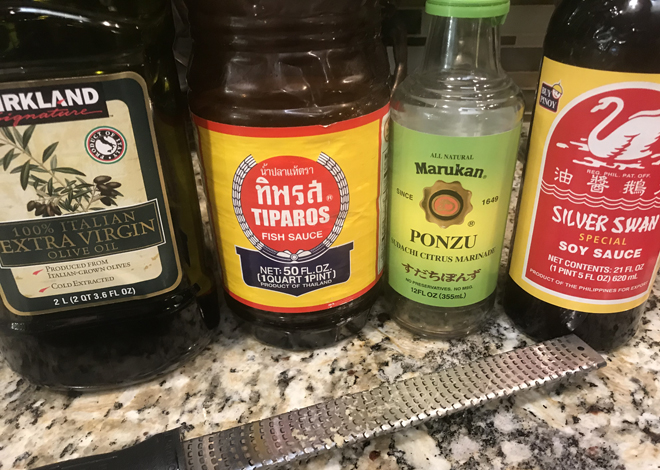 Soaking Liquid: In a pot large enough to hold the ribs, combine all the soaking liquid ingredients, except the ice. Whisk the ingredients to combine and bring to a boil. Immediately remove from heat, stir in the ice and let the soaking liquid completely cool. Add the ribs, cover the pot and refrigerate for 2 hours, turning the ribs occasionally. While the ribs soak, make the dry rub and start the glaze.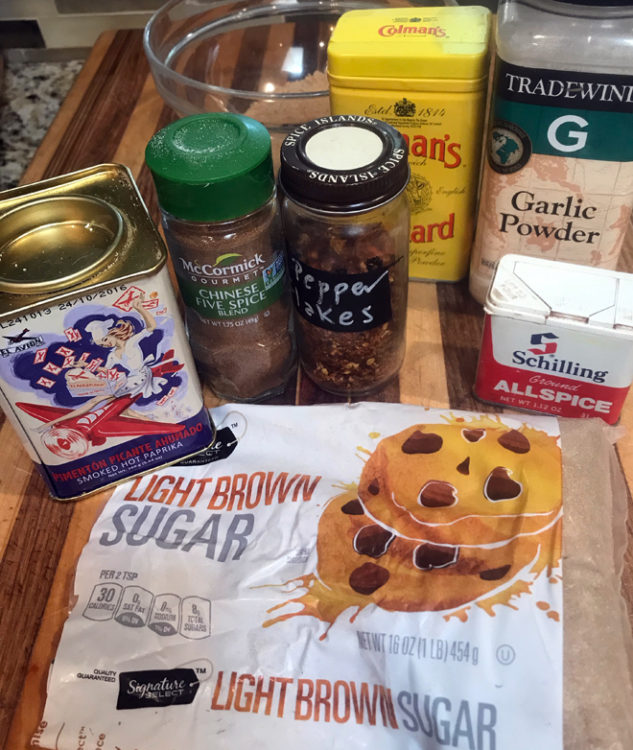 Dry Rub: Combine all ingredients in a small mixing bowl. Stir to combine and set aside.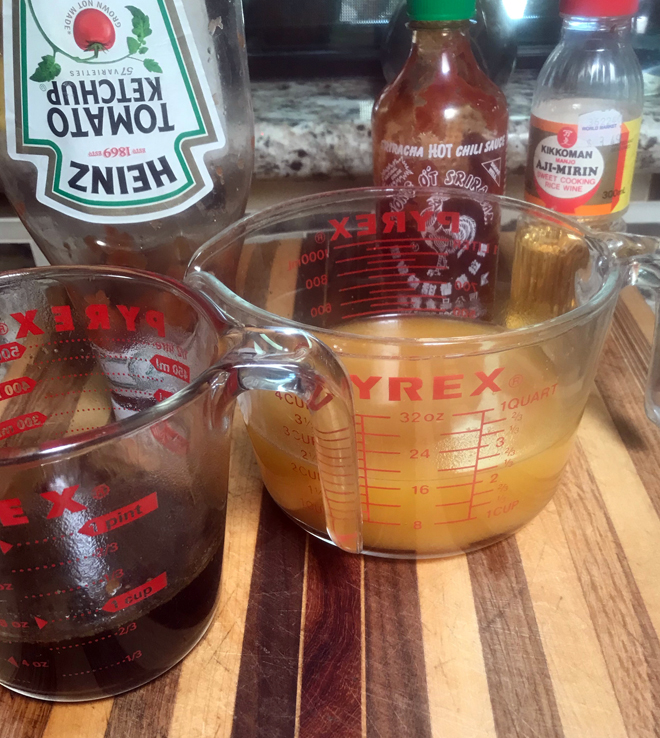 Glaze: Whisk together all the glaze ingredients, except the reduced soaking liquid, in a medium saucepan and bring to a boil over high heat. Immediately reduce heat to medium and gently simmer until slightly thickened, about 20 minutes. Remove from heat, leave the liquid in the saucepan off the heat.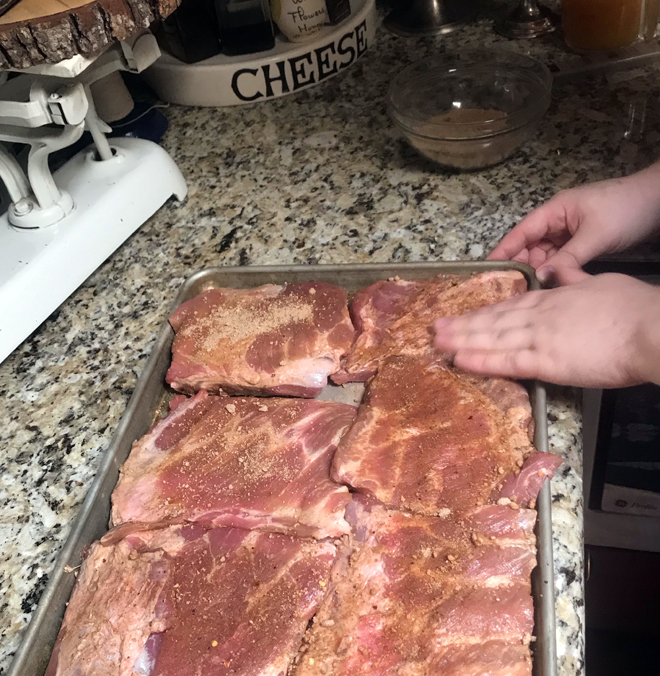 After 2 hours, remove the ribs from the soaking liquid and place on layers of paper towels. Place the pot containing the soaking liquid on the stove and turn the heat to high. Reduce the soaking liquid by half. In the meantime, pat the ribs dry with paper towels. Coat the ribs evenly, on both sides, with the dry rub and massage into meat. Let sit at room temperature for 30 minutes.
Preheat oven to 275 degrees.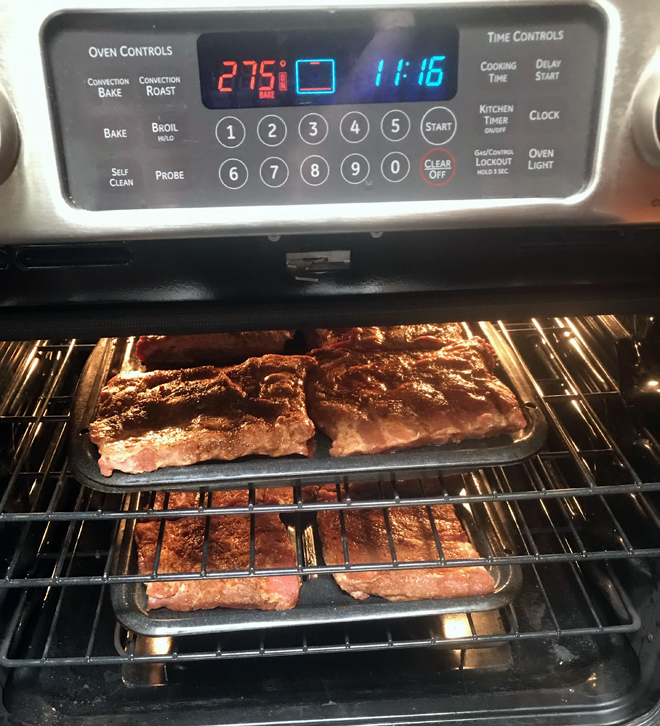 Transfer ribs to two roasting pans fitted with racks and cook in preheated oven, uncovered, for 1 hour.
Once the soaking liquid is reduced by half, fish out the bay leaves then measure out 1 cup and discard the remaining liquid. Add the 1 cup of reduced soaking liquid to the glaze and stir to combine. Return to heat and bring to a boil, reduce heat to medium and simmer for 5 minutes. Turn off heat and set glaze aside.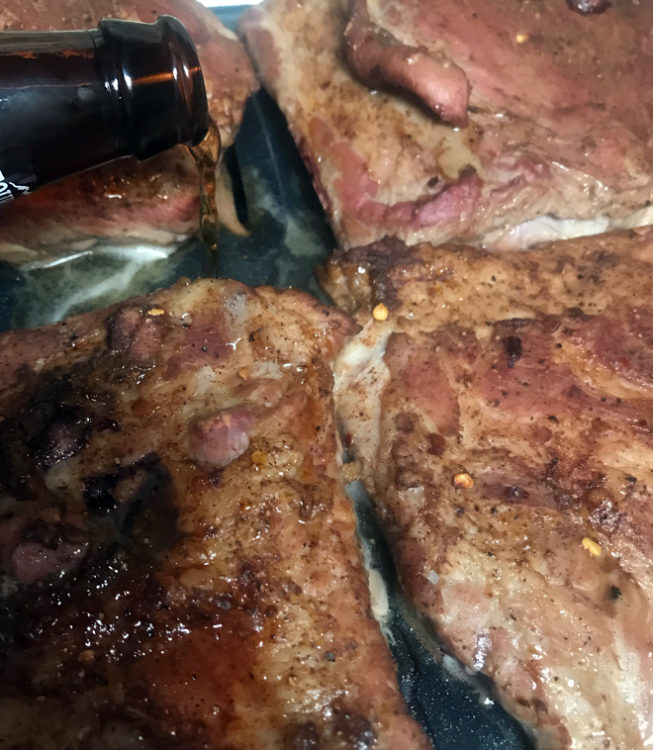 Remove pans of ribs from oven and gently pour a bottle of beer into each pan, around the side of the ribs taking care not to splash off the dry rub. Cover tightly with aluminum foil. Return ribs to oven and continue to cook an additional 2 hours.
Heat grill to medium-high. Remove ribs from oven. Brush top of ribs generously with the glaze. Grill ribs just until the glaze starts to caramelize slightly, about 5 minutes. Turn ribs and brush again, with the glaze. Return to grill for another 4 to 5 minutes.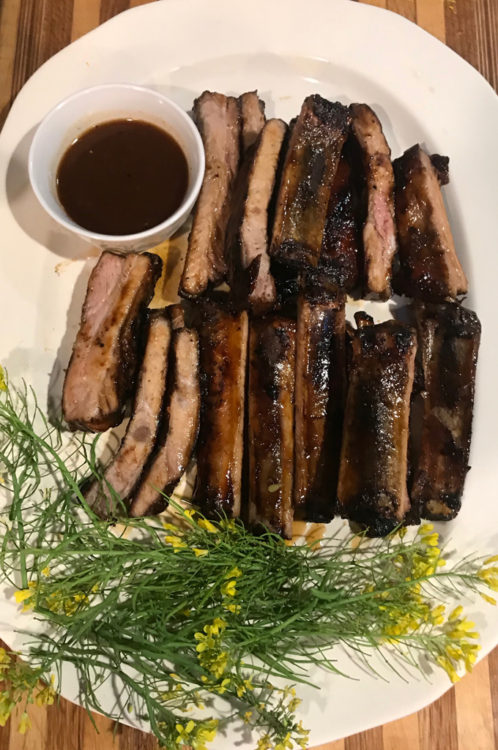 Transfer ribs to a cutting board and cut each slab into 1 or 2 rib bone portions and serve with remaining glaze on the side.
Serves 6 to 8