Chopped Salad and Taxes
My ex-husband, Dave, was born and raised in Illinois and is a CPA. If you've followed along for any amount of time, you are already well aware of that. Honestly, it's strange for me to refer to Dave as my ex-husband. After being together for 35 years, it's awkward and difficult to use the word "ex" when he is still a part of my life. So from here on out, I'm just going to say Dave, and that will be that.
Anyhow, Dave came for dinner over the weekend to help me gather together my tax stuff. Since he is from Illinois, he loves Portillo's. It's not as though Portillo's was around when Dave lived in Illinois. He moved to Arizona in 1982. Portillo's started as "The Dog House" in a Chicago suburb in 1963 but didn't open their first Portillo's in Chicago until 1994, long after Dave was gone. But it's an Illinois institution now, so as an Illinois native son, apparently he is obliged to love it.
Arizona got its first Portillo's in 2013, right here in Scottsdale. I'm not a huge fan, but I do like their chopped salad. For our tax dinner, Dave requested a salad and something on the grill. He's the salad guy and I'm the soup girl. I'd have soup over salad every day of the week. But he was doing me a favor, so salad it was. My requirement for a good salad is that there are lots of goodies. I don't like a salad that is all or mostly lettuce. Hey, I'm not a rabbit! Portillo's Chopped Salad fits my salad requirements.
Notes: Portillo's uses ditalini (small tube) pasta, I used pesto-filled mini tortellini from Trader Joe's. They use sunflower seeds; I prefer chopped pistachios or almonds. For their vinaigrette, they use dried oregano (about 1 teaspoon) I didn't want to dig out the dried, so I used fresh from the garden oregano. You could add diced cucumber, summer squash, or whatever floats your boat. If you want to bulk it up with protein, add shredded rotisserie chicken.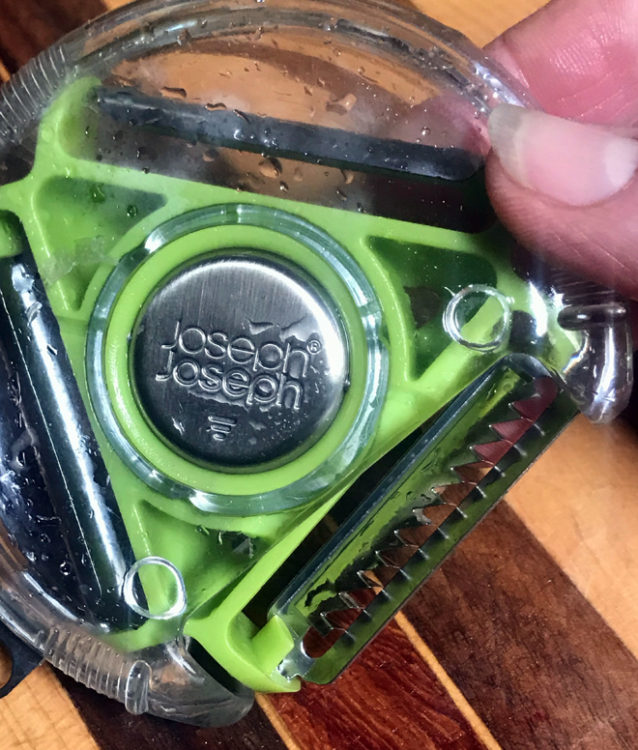 I used the Joseph Joseph Rotary Vegetable Peeler with 3 Blades to prep my carrots. The julienne blade makes long thin strips of carrots instead of shredded carrots, which I think look and even taste nicer. Here is a link to the peeler, but shred away if you don't want to get all fancy!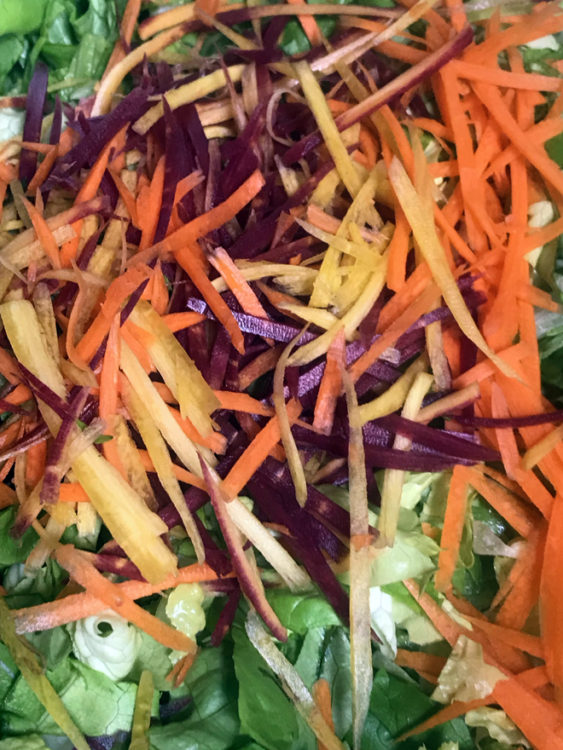 I got extra fancy when I garnished the salad with the flowers from the broccoli that had gone to flower in my garden. Both pretty and yummy!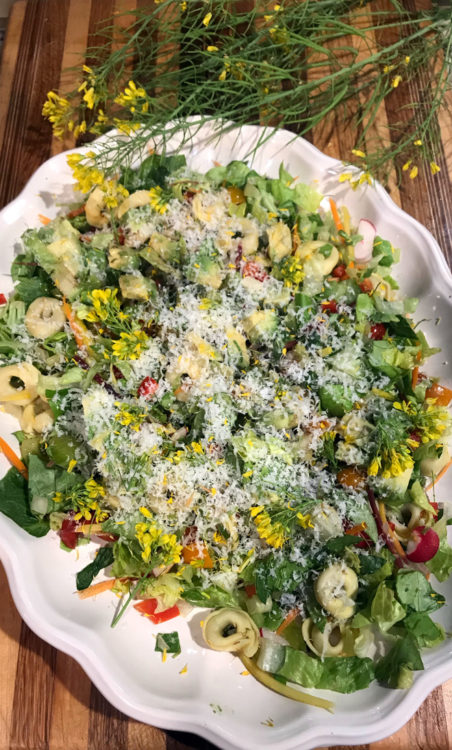 Portillo's-Style Chopped Salad with Red Wine Vinaigrette
Salad
8 ounces dry small pasta, cooked and chilled (such as; ditalini, orzo, mini elbows or mini tortellini)
8 cups chopped romaine lettuce
4 cups chopped Boston bibb lettuce
3 carrots, peeled and shredded
1/2 cup trimmed and chopped radishes
1 cup diced tomatoes
1/2 cup radish sprouts
1/2 cup peeled and diced yellow onion
1/2 cup seeded and diced red bell peppers
1 cup diced celery
1/4 cup chopped fresh basil
Salt and freshly ground black pepper, to taste
1 avocado, peeled and diced
1 cup shredded Parmesan cheese
3/4 cup sunflower seeds or chopped pistachio or other chopped nut of your choice
Vinaigrette
1 garlic clove, peeled and minced
1 tablespoon sugar
2 tablespoons minced fresh oregano
1/2 cup red wine vinegar
1/4 cup red wine
Salt and freshly ground black pepper, to taste
3/4 cup olive oil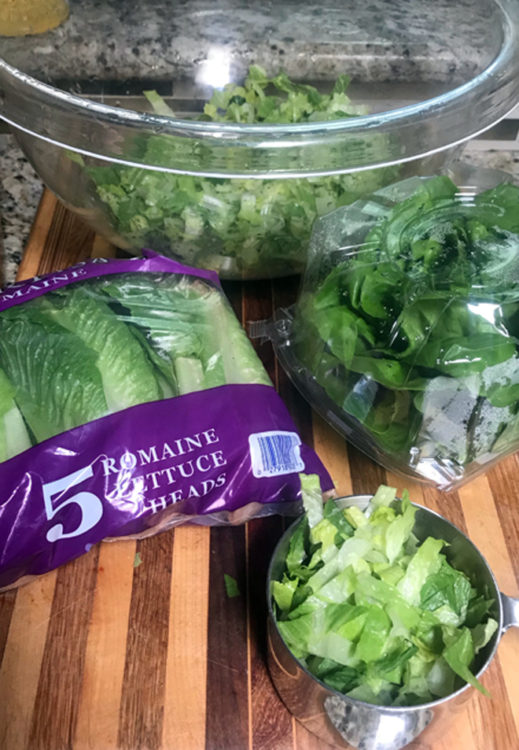 Salad: In a large bowl mix together the salad ingredients, except for the avocado, cheese, and seeds or nuts.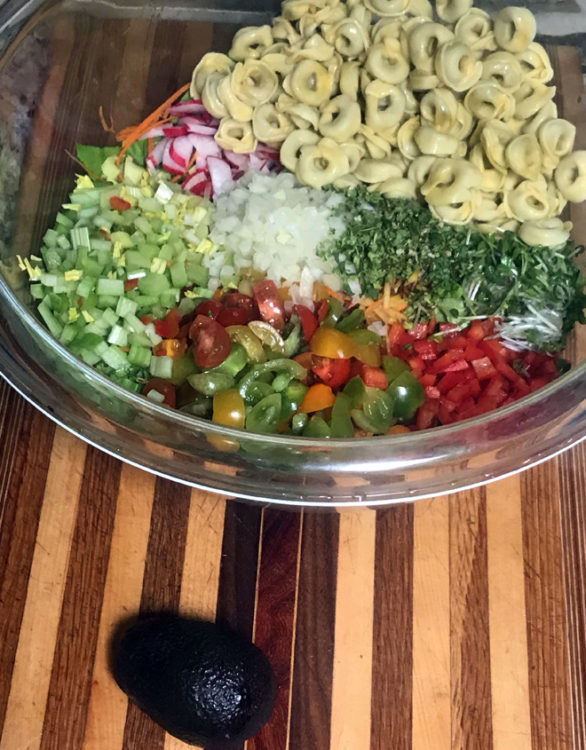 Toss the salad with salt and pepper, to taste, and then cover and refrigerate until ready to serve, for up to 3 hours.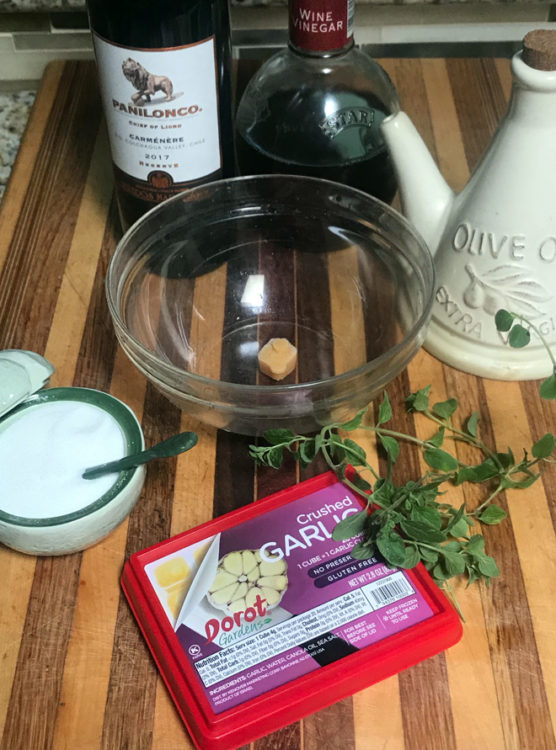 Vinaigrette: In a medium bowl whisk together the garlic, sugar, oregano, red wine vinegar, red wine and salt and pepper, to taste, until combined. Next, whisk in the olive oil. Taste and adjust seasoning as needed.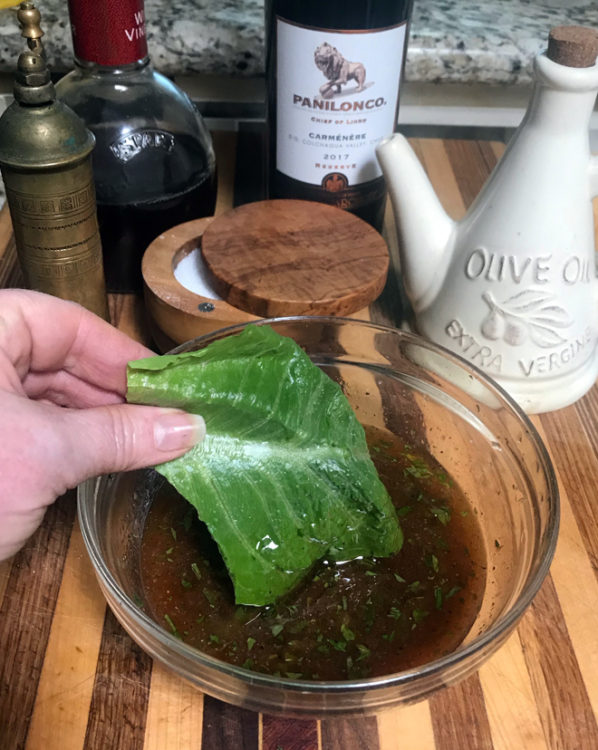 *Instead of tasting the dressing with your finger or a spoon, the best way to get the perfect taste is to use a piece of the lettuce you're using in the salad. Dip it in and you'll know exactly how the dressing will taste on the salad.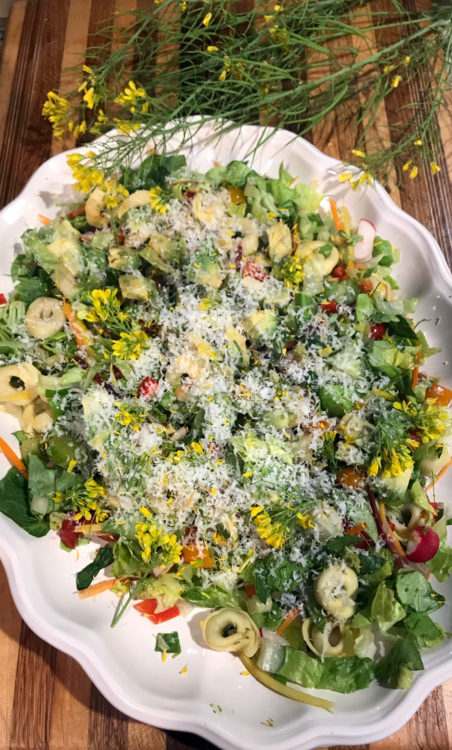 When ready to serve, add the avocado, Parmesan, and seeds or nuts to the salad and toss with the vinaigrette. Serve immediately.
Serves 8 to 10\