4 days till…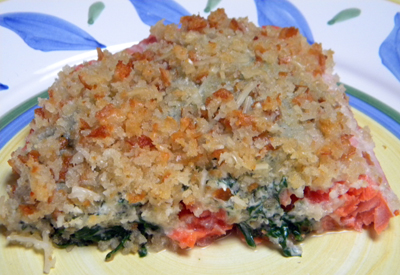 I'll be making this dish on Channel 12 Valley Dish on Wednesday, September 8th. I have just a few things to say about it; Delicious, Quick, Easy, and only 5 ingredients (not counting the spices, oil, and butter!) Make it, and thank me later!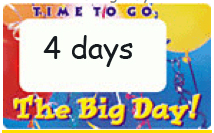 Spinach and Boursin Stuffed Salmon
6-ounce bag fresh spinach leaves
1 package Boursin cheese (about 5 ounces)
Pinch freshly ground nutmeg
Salt and freshly ground black pepper
Four 8-ounce salmon fillets with skin (each about 1 inch thick)
Olive oil
1 1/3 cups fresh breadcrumbs made from French bread with crust
1/4 cup (1/2 stick) unsalted butter, melted
1/3 cup shredded Parmesan cheese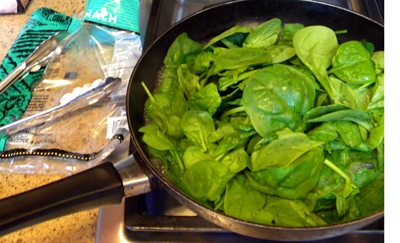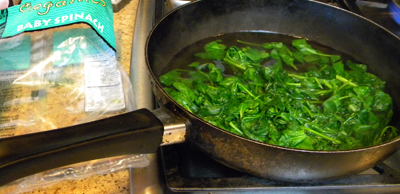 Cook spinach in a large skillet with 2 inches of boiling water just until wilted, about 30 seconds. Drain; squeeze spinach very dry, and finely chop. Place in a small bowl. Mix in Boursin and nutmeg. Season to taste with salt and pepper.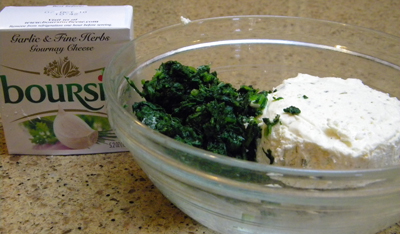 Cut one 3/4-inch-deep, 2 1/2-inch-long slits down the center of the top side of each salmon fillet, forming a pocket. Fill each slit with spinach mixture, dividing equally among salmon fillets. Spread all remaining spinach mixture over top of salmon fillets.

Preheat the oven to 450 degrees. Line a rimmed baking sheet with foil and brush with olive oil. Sprinkle salmon fillets with salt and pepper. Mix breadcrumbs, melted butter, and Parmesan cheese in a medium bowl. Top each salmon fillet with breadcrumb mixture, pressing down to adhere and form a crust.
Place salmon fillets, skin side down, on the prepared baking sheet. Bake salmon until opaque in the center, about 12 minutes. Transfer to plates and serve.
Serves 4