flower girl's wedding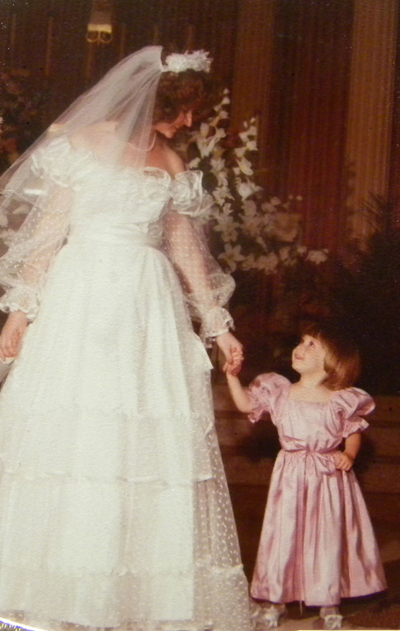 This past weekend, we were traveling yet again, this time to Illinois for our niece's wedding. This particular niece, Katie Hopkins, who is Dave's brother's daughter, just so happened to be our flower girl, 25 years ago, at our wedding. She made an even more beautiful bride than she did an adorable flower girl – hard to imagine!
Thankfully, my jet-setting days are over, done with, and finished, for the rest of 2010. It is exceedingly difficult to put up new blog posts about cooking when one is spending countless hours in airports, having items confiscated by the TSA, and visiting faraway lands all the time! Maybe Canada and Illinois aren't exactly exotic, but travel is not only exhausting – it is expensive and hazardous to your health! Expensive not only because of ticket prices but also paying for bags (which was necessary on the week-long Canada trip – luckily not so on the Chicago weekender) and having to replace those confiscated nail scissors and hairspray -oops! Unhealthy because I (and only I) had to go through the x-ray body scanner, 3 out of the 4 trips through security, these last couple of weeks. That just can't be good for you. Even at the dentist, one is shielded from the harmful rays – but not at the airport – "Here is a tasty plate of cancer, cooked up, especially for you, Bon Appetit," is what I imagine the TSA is saying to me!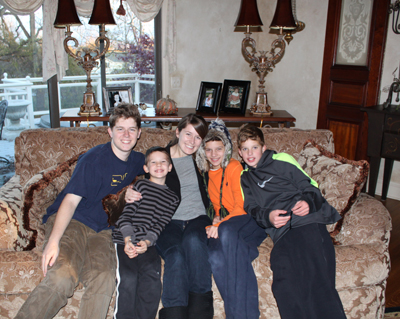 We arrived at O'Hare at 1:15 PM and zoomed out of there, with our carry-ons in tow, to the car rental. Then drove directly to our BFFs – Jen and Jeff Markett's home – where Jen and I cooked for a couple of hours. Jen had pre-shopped for me so that I could make a "bridal breakfast" for the bride and her bridesmaids and the mothers of the bridal couple. It seemed like she already had everything sorted out for the wedding. From food, venue, guest list, flower arrangements, photography, cake, and so on, there are many things that one needs to consider while planning a wedding. Thanks to the internet that all one has to do is simply search keywords like "wedding photographer Rhode Island" and hire someone suitable based on reviews and ratings. However, for our situation, I'm grateful that Jen had already prepared everything well in advance. Thank you, Jennifer, for all your help and hard work and the use of your kitchen. Marissa and I would be setting up and serving it at the salon where the ladies were all getting their hair done the next morning. The picture above is of Connor and Marissa with the ever-handsome, Markett boys.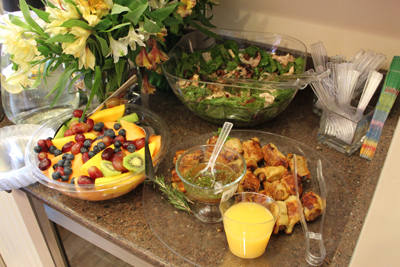 We packed up all the food in the rental car, which would do double-duty as my refrigerator until the next morning (worked like a charm, except the flowers froze a little bit.) Then the four of us raced to the hotel to check-in and get to the rehearsal dinner in time, which we did! The next morning, Marissa and I set up our the breakfast which consisted of mimosas, Starbuck's coffee, Spinach, Fig, Bacon, and Egg Brunch Salad, Blueberry-Banana Coffee Cake, and the ever-popular, – Piglets in a Warm Puffy Blanket, at the salon, in what would be considered a Very Tight Space, and served the ladies as they were transformed from already beautiful to drop-dead gorgeous in a few short hours.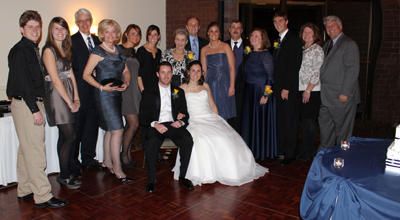 The wedding later that afternoon was lovely and the reception was a blast! Congratulations Katie and Eddie!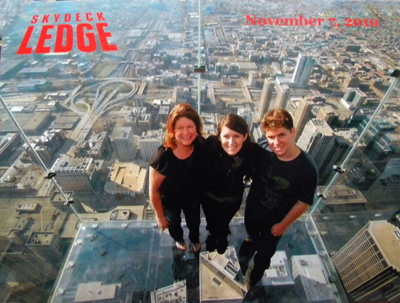 Next morning, Sunday by now – in case you're keeping track, we said our good-byes and headed out off to Willis Tower (formally the Sears Tower) to take the elevator up to the 103rd floor and walk out onto the Sky Deck.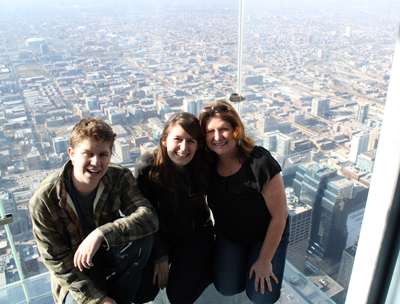 It was a bit smaller than I expected, so not much of a "leap" to step out onto the glass floor high above the city, but cool to see and be able to say and show that we did it, all the same. From there, back to O'Hare for more life-shortening x-rays and more "hurry and wait" time. At least I didn't have anything taken away on the final trip home. That's it, hope you enjoyed the pictures and I will be back to cooking and recipes from now until the end of the year, I promise!