Dang it!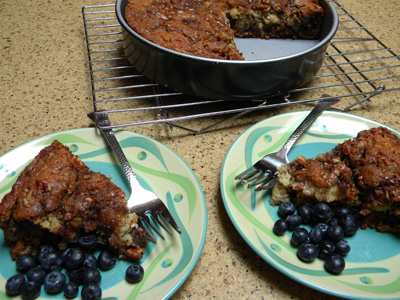 As usual, there are overripe bananas sitting on my counter. That indicates two problems, first that people ask for bananas and then don't use them, Marissa and Dave, I'm talking to you! And secondly, now I must make banana-something, again!  OK, that's not truly a problem, just a reality.
The real problem is that I didn't follow my own advice while preparing to make this coffee cake. I neglected to set up my mise en place (the French phrase meaning "everything in place") beforehand. So even though this is called blueberry-banana coffee cake… there are no blueberries in mine. We had them on the side. Dang, it! Be sure to get out your blueberries, and everything else needed before you begin.
Blueberry-Banana Coffee Cake with Milk Chocolate Streusel
Streusel
2/3 cup brown sugar, packed
1/2 cup chopped pecans
2 teaspoons ground cinnamon
3/4 cup milk chocolate chips
2 tablespoons cold unsalted butter, cut into small pieces
Batter
1  1/2 cups flour
3/4 teaspoon baking soda
3/4 teaspoon baking powder
1/4 teaspoon salt
3/4 cup sugar
1/2 cup (1 stick) unsalted butter, room temperature
1 large egg
3 very ripe bananas, mashed
3 tablespoons vanilla yogurt
1 cup blueberries
Preheat the oven to 350 degrees. Butter a 9-inch round cake pan.
Streusel: In a small bowl, combine brown sugar, pecans, and cinnamon until well blended. Place half of the mixture in another small bowl. Stir chocolate chips into one of the bowls and rub the butter pieces into the other bowl, set both aside.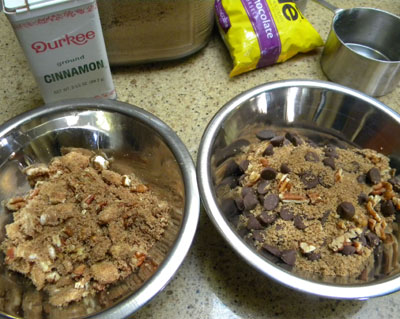 Batter: Sift the flour, baking soda, baking powder, and salt into a medium bowl, set aside.
Using an electric mixer, beat sugar and butter in a large bowl until fluffy. Mix in the egg until just blended. Beat in mashed bananas and yogurt.
Add dry ingredients and mix until just incorporated. Using a rubber spatula, fold in the blueberries.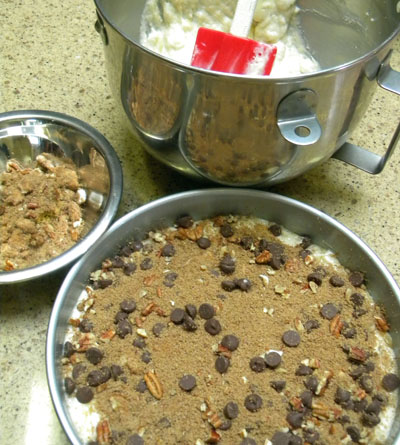 Spread half the batter into the prepared cake pan. Sprinkle with the chocolate chip streusel. Carefully spread the remaining batter on top and then sprinkle with the butter streusel.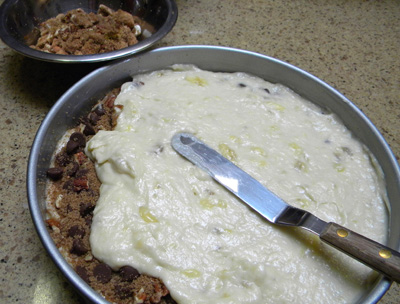 Bake coffee cake on the center rack of the preheated oven until a toothpick, inserted into the center, comes out clean, about 40 minutes. Cool on rack.  Serve directly from the pan while still slightly warm or at room temperature.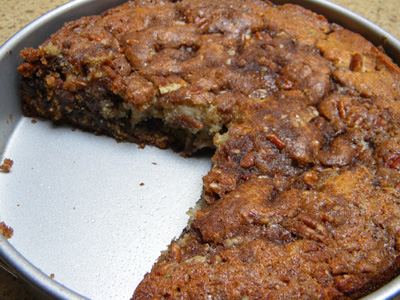 Serves 8