recipe free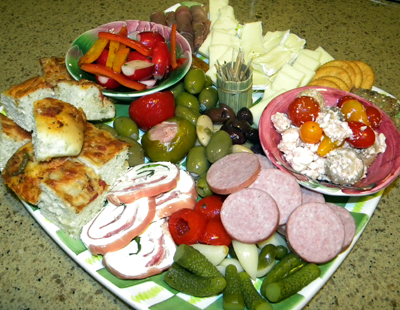 Sometimes the best recipe is no recipe at all. Our tradition on New Year's Eve is to stay home, watch movies, and cook something fancy together. Sometimes the kids are involved in this, sometimes not.  This year, it was just Dave and me. We made an elegant lobster pasta dish and this antipasto platter. Honestly, I enjoyed the platter more than the pasta.  Don't get me wrong, the pasta was delicious and decadent, but the platter was more fun and much less work. I marinated sliced bell peppers and radish halves in olive oil seasoned with salt and pepper and served it along with the usual assorted meats, olives, cheeses, and crackers. One of our favorite go-to dishes is the marinated blue cheese mushrooms. This time, I added substituted feta for the blue and added cherry tomatoes, still outstanding!
After boiling the lobster tails and removing the meat for our pasta dish, I returned the shells to the cooking water and boiled them along with carrots, onion, celery, and whole peppercorns to make lobster stock. The stock was turned into a sauce that I then used the next evening to make seafood crepes with lobster-champagne sauce.  That recipe shall be posted tomorrow.
Another thing I need to let you know, the year ended with 1097 comments on this bog. I want to sincerely thank each and every one of you for following the blog and for taking the time to leave me all those wonderful words of encouragement. And in doing so, helping exceed my goal of 1027 comments by midnight on the 31st.  You're the best!

So take a break from figuring out what to make for dinner and use up all the bits and pieces of leftover holiday food (all those little ends of cheese and meats) to make an antipasto platter for your family tonight!