house tour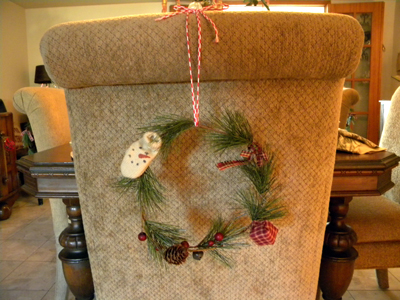 Thank you for all your sweet comments about my Christmas dining room and "tablescape" which I posted yesterday. That's right, I misspelled "tablescape" in my post title, and not a soul told me until sweet Amy finally left a comment at 12:30… which I didn't find right away, so I wasn't able to correct my error until 2:30. Embarrassing!  Please, please, please, always feel free to point out my mistakes and alert me to my missed spell-checks, I will sincerely appreciate it. Thank you, Amy! (of Amy's Famous Taco Soup)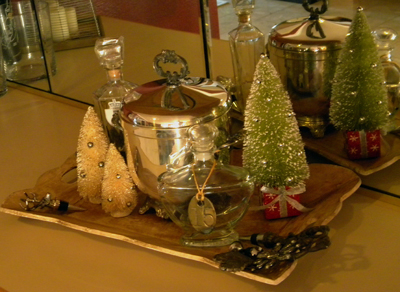 Now, how about we check out the rest of the house – all dolled up for Christmas? Come on in and let me fix you a drink from my sweet little "retro bar" set-up. First things first!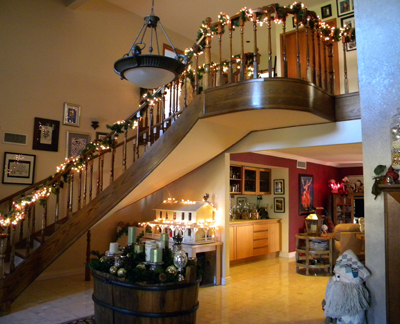 Now that you have a beverage, here is the entry. The Asian wine barrel under the chandelier is completely decked out in mercury glass, pine, ornaments, candles, and pine cones.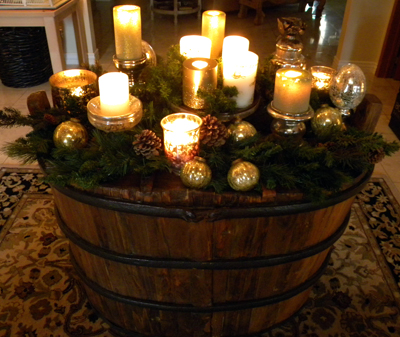 I used to collect Santas. This year, they are mostly displayed in the family room, on top of the entertainment center.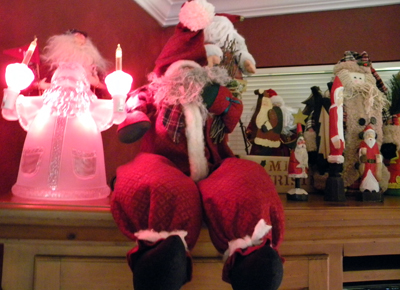 But out of all the Santas…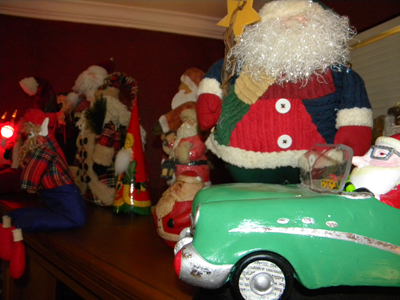 … this large Quilt Santa is my favorite.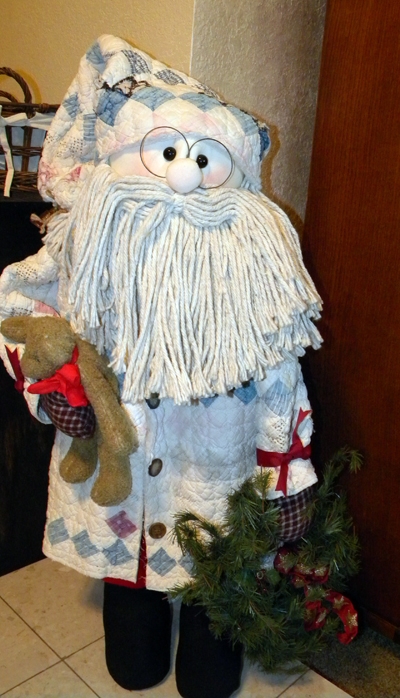 I bought him at the Christmas Briar Patch (an annual craft fair) about 10 years ago. My neighbor, Ronnie, has a Quilt Santa from the same artist. They are both just gorgeous. His beard is a mop, so wonderful!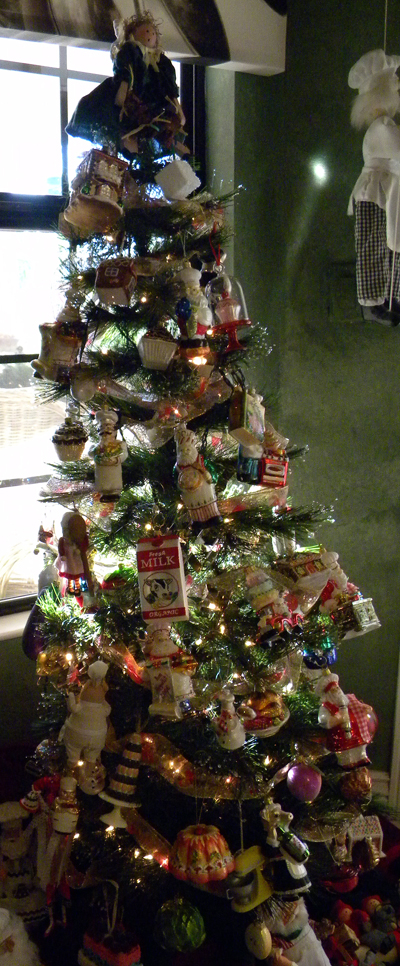 I usually go full-out in the kitchen. But this year, I just didn't have it in me. There is still the kitchen Christmas tree and the decorated confit pot credenza in the breakfast room.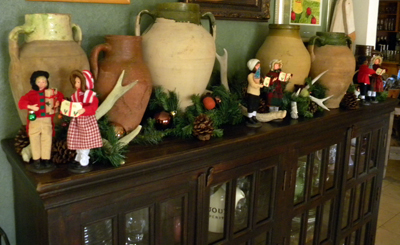 And the kitchen curtains (I call them curtains, they are really just kitchen towels that I hang from a rod – since I do not sew!) which I change out from season to season.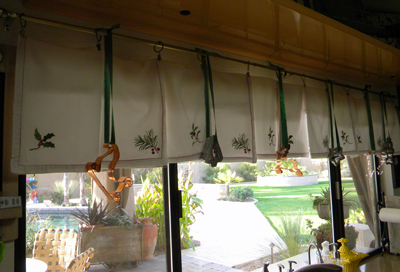 And instead of taking down all the things that line the upper shelves around the entire kitchen and replacing them with garlands and Christmas decor – this year I just made a glass, faux snow, and ornament vignette in one corner. I kinda like the simplicity of that. Maybe next year, everything else will return and I'll show you what my "full out" kitchen looks like.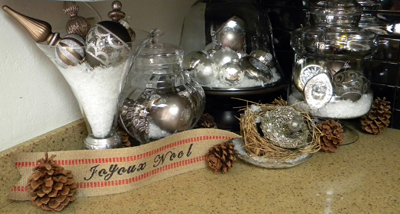 Now we are going to backtrack and pretend like you didn't see the living room when you arrived, which is directly to the right of the entry. I wanted to save the best for last. The tree, the mantle, and my treasured collection of smokers, more on the importance of those later. First… the mantle.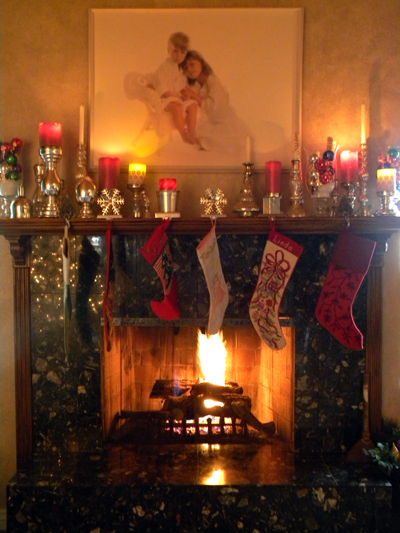 More mercury glass and candles.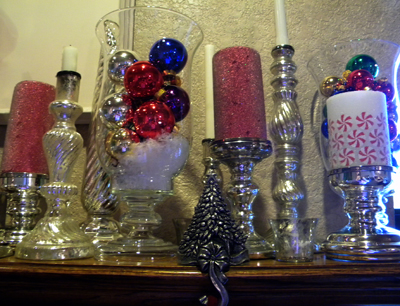 And more glass, ornaments, and faux snow.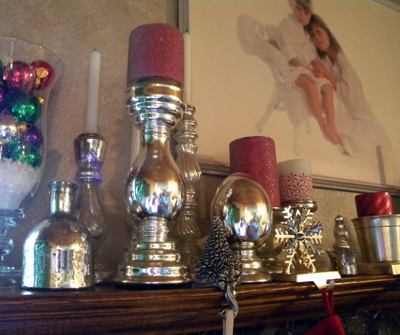 Here is the china cabinet with my French Santo wise men.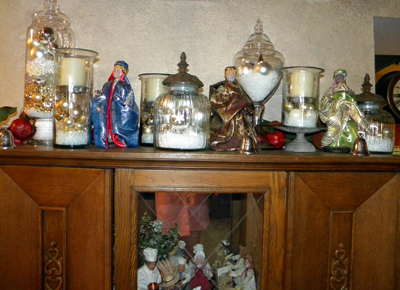 I don't recall if I mentioned that my smoker collection is the one thing that my kids have already divvied up in the event of my passing. It's OK, I helped them do this task. We all have our favorites and I wanted to be sure there wasn't a war over them after my demise! :-0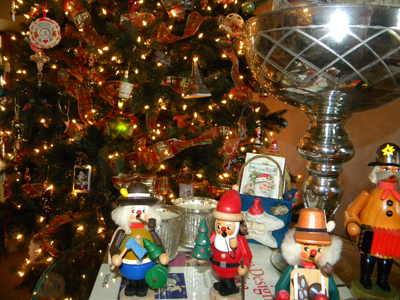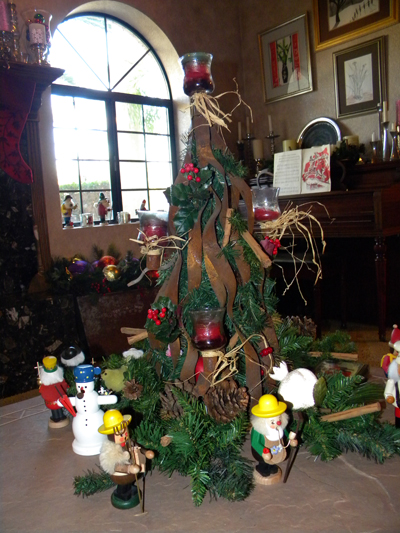 I love this rusted tree that sits on the coffee table. I have a rusted basket for Easter and a rusted pumpkin for Thanksgiving too.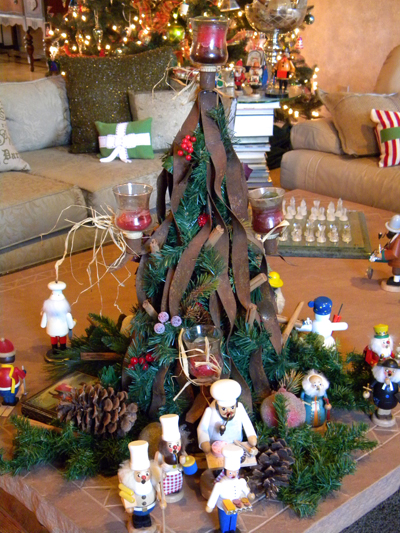 The piano, which no one knows how to play, is decked out in more candles and sheet music from when I was a child – back when I did know how to play… well I took lessons, anyway! Notice the silver chalkboard tray I made. Love it!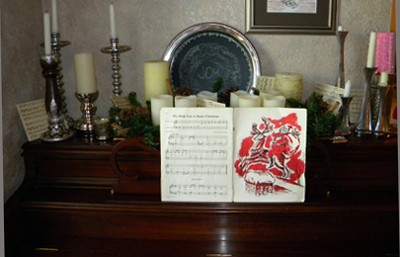 And here is the tree with the angel on top.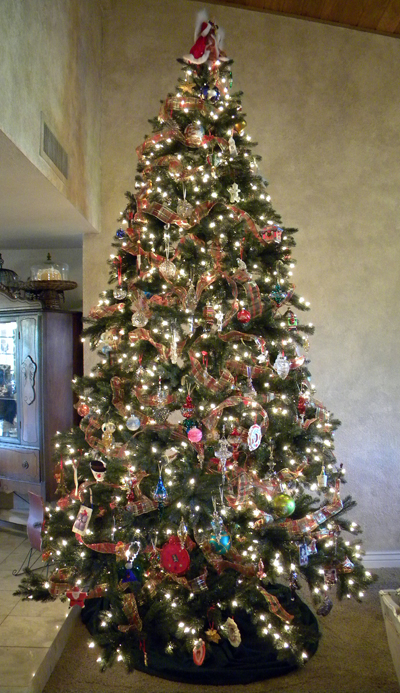 With some ornament closeups…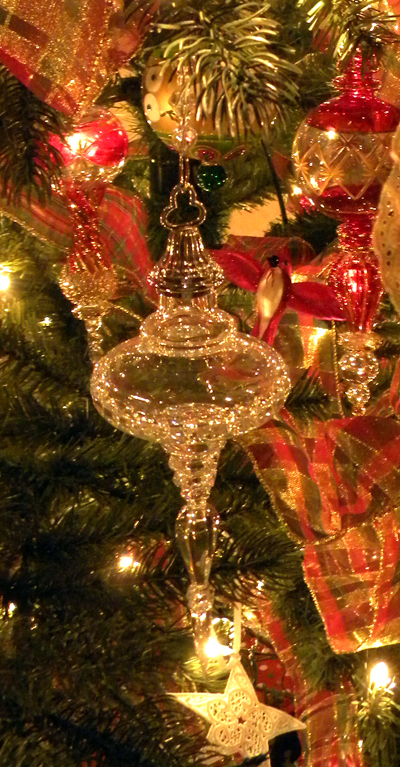 …as previously promised… plenty of Waterford here!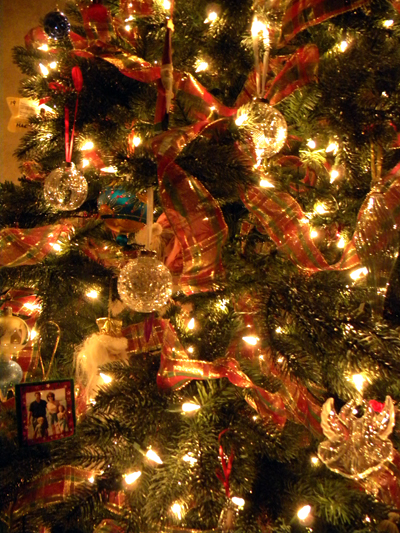 One thing I have always done is wrapped each family member's gifts in a different paper. No tags, no names, and I'm the only one who knows who's paper belongs to whom. Then on Christmas morning, all is revealed.  This kept the kids from comparing who had the biggest or who had the most even guessing what was in each box. Well this year, I only use two papers and instead, used a specific ribbon for each family member. So much easier and I like the look of only two patterns under the tree. I think that next year I'll use only one paper design.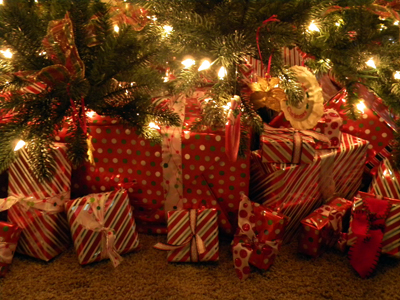 Finally, here is the tree at night.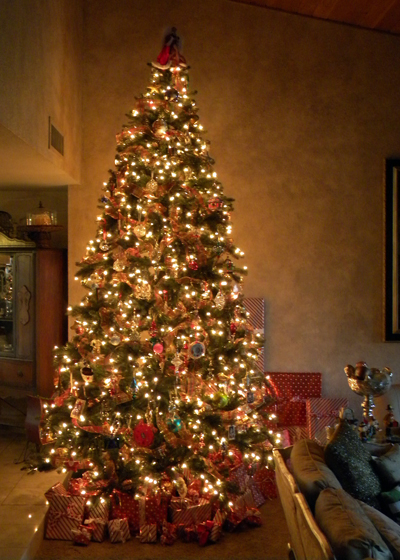 Merry Christmas! xoxo