Marissa and Jeff's month-long working road trip has come to an end. As I write this on Friday morning, they are both working from their in-home-office setups in my house. When their workday comes to an end in a few hours, they will pack up their car one last time and drive back to Austin. As much as I hate to see them go, I understand the need and desire to be in your own home. I have that feeling every time I go out of town. I can't wait to leave and then I am so happy to be back in my own familiar space.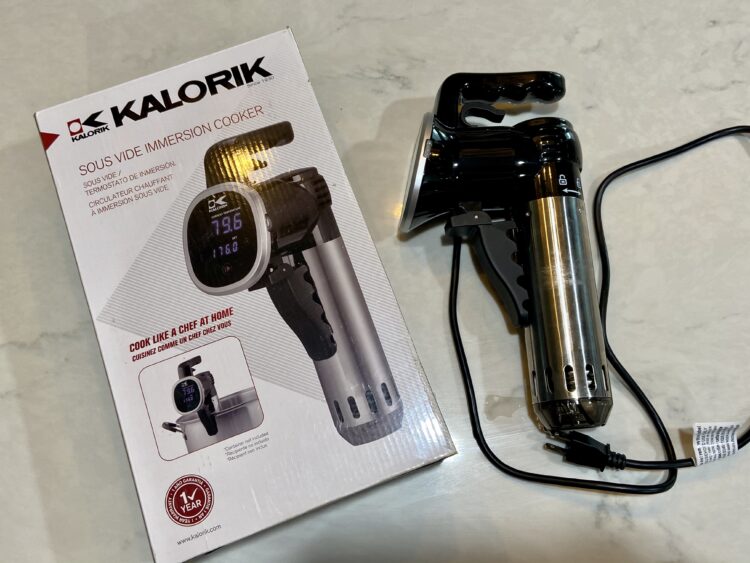 Marissa and I had several cooking/meal goals planned for the trip. I think we accomplished them all. One was for her to try out my sous vide, aka an immersion or circulation cooker.
I purchased it about 4 years ago, I had used it once or at least I thought I had. I searched every possible term and word to find a blog post for the chicken I cooked with it. I found nothing. I went through the nearly 59,500 photos on my computer and I found no photographic evidence of using it. Does that mean it didn't happen? If we don't have a photo or video of an event in life, was it just a dream? The other strange thing is that I am 100% certain that I purchased the sous vide on Amazon. I can't find it anywhere in my purchase record there. What is happening?!? You can buy the one I have from Amazon HERE, or feel free to do research and find one that suits your needs.
With the amount of time I have wasted worrying and searching for that first sous vide use, I could have posted this recipe days ago. I am going to have to believe that maybe it happened in some alternate universe or reality and move on with my life.
Marissa chose the recipe from seriouseats.com. We did some adapting and ended up with a deliciously seasoned and perfect tender pulled pork. Unfortunately, her first experience with the sous vide was not the easy, effortless, and smooth one I hoped it would be and that is completely my fault. I filled a large stockpot with water, clipped the sous vide to the side of the pot, and plugged it in. Then we endured at least 30 minutes of struggling and constant beeping trying to get it started. After much aggravation, Jeff suggested that maybe there wasn't enough water in the pot, sure enough, the water did not come up past the minimum fill line. It was just at the line because I knew that once it came up to temperature and we were able to add the bags of pork, the water level would jump significantly. Dang nabbit! No matter, we finally got it going and were able to go to bed knowing that the pork would be cooked to perfection late the next day. One of my favorite parts about cooking with this method, for this long period of time, is that your house doesn't smell, Not at all. Not until you open the bag. Don't get me wrong, I love the fragrance that cooking provides… just not the same strong smell for 18-24 hours. Especially when you're trying to sleep.
[Read more →]
August 14, 2020 No Comments