missing, lost, or never happened?
Marissa and Jeff's month-long working road trip has come to an end. As I write this on Friday morning, they are both working from their in-home-office setups in my house. When their workday comes to an end in a few hours, they will pack up their car one last time and drive back to Austin. As much as I hate to see them go, I understand the need and desire to be in your own home. I have that feeling every time I go out of town. I can't wait to leave and then I am so happy to be back in my own familiar space.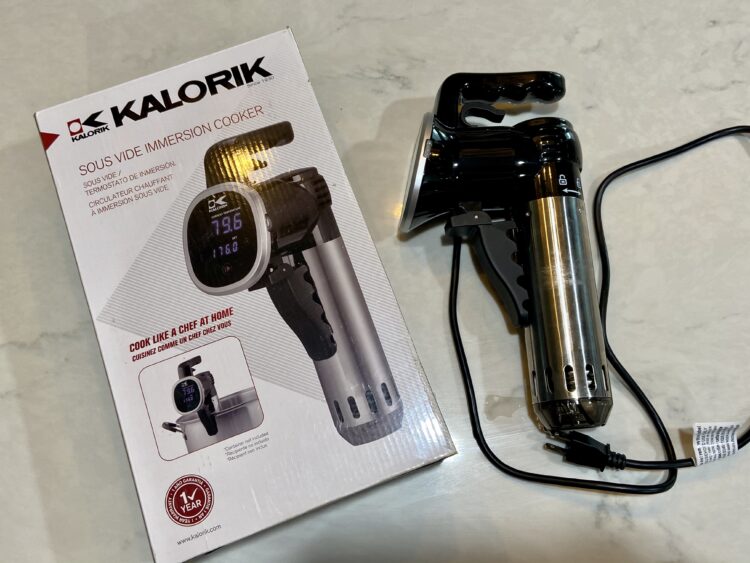 Marissa and I had several cooking/meal goals planned for the trip. I think we accomplished them all. One was for her to try out my sous vide, aka an immersion or circulation cooker.
I purchased it about 4 years ago, I had used it once or at least I thought I had. I searched every possible term and word to find a blog post for the chicken I cooked with it. I found nothing. I went through the nearly 59,500 photos on my computer and I found no photographic evidence of using it. Does that mean it didn't happen? If we don't have a photo or video of an event in life, was it just a dream? The other strange thing is that I am 100% certain that I purchased the sous vide on Amazon. I can't find it anywhere in my purchase record there. What is happening?!? You can buy the one I have from Amazon HERE, or feel free to do research and find one that suits your needs.
With the amount of time I have wasted worrying and searching for that first sous vide use, I could have posted this recipe days ago. I am going to have to believe that maybe it happened in some alternate universe or reality and move on with my life.
Marissa chose the recipe from seriouseats.com. We did some adapting and ended up with a deliciously seasoned and perfect tender pulled pork. Unfortunately, her first experience with the sous vide was not the easy, effortless, and smooth one I hoped it would be and that is completely my fault. I filled a large stockpot with water, clipped the sous vide to the side of the pot, and plugged it in. Then we endured at least 30 minutes of struggling and constant beeping trying to get it started. After much aggravation, Jeff suggested that maybe there wasn't enough water in the pot, sure enough, the water did not come up past the minimum fill line. It was just at the line because I knew that once it came up to temperature and we were able to add the bags of pork, the water level would jump significantly. Dang nabbit! No matter, we finally got it going and were able to go to bed knowing that the pork would be cooked to perfection late the next day. One of my favorite parts about cooking with this method, for this long period of time, is that your house doesn't smell, Not at all. Not until you open the bag. Don't get me wrong, I love the fragrance that cooking provides… just not the same strong smell for 18-24 hours. Especially when you're trying to sleep.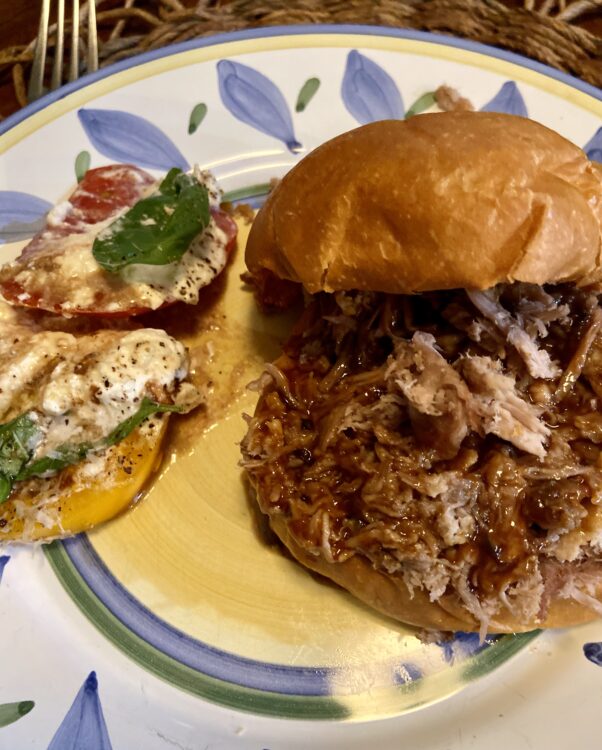 Sous Vide Pulled Pork
1 tablespoon whole yellow mustard seeds
1 tablespoon whole cumin seeds
1 teaspoon whole peppercorns
1 teaspoon red pepper flakes
1/4 cup brown sugar
2 tablespoons smoked paprika
2 tablespoons kosher salt
2 tablespoons granulated garlic powder
1 tablespoon dried oregano
1 whole boneless or bone-in pork butt/shoulder, about 7 pounds
Place the mustard seeds, cumin seeds, peppercorn, and pepper flakes in a spice grinder and grind to a fine powder. Pour into a medium bowl and mix in the brown sugar, smoked paprika, salt, garlic powder, and oregano to combine.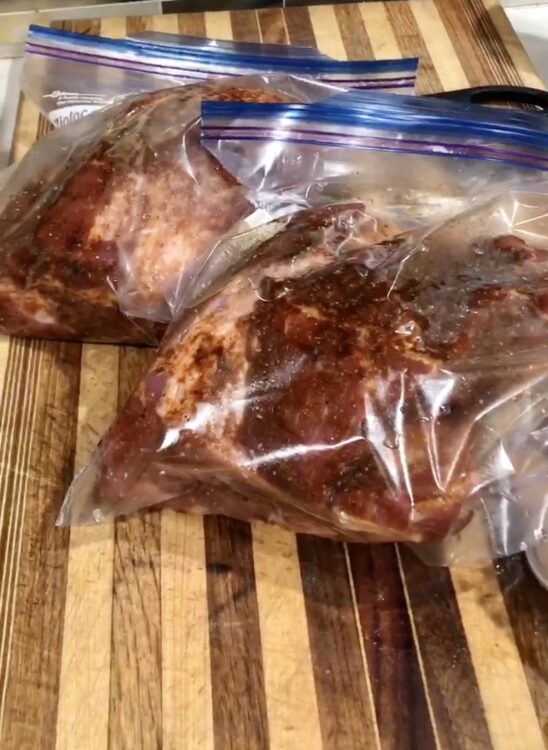 Divide the spice mixture in half. Remove pork from packaging, blot dry with paper towels, and then rub half of the mixture evenly all over the pork, pressing spice mix in until it sticks. Place the pork in either a vacuum-sealed bag or a gallon-size freezer Zip-lock bag, pressing out as much air as possible before zipping closed.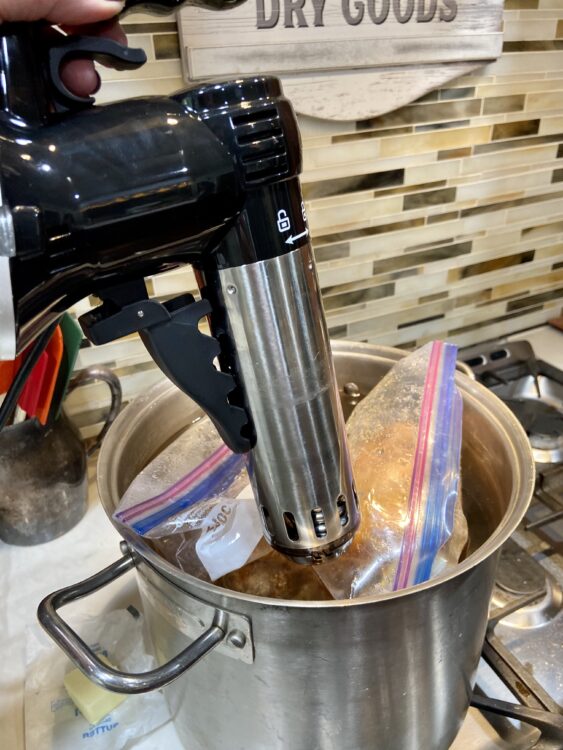 Set up the sous vide in a large pot of water, large enough to completely cover the bag of meat, and set the temperature to 165°F. When the water bath comes up to temperature, add the sealed bag with the spice-rubbed pork and cover the pot with foil or plastic wrap, to help deter evaporation. Allow to cool for 18 to 24 hours, adding more water, if needed to keep the water well above the minimum water level required for the sous vide.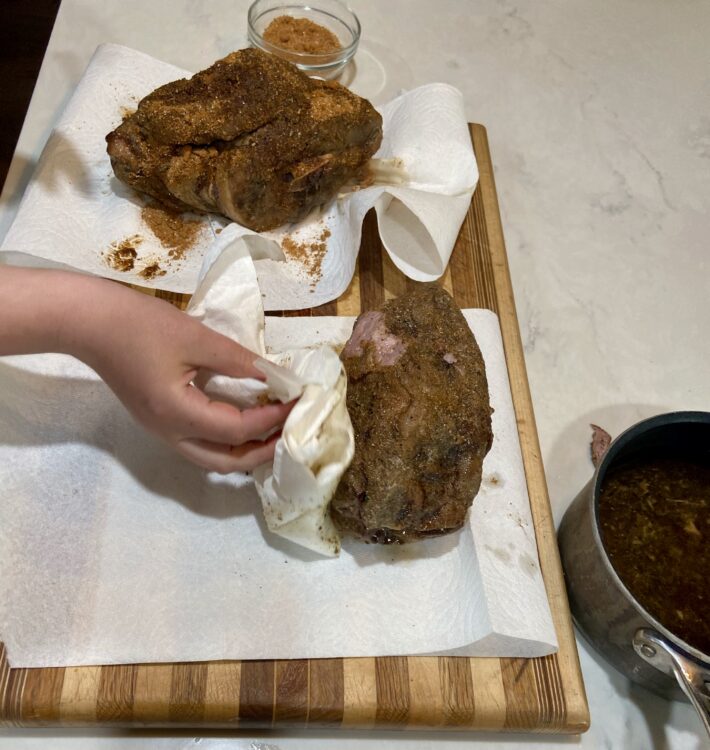 Adjust oven rack to lower-middle position and preheat oven to 300°F. Remove pork from the sous vide bag and carefully blot dry with paper towels. Pour the liquid from the bag into a saucepan and reduce over medium-high heat by at least two-thirds. Rub reserved half of the spice mixture into the surface of the pork. Place pork on a wire rack set on a rimmed baking sheet and place in the oven. Roast until a deep, dark crust has formed, about 60-90 minutes.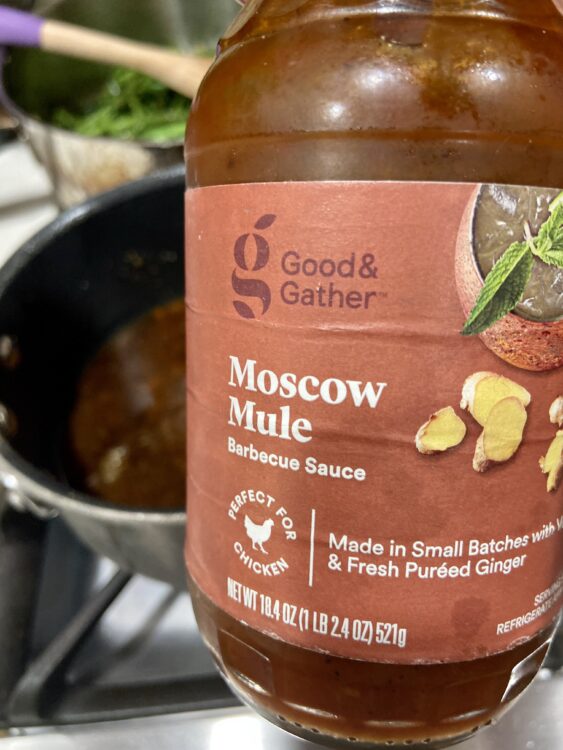 Once the juices from the meat have reduced in the saucepan, add your favorite barbecue sauce to it and you will have a perfectly seasoned sauce to go with your meat.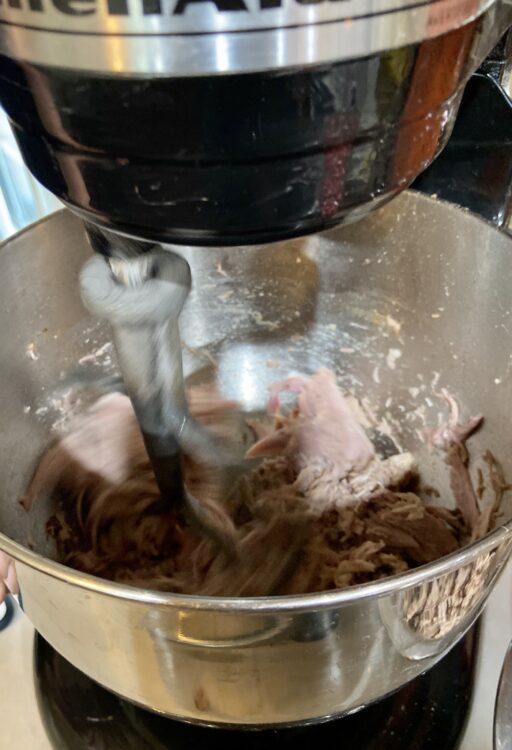 Remove meat from the bag and transfer it to a large cutting board. At this point, you can use one of two methods to shred the pork, the traditional method of using two forks to pull and shred the meat into bite-size pieces, or by cutting the pork into large chunks and placing it in the bowl of a standing mixer fitted with the paddle attachment to break it apart.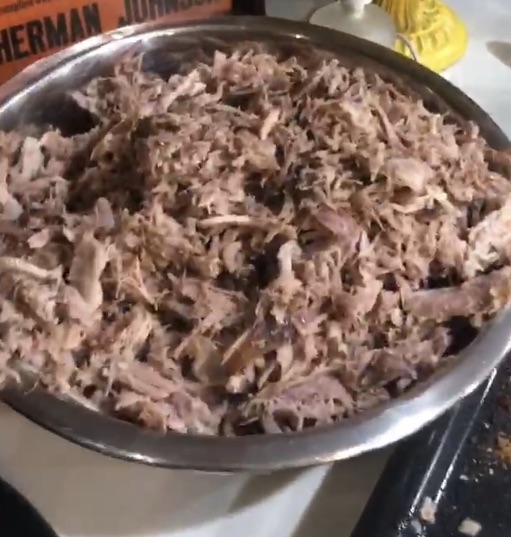 Serve hot on toasted buns, passing the yummy barbecue sauce at the table.
Serves a crowd