Congratulations!!!!!
Remember the Twins Baby Shower I had in January for my friend, Tram?
Tram and Steve had their TWINS yesterday!
Sweet Tram sent me a text at 2:06 AM on Monday morning saying, "MY WATER JUST BROKE!!! Heading to hospital soon!!"
I already had an alarm set for 4:15 AM since I had to get ready to board the flight to Barcelona, Spain via Philly that morning.
When I landed in Philly, I sent a text to Steve, asking what was happening… and he responded with this photo and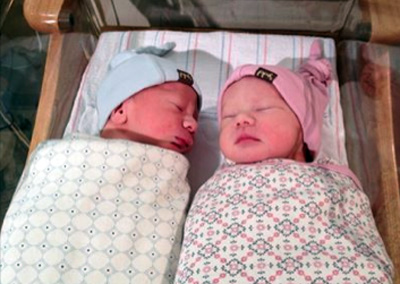 "Zak first then Zoey- 4:04 & 4:05 AM  weighing in at 5.7 and 5.8 pounds."
I am so excited for them and can't wait to get back home and hug Tram and then hold these adorable little humans!