the baby shower recipes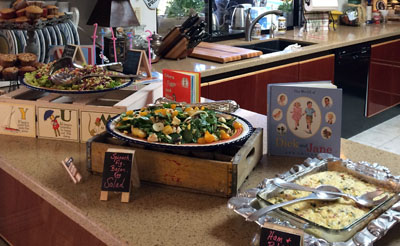 Many of the guests at Tram's Baby Shower had expressed interest in the recipes for the brunch food I served.  In fact, Tram commented that yesterday's post was a "Cliffhanger" since so many of her friends were hoping for the recipes and I said that the recipes would be coming tomorrow.
That actually made me laugh. A Cliffhanger? Me?
No, I just have so much to share about the shower that I have to break it up into a week's worth of posts. So, today I shall give you all the recipes!
It sounds more daunting than it actually is because all but one of the recipes have already been posted here on the blog. See, no Cliffhanger to be had. Most of them, I made exactly as previously written and a couple of the others – have a few tweaks. Let's get to it!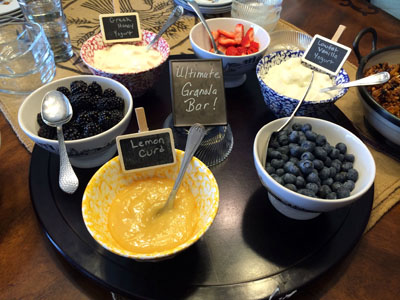 First up, The Granola Bar.
I made a double batch of my Glinda's Wickedly Delicious Granola. It is my take on a recipe from my friend and colleague, Gwen Ashley Walters.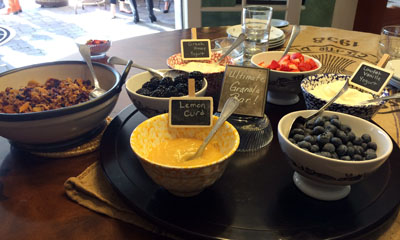 To accompany the granola, there were bowls of fresh blackberries, blueberries, and strawberries, plus lemon curd, low-fat vanilla yogurt, and, my favorite store-bought yogurt of all time, Greek Gods brand Honey yogurt.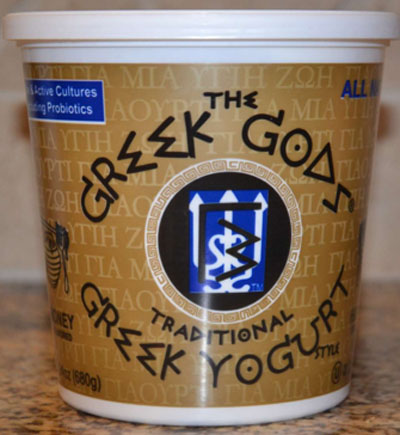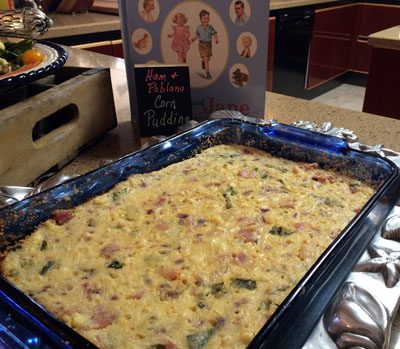 Over on the buffet, I served Ham and Poblano Corn Pudding.  We went through nearly three full pans of the stuff. It's not pretty or fancy, but yes, it is that good!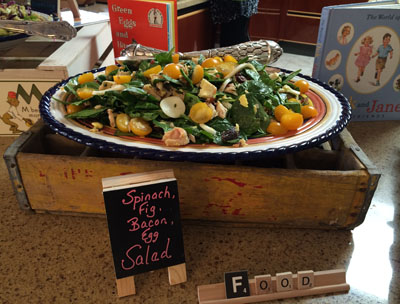 It is very pretty and kinda fancy… Spinach, Fig, Bacon, and Egg Brunch Salad. This recipe comes from my dear friend and amazing colleague, Kim Howard, whom I completely and totally adore!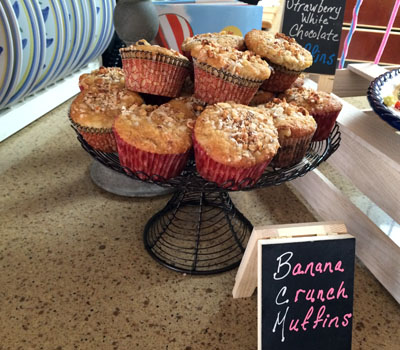 Banana Crunch Muffins. These are my son, Connor's, favorite! He is enjoying the leftovers right this minute, as I type!
Next up is a salad that I've featured here before. It's a knock-off of my favorite pre-made salad at Trader Joe's. When I first posted about it, I made so many changes and substitutions from the original salad that I had enjoyed, that it was barely recognizable. I'm not even going to link to that recipe. Instead, I'm going to take it back to its roots and give you the recipe I so love. But if you feel too busy or lazy to make it yourself, you can always buy it at Trader Joe's. As you're scouring the refrigerated section and looking for it – know that they call it "Field Fresh Chopped Salad with Grilled Chicken."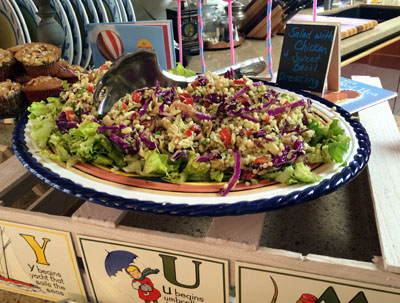 Green Salad with Couscous, Corn, Currants, and Chicken with Sweet Basil Dressing
Sweet Basil Dressing
2 cups packed fresh basil leaves
2/3 cup honey
1/4 cup water, or more to adjust to desired consistency
1/4 cup fresh lemon juice
1 large garlic clove, peeled and smashed
1/2 teaspoon salt
1 cup olive oil
Freshly ground black pepper, to taste
Salad
1  3/4 cups water
1  1/3 cup Israeli couscous
1 tablespoon olive oil
Salt and freshly ground black pepper
1 pound chopped rotisserie chicken breast
3 hearts Romaine lettuce, chopped
1/2 small head red cabbage, thinly sliced
1 cup frozen corn, defrosted and patted very dry
3 green onions, thinly sliced
1 small red bell pepper; cored, seeded, and diced
3/4 cup dried currants
1/2 cup grated Asiago cheese
3/4 cup chopped toasted pecans
Dressing:  Place all ingredients, except the oil and black pepper, in a blender or food processor and blend on high until well combined. With the motor running, add oil in a steady stream through the feed tube, until the mixture is thick and emulsified. Taste and thin with more water if desired. Season with black pepper, to taste.
Makes about 3 cups. May be stored in a sealed jar for up to 7 days in the refrigerator, shake before using.
Salad: Bring the water to a boil in a medium saucepan. Add the couscous and simmer, covered, for 8 minutes. Remove from heat and let sit, covered, for 10 minutes. Fluff with a fork and spread out onto a large baking sheet. Drizzle the 1 tablespoon olive oil over couscous and season with salt and pepper, toss to coat, and cool to room temperature.
In a large serving bowl, toss together the cooled couscous, romaine, cabbage, corn, green onions, bell pepper, currants, and cheese.
Divide between 8 dinner plates or large flat bowls and top with toasted pecans and chicken. Pour dressing into a small bowl or pitcher. Pass at the table and allow guests to dress their own salad.
Serves 8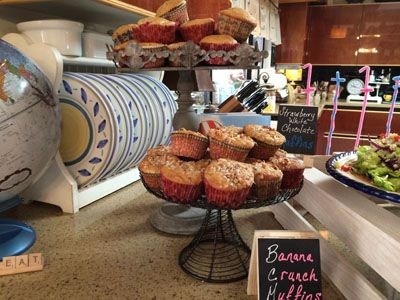 And finally, here is the last brunch recipe. It is the "new entry" for the blog.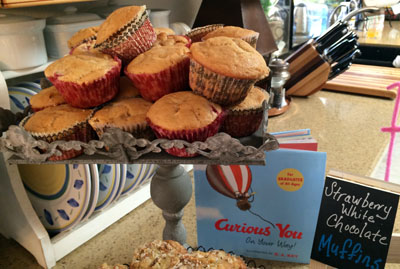 Strawberry and White Chocolate Chip Muffins

1  1/2 sticks unsalted butter, room temperature
3/4 cup brown sugar
1/3 cup granulated sugar
3 eggs, room temperature
1 cup sour cream
1/2 cup milk
1  1/2 teaspoons vanilla extract
2  1/2 cups  flour
2 teaspoons baking powder
1/2 teaspoon baking soda
1/4 teaspoon salt
1 cup chopped strawberries
1 cup white chocolate chips, divided
Preheat the oven to 350 degrees. Place 20 cupcake liners in muffin tins and set aside.
In the bowl of a standing mixer, cream the butter and sugars together until light and fluffy. Add the eggs, one at a time, beating at low-speed after each addition.
Add the sour cream, milk, and vanilla extract. Beat until well combined.
Whisk together the flour, baking powder, baking soda, and salt in a large bowl. Add to the mixing bowl with the wet ingredients, and blend on low speed until just combined.
Fold in the strawberries and 1/2 cup of the white chocolate chips.
Scoop the batter into the prepared muffin tins, filling each cup about 3/4 full.
Sprinkle the tops with the remaining 1/2 cup of white chocolate chips.
Bake in preheated oven for 25 to 30 minutes, or until the muffins are lightly browned on top and a toothpick, inserted in the center, comes out clean.
Makes about 20 muffins
I found the recipe HERE, and followed it pretty much as written.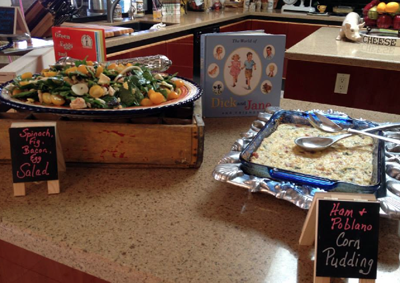 Be sure to come back tomorrow and I'll show you the coffee bar, complete with a real live barista! Plus our brunch cocktail, which is a twist on a blog favorite, and my Pinterest take on classic after-school Milk and Cookies …and so much more!