In The News

Summer Entertaining – Sliders – (look for Connor on the sidelines!)

My Christmas and Chef Smoker collection
Marissa, Tram and I make Silk Tie Easter Eggs – bonus: Our chickens- from days gone by
Waldorf Croissants and Orange Basil Tomato Soup
Spinach and Boursin Stuffed Salmon
1-Year Anniversary Show – Seafood Crepes with Champagne Lobster Sauce
Roast Beef and Caramelized Onion Roll-ups
Independence Pasta Salad and Deviled Eggs
Chicken Pear Walnut Salad with Warm Goat Cheese and My Aunt Connie's Chocolate Mint Pudding
Fall Slaw with Chicken Teriyaki and Carrot Soup
My Famous Piglets in a Warm Puffy Blanket
Penne Pasta with Maple Mustard Chicken

Chicken Broth, Carrot Soup, Chicken Taco Salad and Grilled Sandwiches as featured on NBC Channel 12 News (read the article and watch the video)
Chicken Chili and Holiday Brownies as featured on NBC Channel 12 News (read the article and watch the video)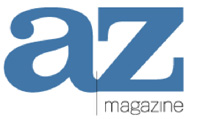 March 2011 issue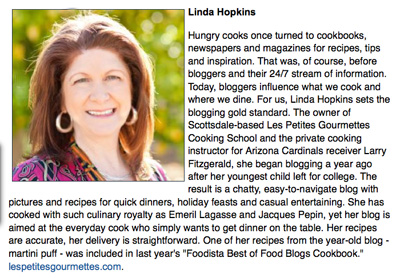 [EXCERPT]  There are even two recipes from Valley chefs: Barbara Fenzl, cookbook author, PBS cooking show host and founder of Les Gourmettes cooking school in Phoenix, shares a chayote squash soup; Linda Hopkins, owner of Les Petites Gourmettes children's cooking academy in Scottsdale, offers herbed phyllo-and-cheese appetizers that can be stored in the freezer and baked at the unexpected ring of the doorbell.
————
A fun article about "My Perfect Food Day"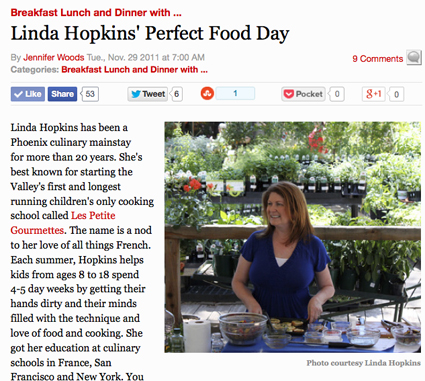 ——-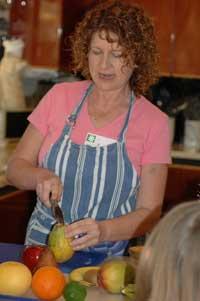 [EXCERPT]  A couple of years ago, I was invited to attend a cooking class for a group of girls from the Boys & Girls Clubs of the East Valley. The girls were part of a Junior League-sponsored program called Kids in the Kitchen, designed combat childhood obesity by teaching children about nutrition. The class was held on a Saturday morning at the home of Les Petite Gourmettes founder Linda Hopkins (that's her at left). Her kitchen smelled wonderful; she had started her crockpot early and the savory aroma of slow-cooked chicken and spices had my stomach growling with two hours to go until lunchtime.
——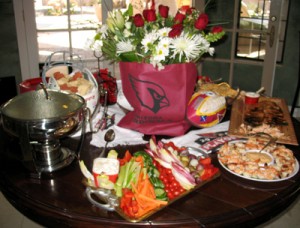 Super Bowl Party Menu as Featured in the Arizona Republic [EXCERPT] Fitzgerald's personal cooking instructor created a special Super Bowl XLIII party filled with favorites of the 25-year-old former college All-American.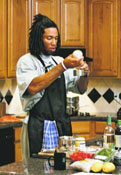 "Larry loves to cook, and there's no better way to honor Larry and his team than with the food he would want to eat if he were watching instead of playing," said Linda Hopkins, who meets with Fitzgerald for a weekly cooking lesson.
Linda works with Larry Fitzgerald as Featured in the Arizona Republic [EXCERPT] The Heisman Trophy runner-up also knows that what he eats at the dinner table makes a difference in how well he plays on the football field. So in September, 2005, the self-proclaimed homebody with a weakness for Popeyes spicy chicken, asked a team nutritionist to link him up with a cooking instructor. Fitzgerald was ready to add "cook" to his illustrious sports résumé. Enter Linda Hopkins, owner of Les Petites Gourmettes Children's Cooking School in Scottsdale. Fitzgerald is her first private student and so far so good. "He's very serious, very good and a quick study."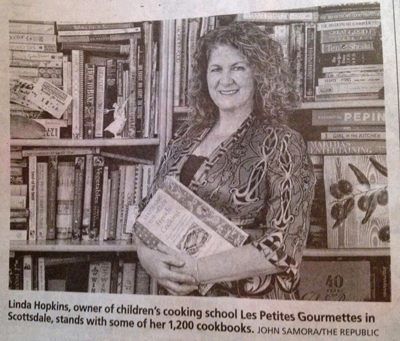 December 26, 2012 article on Millennials and Recipes. Check it out HERE in the Arizona Republic or HERE in USA TODAY.
—————————————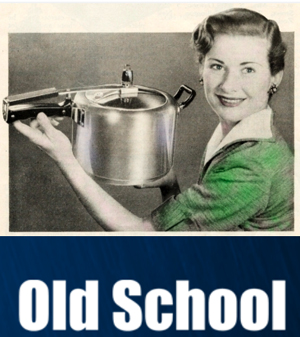 Here you'll find a bunch of really old school television appearances. Many featuring my own children, Marissa and Connor, when they were still so young and cute enough to bring along as the "featured students".

Fox 10 News 1997 with Diane Ryan during summer classes when she unexpectedly just showed up in the middle of class with a news truck and crew on the first day of our summer series and taped it for the evening news that night. This clip features some of my long-time and original students, Zach and Mari, who are Marissa and Connor's age. I have to say, I'm rather proud that I don't look at all frazzled!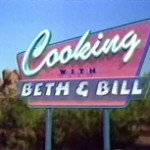 Cooking with Beth & Bill 1996 featuring Linda teaching Beth, Bill, and Beth's children to make homemade pasta, resulting in some hilarious results.
Cooking with Beth & Bill 1997 featuring Linda of Les Petites Gourmettes with 6 year old son, Connor, making homemade pizza.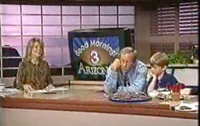 Good Morning Arizona 1998 Connor and Mari making treats with Tara Hitchcock and the gang one early spring morning. We call this "the eyelash incident".

Fox 10 Arizona Morning 1998 with Kathleen Bade making a High Tea spring break menu with Marissa, Connor, and niece Raina. Look for my sister, Sloane (Raina's mom), hanging out in the background.
Fox 1o Arizona Morning 1999 with Susan Fokken came out to the house to film during a "Mother's Day" menu class. Look for Marissa, Connor, Raina, along with Raina's brother and my nephew, Race, plus a bunch of other cute kids in the class.
Fox 10 Arizona Morning 1999 with Susan Fokken out in the far west Valley at Duncan Family Farms for their Melon Festival. Sloane is featured near the end of the piece, handing Susan a little salsa as she boards the train. A little side note –  I recall, I was given a little treat of my own on that very early Friday morning… a traffic ticket for making a "California stop" at a very barren 4-way stop.

Channel 3 Brainstorm 1999 hosted by Dan Davis was an excellent educational science show for children. Here, I teach Marissa and Zach about the science of turning heavy cream first into whipped cream, and then into butter.
Copyright © 2001 – 2015 Les Petites Gourmettes