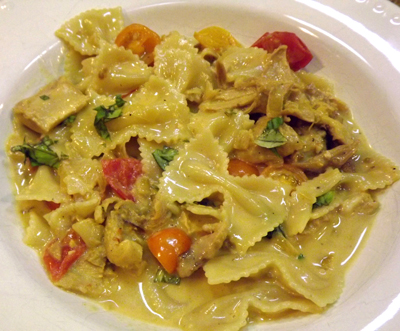 Many years ago I was a "white meat" snob. I claimed to not like dark poultry meat. I knew dark meat was generally more juicy, less dry, and more flavorful, but I went with the thought that "ladies" eat white meat.  I am not certain where I came up with that, maybe something to do with dieting and the fact that white meat does have less fat and calories.
But honestly there isn't a huge difference. One-half cup of chicken breast has 129 calories, 5.2g fat, and 52mg cholesterol. One-half cup dark meat has 135 calories, 6.3g fat, and 61mg cholesterol. So, once in awhile it really is OK to eat a chicken thigh or leg quarter, especially when it's in your freezer and you are diligently working on cleaning out that freezer. When am I NOT trying to clean out the darn freezer? It's a never-ending battle.
This pasta chicken dish made me happy that I had that chicken meat stash.  Feel free to sub white meat for the dark, but trust me, it's darn tasty with the juicier, moister, and more flavorful thigh meat!
August 10, 2011 No Comments