You call that a recipe?
Maybe I should feel guilty about putting this up as a "recipe" – but honestly, I don't.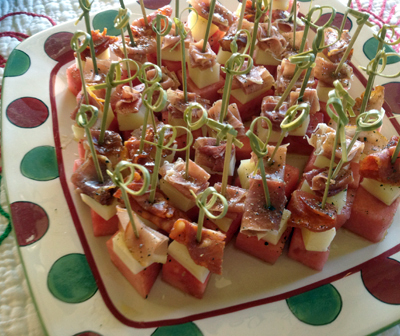 I saw a photo of this on Pinterest several months ago and finally made it this past Saturday for our Christmas Crafts Class.
The tasty little picks disappeared right before my eyes. So yeah, I'm gonna write it up as a real recipe.
The original Pinterest post I saw used Serrano ham. I used prosciutto, salami, and other thinly sliced cured and smoked meats I had leftover from my Thanksgiving appetizer tray.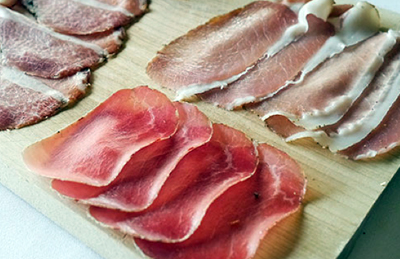 Any thinly sliced smoked or cured meat will work. Let's see – Capocollo, Pancetta, Mortadella, Sopressata, Iberico Ham, Speck, or Calabrese … any and all would all be perfectly lovey.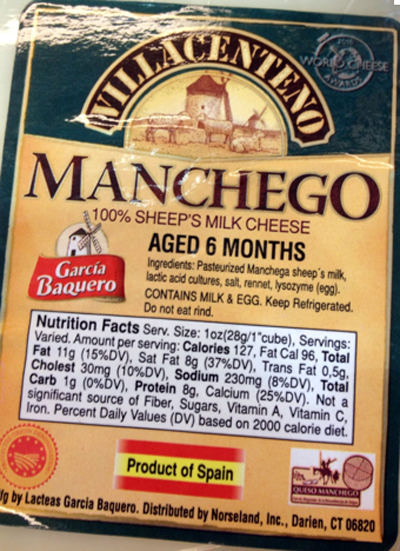 Watermelon, Manchego, and Prosciutto Picks
1  1/2  pounds seedless watermelon
6 ounces Manchego cheese, rind removed
8 ounces thinly sliced prosciutto
Pepper grinder filled with black peppercorns
Extra-virgin olive oil
Cut the rind from the melon. Cut the watermelon into 1-inch cubes.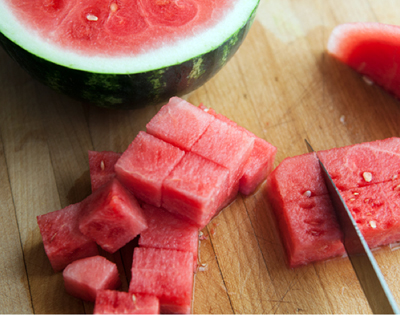 Cut the Manchego into cubes that are just smaller than the melon.  Cut the prosciutto slices lengthwise in half.
To Assemble: Place a piece of cheese on top of a watermelon cube. Then carefully top with 1 strip of prosciutto that has been folded accordion-style. Secure with a cocktail pick.
To serve, arrange the picks on a platter, grind the peppercorns generously over the top, and drizzle lightly with olive oil.
 Makes about 40 picks