Well, look at me – 3 days in a row!
It's crazy how often you can post when you have content! Here is the third recipe from Labor Day 2019.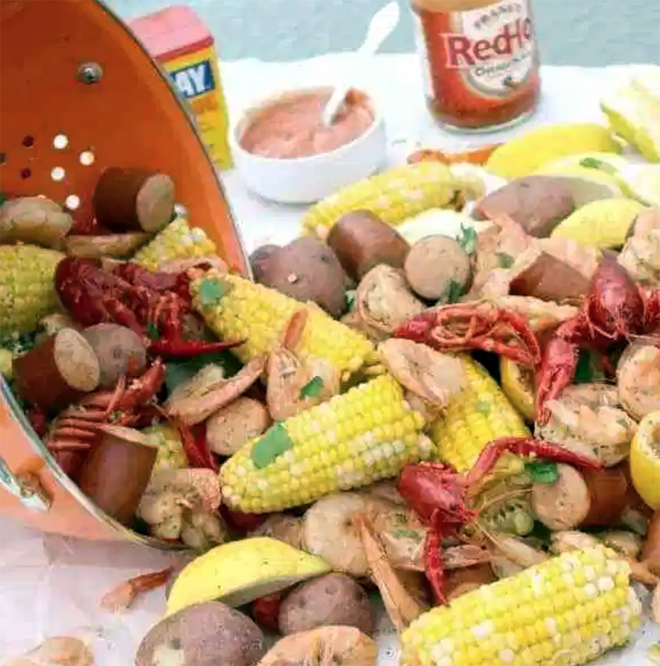 I would absolutely love to have a big shrimp boil one of these days. It's such an iconic east coast summer meal.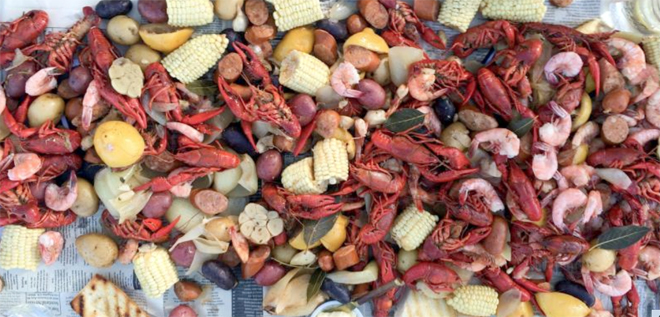 But here in the desert, in the summer, even the thought of standing outside while shrimp boils and then standing over the steaming masses of food poured out in front of you sounds absolutely torturous and horrendous. Maybe in the fall!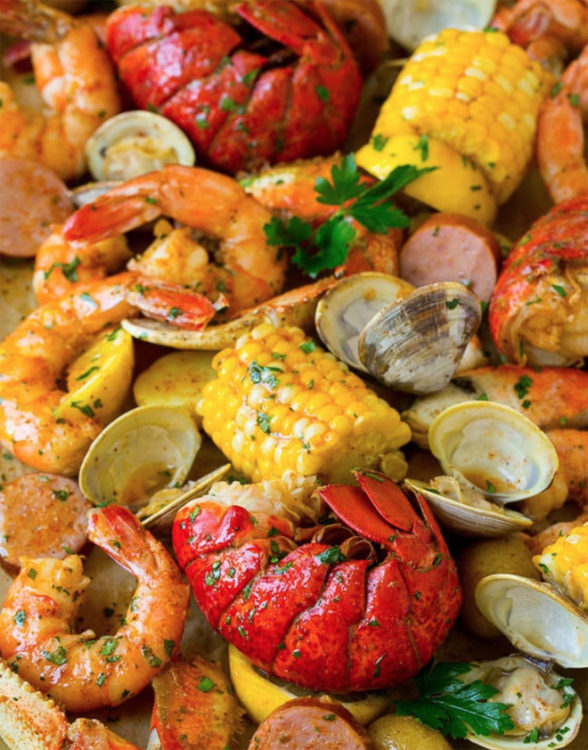 Something like any one of these images is the dream. Have a bunch of friends over and just dump it all out for the taking on a long table covered in paper.
This Fall. For Sure!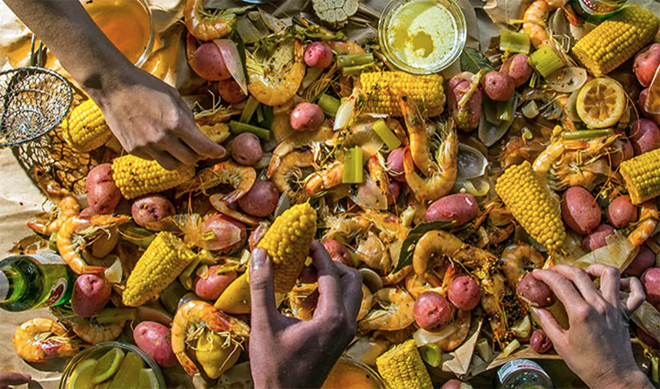 In the meantime, I made this attempt at a touch of the "shrimp-boil" flavor for our Labor Day BBQ.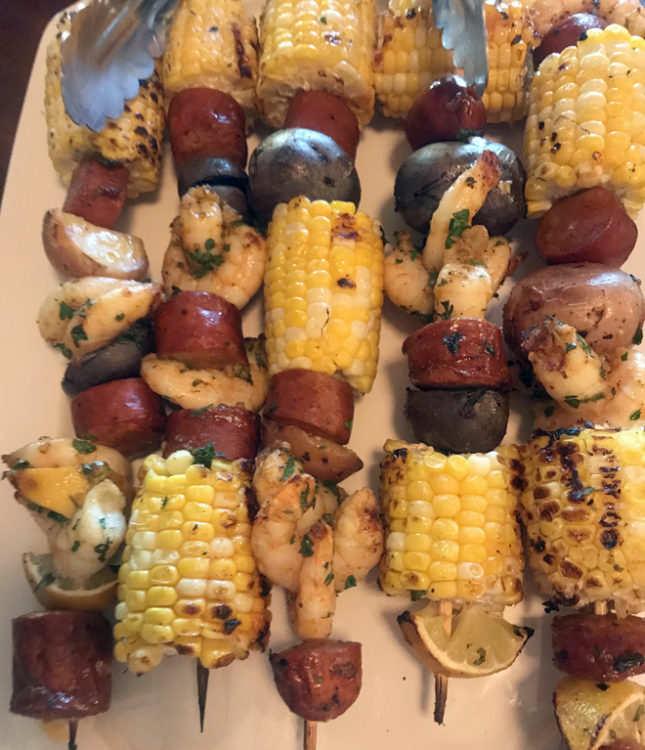 Labor Day Shrimp Boil Kebabs
1 pound large raw shrimp, peeled and deveined
2 cloves garlic, peeled and minced
2 tablespoons olive oil
2 tablespoons minced Italian parsley, divided
1 teaspoon Old Bay seasoning
8 wooden skewers
4 smoked andouille sausages, each sliced crosswise into 6 pieces
16 corn niblets (from 4 or 5 ears of corn)
1 pound baby potatoes, par-boiled for 5 to 8 minutes
2 lemons, sliced into thick wedges
Salt and freshly ground black pepper
Preheat grill to medium-high.
In a medium bowl, combine raw shrimp, garlic, olive oil, 1 tablespoon of the parsley and Old Bay. Toss until shrimp are evenly coated. Let marinate for 25 minutes.
Place wood skewers in a shallow baking dish and cover with hot water. Let sit while the shrimp marinates. This helps prevent the skewers from catching on fire while grilling.
Thread shrimp, andouille, corn, potatoes, and lemons onto skewers. Season on all sides with salt and pepper.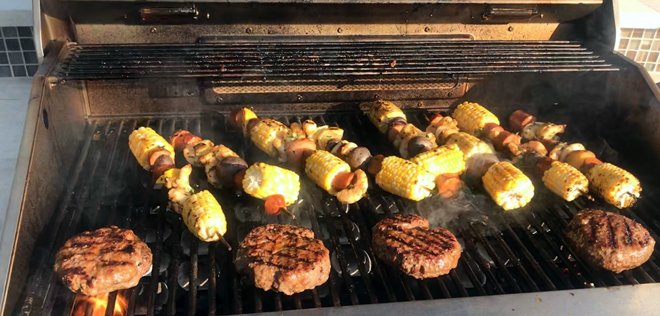 Grill skewers until shrimp is pink and opaque, about 5 to 6 minutes total, flipping to cook on all sides.
Transfer to a platter and sprinkle with the remaining tablespoon of parsley. Serve immediately.
Makes 8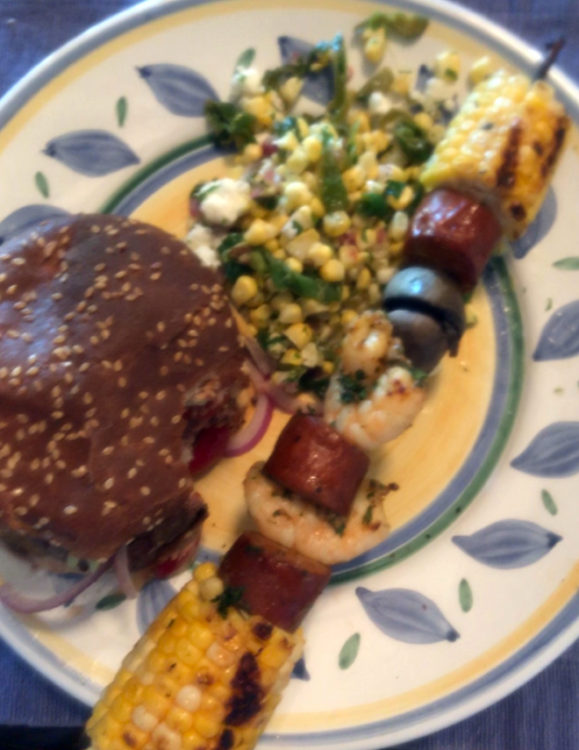 Here is a horribly blurry photo of my Labor Day dinner plate with all three recipes. I think my greasy finger (from grilling) may have touched the camera window on my phone. It may look less than stellar but it all tasted great!