Wednesday dinner at Deer Lake
I know I said I'd post the recipe for the salad we ate the night before last, and I promise to get to that soon, but we had such a fun day yesterday, that I'd rather talk about that for now.
It was cloudy and foggy over the lake when I awoke. Then the thunder rolled in and the rain began. The lake house was so cozy and dark, it felt like fall for a moment and I was in heaven. Summer drags on when you live in the desert, so even a few moments of what feels like fall is a complete joy.
Our morning plans to paddle board was put on hold. Kim knows how and Debby and I were eager to learn.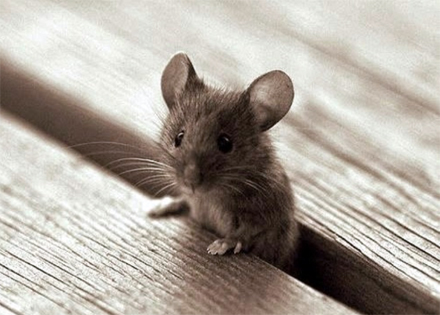 photo credit: Pinterest
Oh, before I go any further, I should mention that I was a bit tentative about being the first person to get up and leave my room. And for good reason, the first night here we saw that we had another resident in the house with us. A mouse. Granted, he was little and even, dare I say, cute. We tried to shoo him out the door with a broom but he wasn't having any of that. Kim set out a no-kill trap but it didn't work. We saw him again the next night, Debby set four mousetraps with peanut butter and placed them around the kitchen. So, the first person up was going to have to deal with a dead mouse and I didn't want that to be me.
But I was getting sore from sitting in bed and typing my post. I had to get up so I could sit at the table to type. I quietly crept out and peeked around the corner … no mouse. All the peanut butter was gone but thankfully, no smashed mouse.
Yay for me. Yay for the mouse. But then again, we still have a mouse in the house, so no bueno!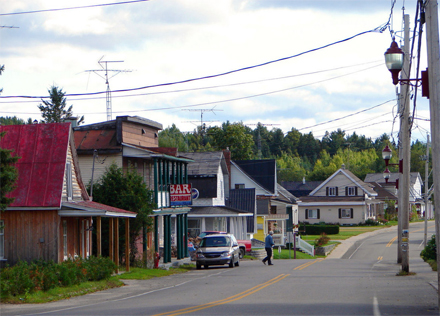 The rain stopped. Kim and I went running errands and grocery shopping in the little town of Ripon. Two of the things at the top of our list were more mousetraps and Snicker's bars, which will hopefully work better than the peanut butter. Debby stayed behind to read and hold down the fort.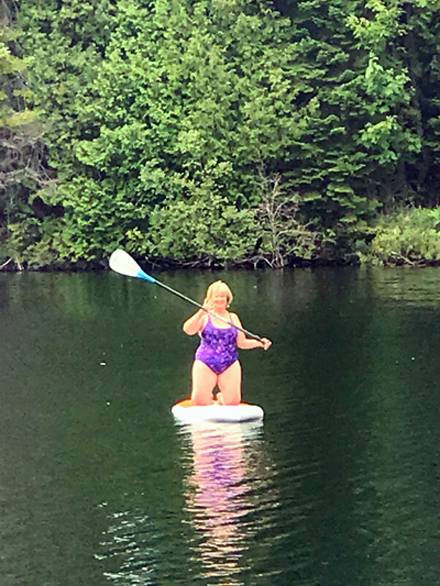 When we returned, Kim taught us to stand-up paddleboarding (SUP). She may also have given us a short lecture on the details of SUP. Though practically, it wasn't that easy to paddle. For me, the hardest part was going from the kneeling stage to the standing stage. I had to do Lamaze-style deep breathing and talk myself into being brave and just doing it.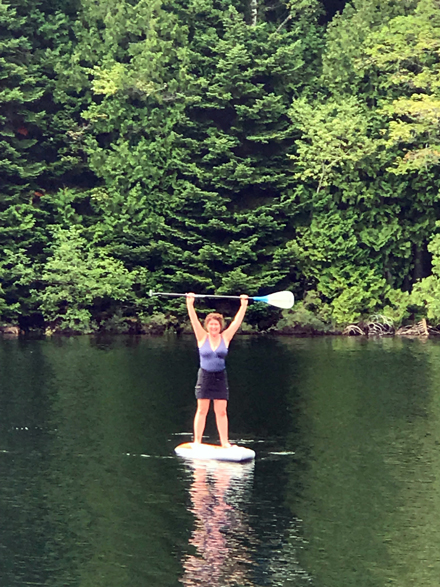 After much hesitation and nearly psyching myself out, I did it. Debby did too. We were quite pleased with ourselves. The Howards have two paddle boards. I came to shore and Kim took that board out. Most of my pride washed away as I watched her pop right up and quickly paddle down the lake in the blink of an eye. I'll try again tomorrow.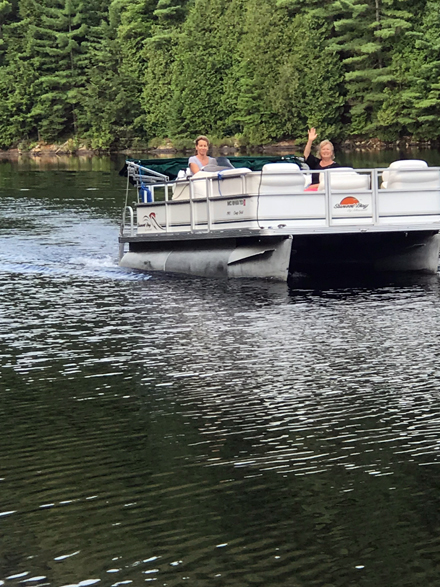 Next, we went out on the pontoon boat and took a tour around the entire lake.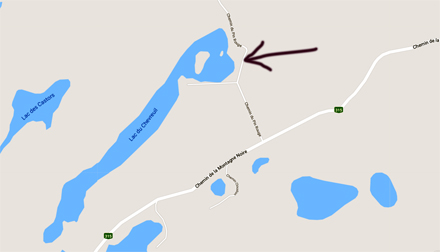 It's a long lake! You can't see from one end to the other. It curves and twists and there are cute islands and peninsulas. Kim and Paul not only own the lake but also the 550 (approx.) acres of wooded land that surround it. This is a very special and magical place that has been in the Howard family for generations.
After our cocktail boat tour, I made another recipe inspired by a doctor's office waiting room magazine find. The perfect end to a perfect day.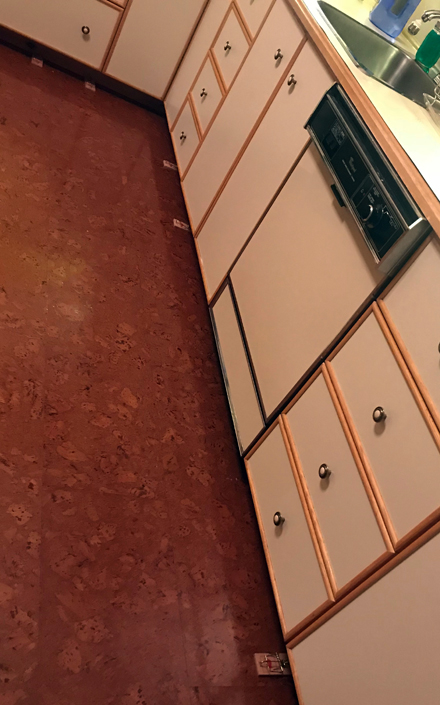 OK, not quite the end and not perfectly perfect. Kim and Debby set a total of 10 mousetraps with the Snickers. Without a doubt, I'm sleeping in this time.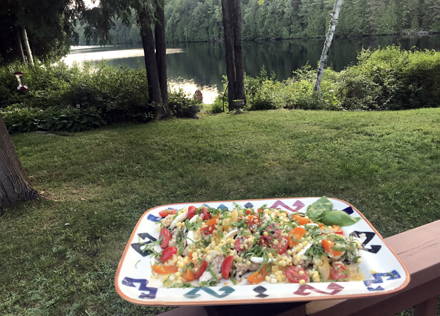 Grilled Chicken Caprese
4 tablespoons olive oil, divided
1 tablespoon sherry or red wine vinegar
Salt and freshly ground black pepper
1/2 cup finely diced Vidalia or other sweet onion
Fresh corn kernels cut from 1 large ear of corn
1 pint mixed tri-color cherry or grape tomatoes, halved (quartered if large)
3 boneless, skinless chicken breast halves
8 ounces fresh mozzarella cheese, sliced
1/2 cup basil leaves, chiffonade
Whole basil leaves for garnish
Heat a grill to medium-high heat.
In a medium bowl, whisk together 3 tablespoons of the olive oil and sherry vinegar, then season to taste with salt and pepper. Stir in the onion, corn, and tomatoes; toss and set aside at room temperature.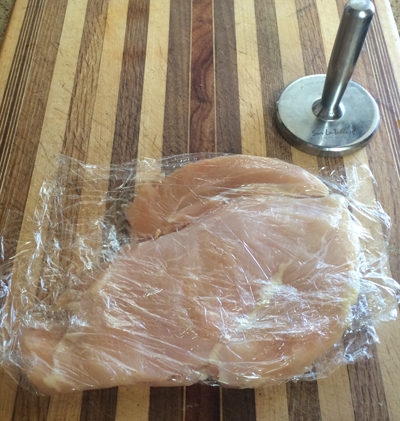 Place 1 chicken breast half in the center of a large piece of plastic wrap, fold each side over the top of the chicken, and place on a cutting board. Use a meat pounder, a small skillet, or a rolling pin to pound the chicken until it is of even thickness all over. Transfer to a plate and repeat with the remaining two breast halves.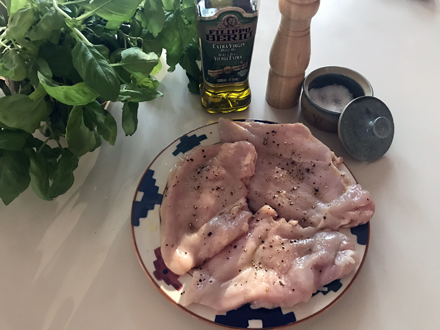 Rub the chicken on both sides with the remaining tablespoon of olive oil, and season both sides with salt and pepper.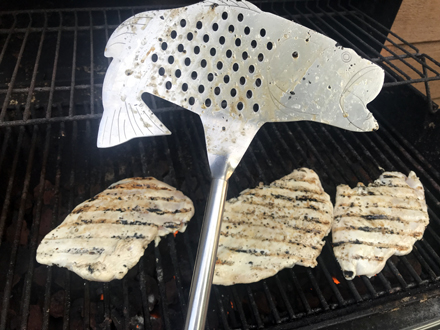 Grill until just cooked through, 5 to 6 minutes per side. (How cute is that BBQ spatula?)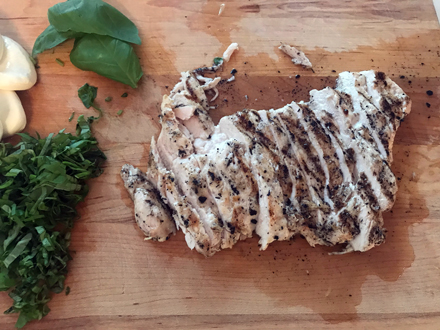 Place cooked chicken on a cutting board and let rest for 5 minutes before slicing on the diagonal.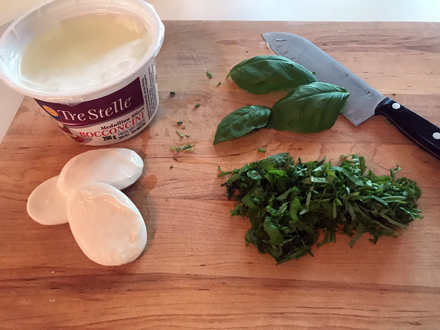 Arrange the chicken on a large platter. Tuck the mozzarella slices between the chicken slices and then spoon the tomato-corn mixture over the top, along with any juices at the bottom of the bowl.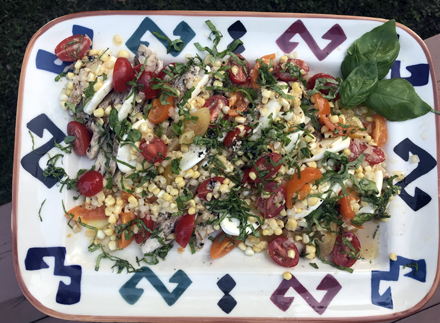 Sprinkle with the chiffonade of basil and garnish with basil leaves.
Serves 4