corny-veggie delight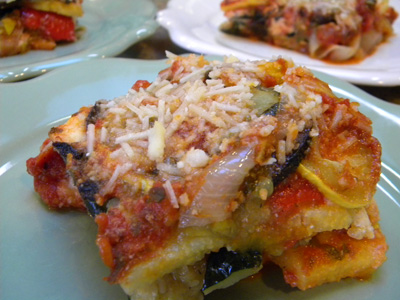 My girlfriend, Lorie, was recently in town from California; along with her sister, Cathy, who was in from Indiana. We had a great night out and Lorie was raving about a roasted vegetable and polenta lasagna she had ordered at a Los Angeles area restaurant called Zinc Café & Market.
Let me tell you, I am a fool for polenta and there aren't too many things more fantastic than roasted vegetables! Since I won't be getting to LA in the near future, I had to make my own concoction! The polenta fills in as the "noodle" layers in this healthy, gluten-free, and vegetarian lasagna. You can purchase prepared firm polenta in a tube at most grocery stores and always at Trader Joe's. Thank you Lorie for a great night, dinner, the cute little glasses you gave me, and the idea for this scrumptious lasagna. It was a bonafide hit with Dave, me, and (believe it or not) even my Dad!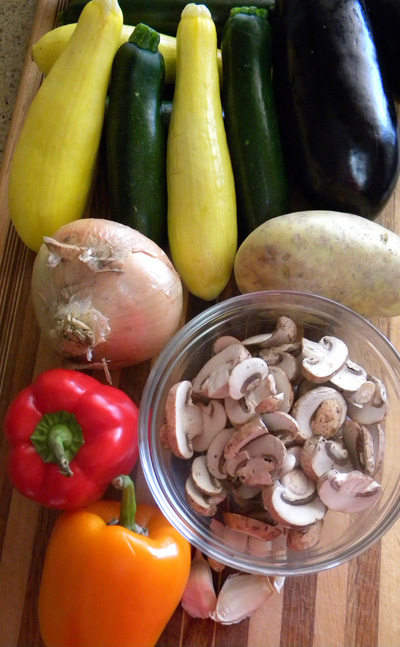 Roasted Vegetable Polenta Lasagna
2 zucchini squash, ends trimmed and cut into 1/2-inch slices on a diagonal
2 yellow squash, ends trimmed and cut into 1/2-inch slices on a diagonal
1 large eggplant, ends trimmed and cut into 1/2-inch rounds
3 tablespoons olive oil, divided
Salt and freshly ground black pepper
1 large onion, peeled and sliced into 1/2-inch rounds
2 bell peppers (whatever color you like), trimmed, seeded, and opened flat
1 large potato, peeled and sliced into 1/4-inch rounds
1 cup sliced mushrooms
4 large garlic cloves, peels left on
1 jar marinara sauce, divided
1  (16 to 18-ounce) tube of polenta, cut into 18 slices, divided
1 small container of low-fat ricotta cheese, divided
1/3 cup shredded Parmesan cheese
Preheat the oven to 400 degrees.
Place the zucchini, yellow squash, and eggplant slices in a large bowl; add 2 tablespoons olive oil, salt, and pepper, to taste, and toss to coat. Lay out vegetable slices on a large rimmed baking sheet.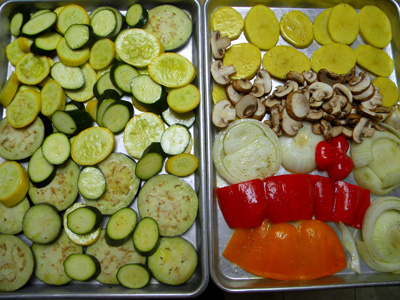 Place the onions, peppers, potato slices, mushrooms, and garlic cloves in the same bowl; add 1 tablespoon of olive oil, salt, and pepper to taste. Toss to coat and lay them out on a second rimmed baking sheet.
Place both baking sheets in preheated oven for 18 minutes. Remove baking sheets from the oven and turn over vegetables, then return to the oven, switching racks. Roast another 18 minutes or until vegetables are nicely browned and caramelized. Squeeze garlic out of peels and toss all vegetables together. Reduce oven temperature to 350 degrees.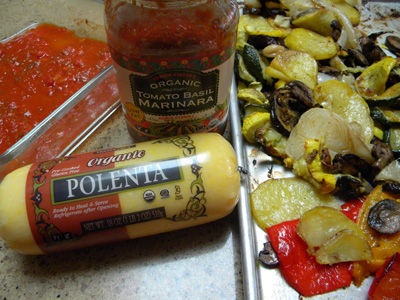 Spoon 1/2 cup marinara sauce onto the bottom of an 8-inch square baking dish. Arrange 1/3 of the roasted vegetables over marinara and top evenly with 9 polenta slices. Spread 1/2 cup ricotta over the polenta and spread another 1/2 cup marinara sauce evenly ricotta.
Top with 1/3 of the vegetables and the remaining 9 polenta slices, spread with 1/2 cup ricotta and the remaining vegetables. Spoon 1/2 cup marinara sauce on top and sprinkle with Parmesan cheese.
Bake 30 minutes. Let stand 5 minutes before serving.
Serves 6 to 8