using the preserved lemons…yum!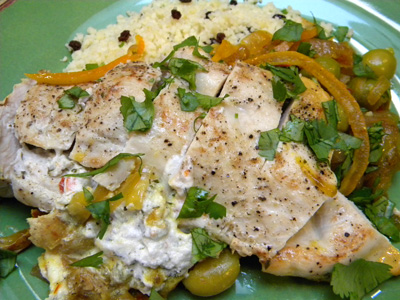 Exactly two weeks ago I made Preserved Lemons and encouraged you to do the same, hopefully, you did, because today is the day to crack those babies open and begin to enjoy their amazing flavor.
I'll be serving my Moroccan chicken with a little couscous made with chicken broth and seasoned with cumin, cinnamon, and a few currants… enough already! No more time to blog…time to eat!
Moroccan Chicken with Preserved Lemons, Olives, and Goat Cheese
3 ounces goat cheese, room temperature
1 garlic clove, peeled and minced
1 teaspoon fresh minced oregano
1 teaspoon fresh minced thyme
Pinch of dried red pepper flakes
2 tablespoons minced green pitted olives
4 boneless skinless chicken breast halves
2 tablespoons olive oil, divided
1 tablespoon unsalted butter
2 medium onions, peeled and sliced 1/4 inch thick
2 garlic cloves, peeled and thinly sliced
2 whole cinnamon sticks
1/2 teaspoon saffron threads, crushed
1/2 teaspoon ground cumin
1/2 teaspoon ground ginger
1/2 teaspoon freshly ground black pepper
8 pieces preserved lemon pieces
1/2 cup chicken broth
1/4 cup dry white wine
16 pitted green olives, halved
2 tablespoons minced fresh cilantro
In a small bowl mix together the goat cheese, garlic, oregano, thyme, red pepper flakes, and minced olives.
Pat chicken dry, then season with salt and pepper. On the thickest side of each breast, cut a deep and long pocket. Using your fingers, stuff the goat cheese mixture into each pocket. Close by pressing the flesh together.
Heat 1 tablespoon oil in a 12-inch nonstick skillet over moderately high heat until hot but not smoking, then sauté chicken until golden brown, about 3 minutes on each side. Transfer chicken to a plate and keep warm, covered.
Add remaining tablespoon oil and 1 tablespoon butter to skillet and reduce heat to moderate. Cook onions and garlic, stirring frequently, until softened and caramelized, 15 to 18 minutes. Add cinnamon sticks, saffron, cumin, ginger, and pepper and cook, stirring, 3 minutes.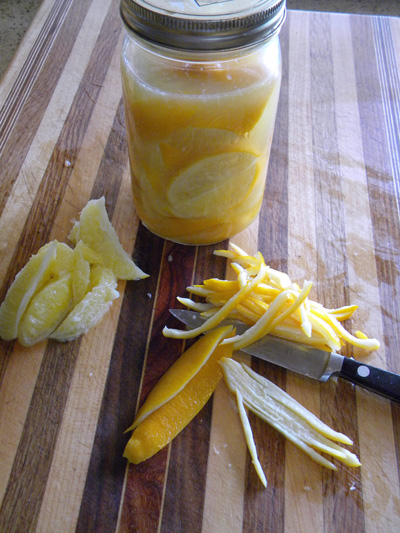 Scrape and discard pulp from the preserved lemon. Cut rind into thin strips and add to onions with broth, wine, and olives.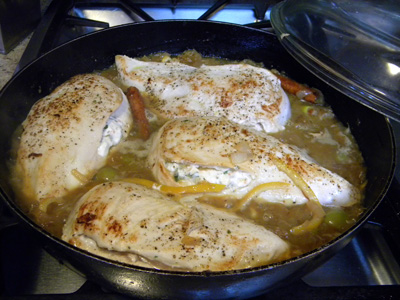 Return chicken, with any juices accumulated on the plate, to the skillet. Braise, covered, until chicken is cooked through, about 12 minutes. Discard cinnamon sticks and serve sprinkled with fresh cilantro.
Serves 4