turkey lasagna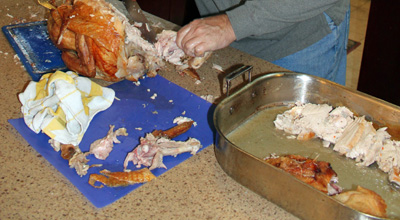 Everyone has their favorite way to eat up their leftover Thanksgiving turkey. I'd guess that a good old turkey sandwich would be the hands-down winner for most of us. I like my sandwich one way and one way only – on white bread that is slathered in Miracle Whip with sliced turkey breast only. I don't eat any of the leftover sides, I just relish that sandwich and I am as happy as can be. If I haven't remembered to purchase a jar of Miracle Whip before Thanksgiving so that it is ready to be cracked open on the Friday after… well, someone (someone who is not me!) is going to the store to get me my Miracle Whip! Mayo will not do! I buy the smallest jar because this is the only thing I ever use it for, leftover turkey sandwiches.
Connor, on the other hand, makes a sandwich that looks like this…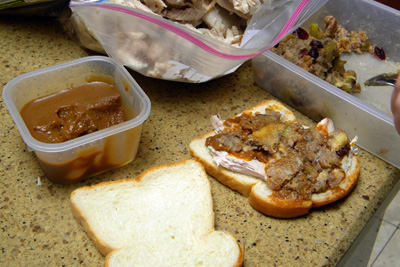 He's got the required white bread but tops it with turkey (white or dark), then spoons on the gravy and the stuffing, tops that with the other slice of bread, and heats it in the microwave for about 30 seconds. Interesting, but not to my taste.  Marissa also must have the breast only and tops her's with cranberry sauce and eats some stuffing and maybe some gravy on the side.  Finally, there is Dave, he will eat it all and will eat it any and every way, sandwich or a full redo of the Thanksgiving plate.
After a couple or three sandwiches, I am through with the turkey, then it is time to remake it into an entirely different meal, such as this lasagna. Now, this is how you get rid of leftover turkey!

Five-Cheese Turkey Lasagna
Turkey and Turkey Sausage Red Sauce
2 tablespoons olive oil
1 pound sweet or mild turkey Italian sausage
Salt
Freshly ground black pepper
2 cups finely peeled and minced onions
1/2 cup minced celery
1/2 cup peeled and minced carrot
2 garlic cloves, peeled and minced
2 (28-ounce) cans diced tomatoes
3 tablespoons tomato paste
4 sprigs fresh thyme
2 bay leaves
1 large sprig of fresh basil
2 teaspoons dried oregano
2 teaspoons dried Italian seasoning
Pinch crushed red pepper flakes
2 cups diced cooked turkey breast
Lasagna
2 cups fresh ricotta cheese8 ounces grated provolone8 ounces grated mozzarella
8 ounces grated Asiago
1 egg
1/4 cup milk
1/4 cup chiffonade fresh basil leaves
1 garlic clove, peeled and minced
Drizzle extra-virgin olive oil
Salt
Freshly ground black pepper
1 recipe Turkey and Sausage Red Sauce, recipe follows
2 cups grated Parmigiano-Reggiano1 package no-cook lasagna noodles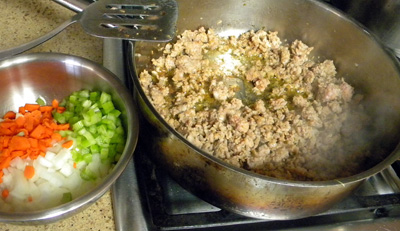 Turkey and Turkey Sausage Red Sauce:  Heat a large saucepan over medium heat, and add the oil. Add the sausage, use a spatula to break up, and cooked until brown, about 5 minutes.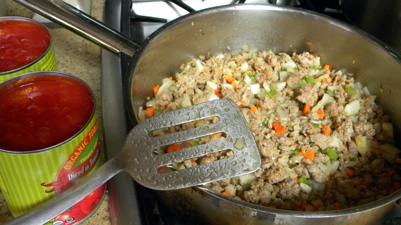 Add the onions, celery, and carrots. Season with salt and pepper. Cook for about 5 minutes or until the vegetables are soft.
Add the garlic and tomatoes, and continue to cook for 3 minutes. Fill one of the tomato cans about 3/4 full with water. Whisk the tomato paste into the water and add to the pan.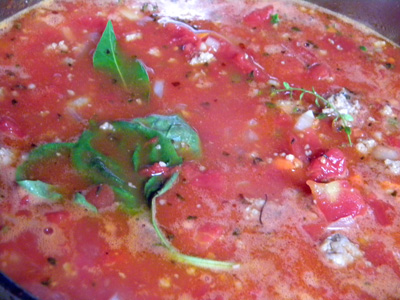 Stir in the thyme, bay leaves, basil sprig, oregano, Italian seasoning, and red pepper flakes.  Bring the liquid to a boil, reduce the heat to medium and simmer for about 2 hours, stirring occasionally.  Remove from the heat, discard the bay leaves, thyme sprigs, and basil sprig; stir in the diced cooked turkey, cover and let sit for 15 minutes before using. Makes about 8 cups of sauce.
Lasagna:  Preheat the oven to 350 degrees.
In a mixing bowl, combine the ricotta, provolone, mozzarella, Asiago, egg, milk, basil, and garlic. Season with salt and pepper.
Spread 2 1/2 cups of the meat sauce on the bottom of a  13 by 9-inch baking dish. Sprinkle 1/4 of the grated Parmigiano-Reggiano over the sauce. Cover with 1/4 of the noodles. Spread 1/4 of the cheese filling evenly over the noodles. Repeat the above process with the remaining ingredients. Place the baking dish on a baking sheet that is covered in foil to catch any drips or spills. Place in the oven and bake until bubbly and golden, about 45 minutes to 1 hour.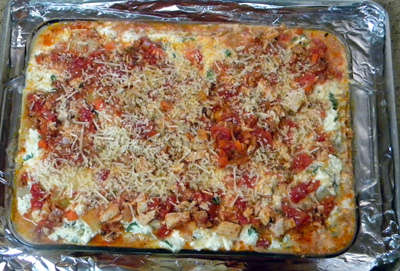 Remove from the oven and cool for 15 minutes before slicing and serving.
Serves 8 to 10