time to get baking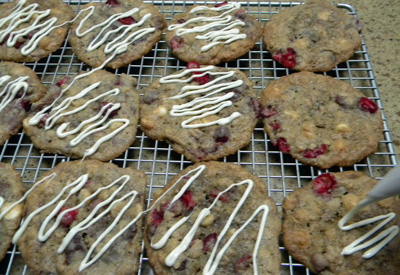 My three-week cooking class series at Les Gourmettes Cooking School is only a little more than a week away and the theme for the first class of the session is "Holiday Open House".  That seemed all good until I took a look at the menu (that I developed in the summer and haven't thought about or looked at since) and saw that it includes Assorted Christmas Cookies. Time to get busy and get some cookies baked and into the freezer! I'll be making a double batch so I can get my own Christmas baking out of the way at the same time, see there's an upside to everything! Baking is not my favorite thing, so all the cookie recipes will be coming from elsewhere, such as this one from the 2004 December issue of Bon Appetit.

Triple-Chocolate Cranberry Oatmeal Cookies
1 cup all-purpose flour
1/2 teaspoon baking soda
1/2 teaspoon cinnamon
1/4 teaspoon salt
10 tablespoons (1 1/4 sticks) unsalted butter, room temperature
1/2 cup sugar
1/2 cup (packed) golden brown sugar
1 large egg
1 teaspoon vanilla extract
1 cup old-fashioned oats
1/2 cup semisweet chocolate chips
1/2 cup milk chocolate chips
1/2 cup white chocolate chips
1/2 cup coarsely chopped fresh or frozen cranberries
3 ounces white chocolate chips, (for drizzling)
Position the rack in the center of the oven and preheat to 350 degrees. Line 2 large baking sheets with either Silpat mats or parchment paper. Whisk flour, baking soda, cinnamon, and salt in a medium bowl to blend. Using an electric mixer, beat butter and both sugars in a large bowl until smooth. Beat in egg and vanilla. Add flour mixture and oats and stir until blended. Stir in all chocolate chips and cranberries.
Drop batter by rounded tablespoonfuls onto prepared sheets, 2 inches apart. Bake cookies, 1 sheet at a time, until edges are light brown, about 16 minutes. Cool on sheets for 5 minutes. Transfer to rack; cool completely.
Place the white chocolate chips in a microwave safe bowl and cook on high for 45 seconds, remove bowl from microwave and stir, return and cook on high another 45 seconds, stir until melted and smooth, returning to microwave for another 20 or 30 seconds if necessary. Spoon into a pastry bag, parchment paper cone, or ziplock bag, with a tiny corner cut off, and drizzle melted chocolate over cookies in zigzag pattern. Let stand until milk chocolate sets, about 1 hour. (Can be made weeks ahead and frozen or 2 days ahead and stored in airtight container at room temperature.)
Makes about 36 cookies